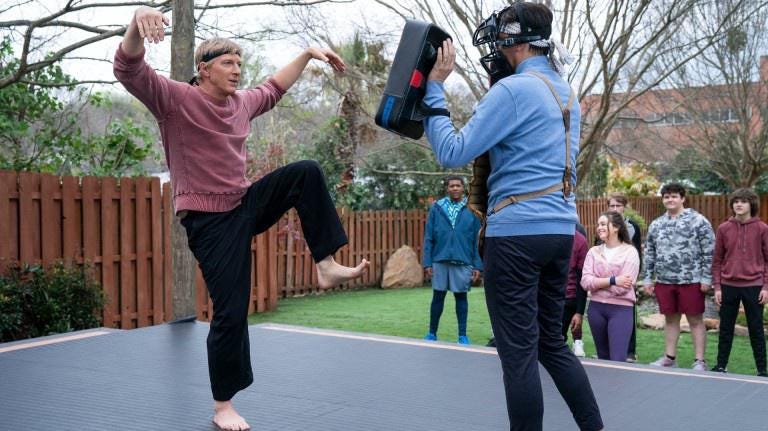 First Info On Netflix's 'Cobra Kai' Season 5 Starts To Arrive
If you've just finished Cobra Kai season 4, you may be worried about whether a season 5 is happening or not, given all the cliffhangers that the end of the season brought. Well, don't worry. Even if Netflix is notorious for cancelling loads of projects, Cobra Kai is in its "special tier" of beloved shows that have a lot more security and ability to plan. High viewership, relatively low costs, and a bunch of Emmy nominations will do that.
Season 5 was already greenlit back in August well before season 4 ever aired, with Netflix supremely confident in its performance and direction. That has been validated by Cobra Kai already taking the top slot in Netflix's top 10 list, and production on season 5 has already begun this past fall, with filming having recently wrapped. So I'd expect it about a year from now, or maybe even sooner.
We are starting to get some teases about what season 5 will bring, now that the cast members can start talking about the series now that it's actually aired. Some spoilers for season 4's ending will follow.
One of the most surprising storylines to end the season was a partially injured Miguel opting to drop out of the tournament entirely, and then not only that, but head down to Mexico where his father lives, a criminal that apparently does not know he even exists.
Collider spoke with William Zabka (Johnny) about season 5, and he offered some clues about what's going to happen:
"At this point, Daniel and Johnny they separated but then they come back together at the end. But really, more than the martial arts, more than the Eagle Fang of it, they're connected to these people, these humans, these characters so Johnny starts with Miguel, wherever Miguel is, and Robby. So what happens with Eagle Fang, we'll see."
Robby came to Johnny at the end of the season, apparently remorseful for the direction he's taken lately. So I wonder if a main plotline to start the season will be Johnny and Robby taking a road trip down the Mexico together to try to find Miguel before he gets into any trouble.
We had close to zero Johnny and Robby time in season 4, and a main plotline has been Daniel training both Miguel and Robby at various points, so I think it would make sense to give those two to Johnny for a while. Daniel has plenty to keep himself busy, as he has his almost-champion daughter and now-champion Eli in his roster, and a Silver-run Cobra Kai to take down with Kreese in jail, framed for assault.
Season 5 seems like it has the potential to be very interesting, and I'll be curious to see where it goes. And really, how long Cobra Kai is going to run overall, and where and how all this might end.
Follow me on Twitter, YouTube, Facebook and Instagram. Subscribe to my free weekly content round-up newsletter, God Rolls.
Pick up my sci-fi novels the Herokiller series and The Earthborn Trilogy.