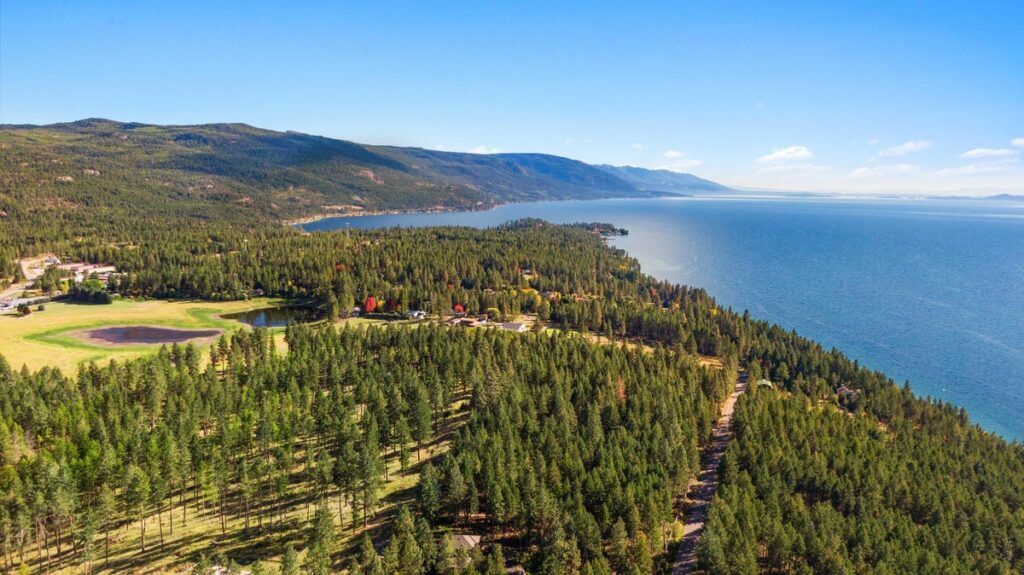 Exploring Whitefish, Montana—A Resort Town Of Rustic Luxury
The frenzy for small-town real estate across the country continues to rage on. For large states with small populations like Montana, where communities are often comprised of rural towns, the increase is stark—in just ten years, Montana's population has grown almost 10%.
But the residents of the little ski-resort town Whitefish, Montana, are no strangers to a fluctuating population. Every year, people worldwide travel to this scenic mountain town to get away, explore, and partake in world-class recreation.
Like all of the best ski-resort towns across the world, Whitefish offers a balanced blend of placid small-town charm and modern comforts and amenities, all against the backdrop of supreme natural beauty.
Where other resort towns may boast decadent experiences, Whitefish is proudly known for its deep connection to the Montana terrain, where opportunities to engage and explore nature are seemingly endless.
"Whether you're 20 or 70, if you're here, you probably love adventure in some form," says Mike Anderson, a top-producing agent at National Parks Realty. "There are alike interests here, so everybody gets to know each other quickly."
Still, even with its rustic allure, Whitefish is home to some of the country's most coveted luxury mountain real estate.
The Homes In Whitefish
"There are two stand-out styles of home in Whitefish," said Anderson. "There's the more traditional mountain style and then there's what we call mountain modern."
Many homes in the area emphasize natural materials with wood and stone accents such as exposed beams, chalet-style fireplaces and rustic exterior finishes.
Other standard Whitefish home amenities are integrated outdoor spaces, heated garages, and oversized windows to highlight breathtaking views.
Properties—even those only a quick drive away from downtown—can often border or be within walking distance of untouched preserves and refuges that offer stunning hiking trails and opportunities to view wildlife.
Thanks to building and zoning restrictions, Whitefish is protected from overcrowding and bulky buildings, leaving much of the area's landscape in pristine condition.
The Cost Of Living In Whitefish
Whitefish's real estate prices are rapidly rising due to the fervent wave of incoming buyers eager to escape congested cities and willing to pay extra to grab a piece of Montana's serene landscapes.
As of October 2021, Whitefish's median listing home price was $899,900, according to data from Realtor.com. That marks an almost 50% increase from 2018 when listing prices were $483,500.
For the median price, buyers can expect to find two-bed, two-bath condos located near downtown Whitefish or medium-sized homes in surrounding neighborhoods.
Lower price points consist of condos and smaller homes located in more remote neighborhoods about town.
Properties near the water make up some of the higher price points and larger homes with high acreage that can reach prices above $5 million.
The Whitefish Vibe
Being in the midst of a spectacular mountain landscape, it's no surprise that much of the town's character and culture is derived from the nature that surrounds it. Whether it's outdoor activities like fishing, hiking or mountain biking, or festivals like Under the Big Sky, an outdoor music concert held on a 350-acre ranch, there's always something to do.
"It's a town where people like to play hard and work less," said Anderson. "People come here for the recreation, but they also come for the small-town quality of living."
Much like the town itself, the restaurant scene in Whitefish is both sumptuous and rustic. Fine-dining options like those found at Cafe Kandahar or INDAH Sushi give small-town residents a gourmet experience often only found in big cities.
But for those who headed to Whitefish to enjoy the mountain charm of Montana, head to local favorites like the Bierstube, the mountain's first après ski (translation: after skiing) bar that's been serving up bar bites and beer for five decades.
The Schools In Whitefish
The Whitefish School district serves approximately 1,500 students across four facilities—Muldown Elementary, Whitefish Middle School, Whitefish High School, and Independent High School, which provides a non-traditional setting for grades 10-12.
According to U.S. News & World Report data, which ranks high schools across the country on a criterion that includes college readiness, math and reading proficiency, and graduation rate, Whitefish High School is currently ranked second for high schools in Montana.
Private schooling options include the Whitefish Christian Academy, a small, co-ed institution that follows a classical Christian education model.
The Surroundings In Whitefish
Bigfork, a popular Montana destination nestled along Flathead Lake, is less than an hour's drive to the south. The entrance to Glacier National Park is only 25 miles from downtown Whitefish, or about a 30-minute drive.
---
National Parks Realty is an exclusive member of Forbes Global Properties, a consumer marketplace and membership network of elite brokerages selling the world's most luxurious homes.