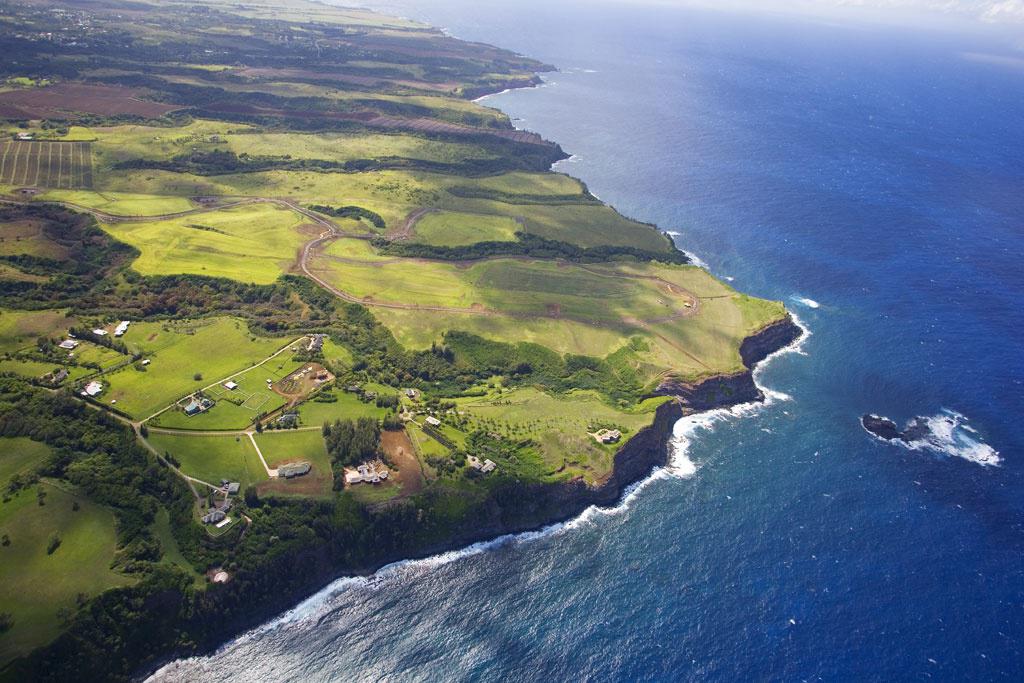 Exploring Maui's North Shore: Living In An Agro-Influenced Paradise
There is no shortage of scenic beauty to be found along the coast of the island of Maui. For roughly 120 miles, shores of white, black and red sand beaches run into the powerful waters of the Pacific—some public, some sacred, but all intensely sublime.
There's the western coast with its famed resorts, the eastern with its tropical splendor and the southern, known for pristine, sun-soaked beaches.
Then there's the North Shore—one of Maui's most elusive and prized gems.
The North Shore, which is not actually the most northern part of Maui but rather a north-central coastline where towns like Paia and Haiku are found, is less likely to be on tourist agendas, and perhaps all for the better—the area's undeveloped and rustic landscape is one of its most alluring qualities.
Expanses of green valleys and hills make up the quiet countryside, while the beachfront includes some of the most epic ocean locations, like iconic surf break Pe'Ahi, also known as "Jaws," or Ho'okipa Beach, home to world-class windsurfing.
"It contains everything that people think about when they think about Hawaii: tropical forests, waterfalls, surf breaks and a natural environment. But it's also got its own charm," says Josh Jerman, a real estate broker for Hawaii Life.
Thanks to the efforts of Native Hawaiians and preservationists, new development is infrequent, leaving the land undisturbed and the small towns of the North Shore free from bulky structures.
That being said, some recent and rare residential opportunities have appeared in the last few years. Those opportunities the luxury community Pe'Ahi Farms at Opana Point, where 16 seaside lots ranging from 2.7 to 25 acres are currently ready for development, giving those interested in moving to the North Shore a chance to build their dream home.
Living On Maui's North Shore: What To Know
As with the rest of Hawaii, the homes on Maui's North Shore are built with interiors and exteriors that highlight the surrounding landscape. Features like vaulted windows, covered lanai's and wide sliding glass doors give homeowners direct access to the natural beauty of Maui.
The area's history with farming has inspired much of the housing, with many homes, especially those located inland, being situated on sprawling lots of fertile land, some even including large outbuildings to be used as studios, garages or barns.
Architecture is also agro-influenced as many homes feature rural and ranch design elements, like single-story floor plans, low-pitched rooflines and an emphasis on outdoor spaces.
The presence of agriculture can even be found in the area's luxury communities—the homesites at Pe'Ahi Farms are all centered around a 75-acre community farm.
Real Estate Prices On Maui's North Shore
According to data from Realtor.com, there are currently 22 homes for sale in Paia ranging from $599,000 to $17,000,000 and 58 homes for sale in Haiku ranging from $170,000 to $15,000,000, with a median listing price of $3,700,000 million and $1,500,000 million, respectively.
Reports done in October 2021 by Maui News stated that the median sales price for a single-family home in Maui County, which includes the entirety of the island, stood at $996,500 in September, a 27.3% increase from the same month last year.
Properties near the water make up the highest price points, many of which include highly coveted beachside acreage, while the lower price points consist of smaller, inland lots about town.
North Shore Maui's Community Best-Kept Secret: The Community
"The people who come to this part of the island are looking for a lifestyle that is more private, away from the more congested and touristy areas on Maui," Jerman says.
With a combined population of roughly 11,000, Haiku and Paia are quintessential Hawaii small towns, meaning a quieter, slower existence than the pace of Honolulu.
But a small population does not mean a small culture—the area is home to many popular and significant destinations, including landmark natural sites as well a wide offering of galleries, boutique shops and restaurants.
One such restaurant, Mama's Fish House, opened in 1973, is arguably the most notable restaurant on Maui, offering dishes featuring fresh fish and local flavors.
Other important cultural institutions found in the area are the Sacred Garden of Maliko, the Haiku Marketplace at the Haiku Cannery, and Hui No'eau Visual Arts Center, a non-degree granting community center for arts education.
Learning The Ins And Outs Of The North Shore School System
Two schools served by the Hawaii State Department of Education are located in the North Shore—Paia Elementary and Haiku Elementary.
In addition, a variety of schooling options are available, including prep schools like Seabury Hall, parochial schools like Doris Todd Christian Academy or alternative schools like Real Ongoing Opportunities to Soar (ROOTS), as well as Waldorf and Montessori schools such as Haleakala Waldorf School and Montessori School of Maui, respectively.
Getting Around The North Shore Of Maui
When heading eastbound, Paia is considered the first stop on the iconic Road to Hana, which lies about 45 miles away, or a two-hour drive.
Eight miles to the west of Paia lies Kahului, where the Kahului Airport is located. From Kahului Airport, Honolulu is a short 40-minute plane ride.
---
Hawaii Life is an exclusive member of Forbes Global Properties, a consumer marketplace and membership network of elite brokerages selling the world's most luxurious homes.