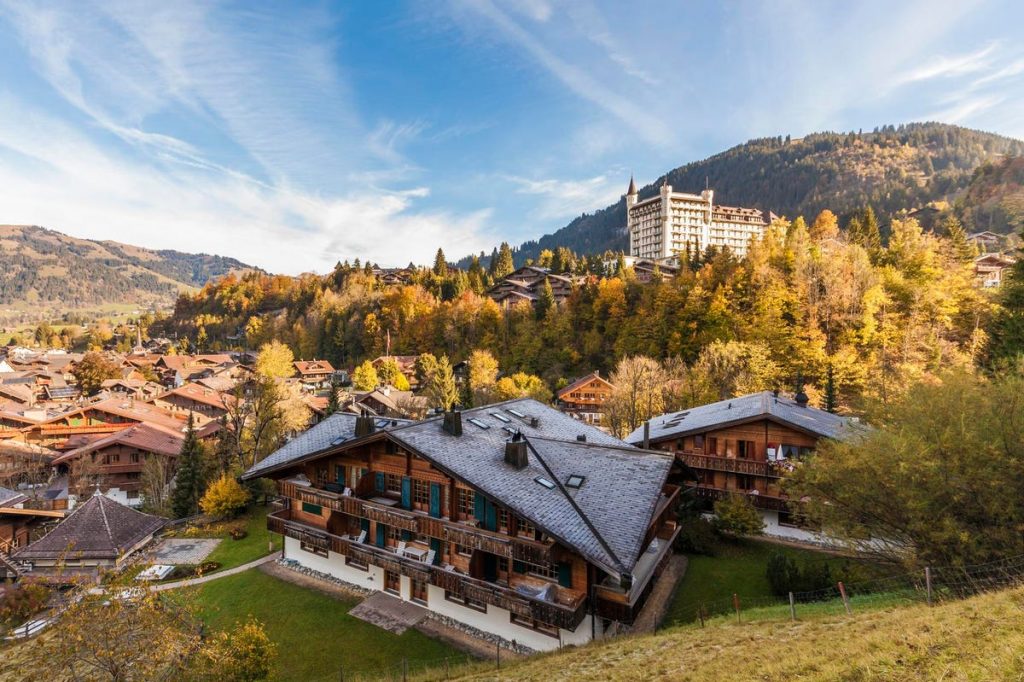 Exploring Gstaad—Switzerland's Most Expensive Alpine Village
From the very beginning, the history of Switzerland's Gstaad has been the stuff of legend. According to local lore, it was God's resting hand that shaped the illustrious hills and valleys of the Saanenland region where Gstaad is located—divine intervention seemed the only plausible explanation for such remarkable scenic beauty.
Even if you've never heard the name Gstaad, you are most likely aware of its reputation.
Think on the cultural mythology surrounding Alpine villages, of snow-covered chalets tucked away amidst a stunning mountain landscape where the world's wealthiest and most famous, like Bernie Eccelstone, Valentino Garavani, Elizabeth Taylor, Madonna and Princess Diana, to name a few, have spent their winters in a glitzy wonderland of fine-dining, luxury shopping and five-star accommodations—that's Gstaad.
Although Gstaad's repute may seem mythic, the hype is well deserved. The key to Gstaad's success lies somewhere in the balance between charm and refinement.
Old-world elegance has been maintained through welcome zoning and building restrictions without stifling renovation. Many of the hotels and homes in the area are updated to meet today's comforts, like the renowned Gstaad Palace, which recently went through some upgrades, including the addition of more suites, as well as a sauna, a hammam area and a poolside bar.
"Gstaad is kept like something precious. No one wants to transform it or to over construct," says Monica Lospa, a real estate partner with FGP Swiss & Alps. "But there is always something happening in the real estate of the valley—old chalets are bought and built up, hotels are refurbished."
Exploring The Homes In Gstaad
"The chalets here are very sheik, very elegant, and are almost all in a traditional Swiss style," says Quentin du Pasquier, general manager for FGP Swiss & Alps.
Uniformity in exterior designs, with wood facades, gabled roofs and decorative moldings, helps to maintain Gstaad's beloved "frozen in time" feel.
In keeping with Gstaad's cozy, alpine image, homes are comfortable yet stylish and possess an understated luxury.
Interior living spaces also highlight Gstaad's charm with features like fireplaces, wood accents or large windows with breathtaking views.
Exploring The Prices In Gstaad
It's no coincidence that many residents and visitors of Gstaad are some of the most moneyed members of society—you have to have pretty deep pockets to afford property here.
A lack of bulky condominiums and overdevelopment means that real estate in Gstaad is highly coveted and thus pricey.
"Gstaad is one of the most expensive places in the mountains of Europe and therefore the world," du Pasquier says. "The average price per square meter is around CHF 33,000, or $36,000, with prices that can reach more than CHF 65,000, or about $71,000 per square meter."
For decades now, Gstaad's market has not faltered, and even as the current median price reaches such a substantial amount, it is only expected to continue to rise.
"Never in the last 40 years has the average price gone down," Lospa says. "Even in 2008, during the market crash, prices remained steady in Gstaad."
Exploring The Vibe In Gstaad
The winter months are when Gstaad truly comes alive—the population grows from roughly 3,200 to 20,000 around the holidays.
Many come for superb skiing or other recreation like cross-country skiing, tobogganing and winter hiking, while others simply come to slow down and enjoy the quaint yet bon vivant lifestyle amongst spectacular scenic beauty.
A picturesque promenade in the center of the village features luxury shopping from designer labels such as Louis Vuitton, Hermés and Cartier and copious fine-dining options that offer a wide range of cuisines including French, Japanese, and, of course, Swiss fondue.
Sometimes considered a winter resort primarily, Gstaad attracts many visitors in the summer as well. People from all across the globe come to attend the large, international events held during the summer months, whether that be world-class sporting competitions like the Swiss Cup, the Hublot Polo Gold Cup, and the Swatch Beach Volleyball Major or popular cultural events like the Menuhin Festival or Country Night Gstaad.
Exploring The Schools In Gstaad
Gstaad is home to the winter campus of the Institu Le Rosey, the most expensive boarding school in the world. Founded in 1880, Le Rosey is often referred to as the "School of Kings."
Notable alumni include Prince Rainier III of Monaco, Marie-Chantal, Crown Princess of Greece and Edward, Duke of Kent, as well as members from dynastic families such as the Rockefellers, Rothschilds and Borgheses.
The John F. Kennedy International School is to the north, a small, prestigious boarding school that serves approximately 95 students ages 2.5 to 14 from over 22 different nations.
Exploring The Surroundings Of Gstaad
Located in southwestern Switzerland, Gstaad is positioned almost halfway between Geneva and Zurich—Geneva is approximately 92 miles to the west and Zurich 110 miles to the east.
Many international visitors will fly through the Geneva Airport, roughly a two-hour drive or three-hour train ride away.
For those fortunate enough to afford a private aircraft, nearby Alpina Gstaad can accommodate jets and helicopters.
---
FGP Swiss & Alps is a founding member of Forbes Global Properties, a consumer marketplace and membership network of elite brokerages selling the world's most luxurious homes.