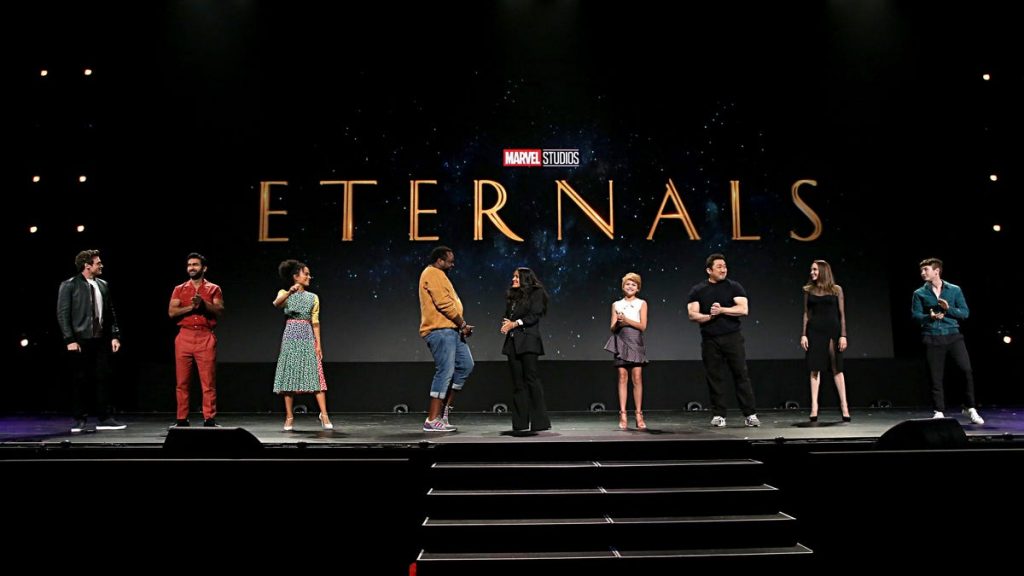 'Eternals' Review: Chloé Zhao's Visual Wizardry Eclipses Deficient Plot
Even before the latest Marvel Cinematic Universe film Eternals began production, Marvel Studios did a major solid by comic books fans when they greenlit the picture.
Created by legendary comic book artist, writer, and editor Jack Kirby in the mid 70s, the Eternals didn't occupy the prime real estate in the spinner racks towards the front of comic book stores or sit in the forefront of pop culture's slotted comic space, it was for the die hards.
One of Kirby's finest creations hitting the big screen is a monumental victory in itself for both Marvel Studios and comic book fans. The MCU's freshest batch of heroes may not look like a carbon copy of Kirby's stellar Bronze Age creation, but his work is alive and well in the film.
Director Chloé Zhao, who makes her Marvel debut with Eternals and also penned the script, leaves her distinct fingerprints all over the innovative project. Throughout the two-hour and 37-minute film, Zhao incorporates beautifully scenic wide shots and doesn't get greedy with special effects — which in this film were arguably Marvel's most organic in appearance to date.
Also to Zhao's credit, with the lengthy run time we've come to expect from Marvel movies, the story wasn't rushed, which it could have been with the story's timeline spanning 7,000 (!!!) years.
Zhao, who won an Oscar for directing 2020's Nomadland, captured a stoic tone playing against the gravity of the rising and falling action that worked similar to what we've seen in recent DC Comics films, but plenty of Marvel heart popped in from time to time to remind us what we're watching.
As far as the ensemble cast goes, the acting was superb across the board. Salma Hayek naturally shined as the Eternal's leader "Ajak" and Angelina Jolie stunned as "Thena" in one of her most gritty and powerful roles, despite not being a lead. You'll read a lot about Kumail Nanjiani ("Kingo") stealing scenes in other reviews, which is fair, but the longtime stand up's comic relief was regularly predictable, although effective.
It was a meaty role for the Big Sick (2017) star, who after a strong and confident performance will no doubt be making some major career leaps in the near future. Richard Madden, best known for portraying "Robb Stark" in HBO's Game of Thrones, gave a praiseworthy and valiant performance but was constantly working against a character who too often could pass as a Superman doppelgänger.
The most memorable and commendable performance in Eternals belongs to Lia McHugh, who now at age 14, held her own with the star-studded cast in a sizable big budget motion picture as the tragically conflicted "Sprite". McHugh also stood out in 2019's dramatic horror mystery The Lodge.
The Eternals stand on their own as a unique cinematic superhero group compared to the likes of the Avengers.
Are they half as cool and do they have half as much staying power as the Avengers? That remains to be seen but the mid-credits and post-credits scenes did help pave the way for the possibility.
What keeps Eternals from being one of the better MCU flicks is its plot, which didn't match the magnitude of what was appearing on the screen despite doing a good job of moving the story through a vast timeline. While the heroes' threats, including the beastly "Deviants", are visually entertaining, they don't present a sinister danger in the captivating way other Marvel films do. Though from its elements of visual storytelling with a wizard like Zhao at the helm, it's not the MCU movie to miss.
Grade: B-