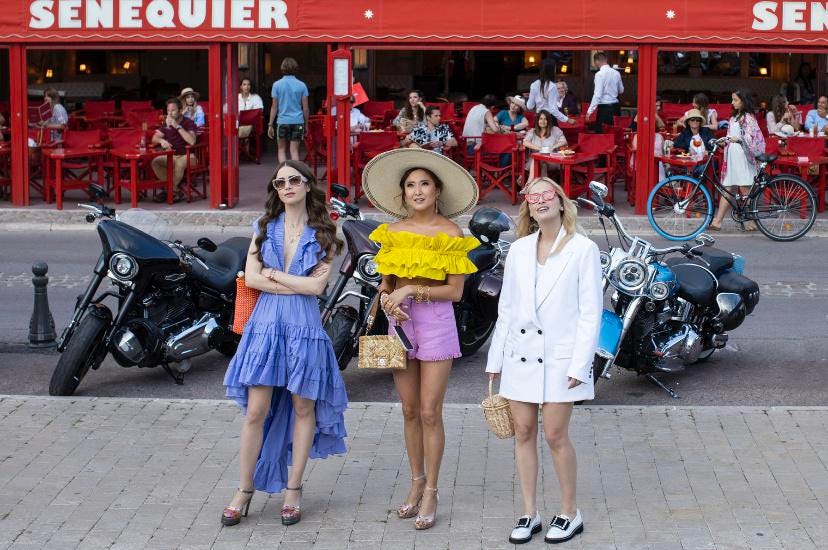 'Emily In Paris' Parent Company ViacomCBS Launches Show-Inspired Shoppable Content
When Emily in Paris, produced by MTV Entertainment Studios, debuted on Netflix NFLX in October 2020, it became a global phenomenon, with over 58 million viewers tuning in during the first month it aired. The show's executive producer and creator, Sex and the City's Darren Star offered a Parisian fantasy of a young, ambitious American career woman arriving awkwardly yet stylishly in the City of Lights. As did the plot lines, the outfits provided much-needed glamourous escapism as the pandemic wore on. Now parent company ViacomCBS Consumer Products has teamed up with luxury brands, primarily led by Mindy Lin Prugnaud of Mint Group, to allow viewers to indulge in the clothes, accessories and beauty plucked from the cast's stylish wardrobe created by Marilyn Fitoussi, SATC costume designer Patricia Field's other half.
The 'shoppable content' pop-up will drop curated items as Season 2 debuts December 22nd on Saks.com, the respective brands' e-commerce site plus select retail locations. Netflix.com will also carry a selection of the merchandise for sale, timed to the show's release date.
Curating the merchandise charge is Prugnaud of the Mint Group, a European buying and consulting firm working with luxury brands in Paris, Milan, London, and more for top retail and creative clients in the US, Canada and Australia. Prugnaud culled brands such as AZ Factory launched by the late Alber Elbaz, Chanel CCO Metiers d'Art brands Maison Michel, Goossens Paris, and Barrie; Roberto Coin and Eye M by Ileana Makri jewelry; Zeus + Dione sunglasses and macarons from couture pastry chef Pierre Hermé. All but the Chanel labels will bear collaboration branding.
From Screen to Shop
Branded merchandise is not novel, especially in the children's wear arena, with companies such as Disney DIS , Pixar, Marvel often creating film or tv-related merchandise. For instance, this past week, Disney and Marvel announced a clothing collaboration based on the show Spidey and His Amazing Friends with the highly curated kids' website Maisonette.
For luxury, however, it's a less familiar concept. Dubbed retailtainment, shoppable content is poised to make a splash with designer price point goods, especially with shows like Emily in Paris treating wardrobe as an additional character. While these elevated goods with luxury price points are new to ViacomCBS Consumer Products, it's not the first time the media group has worked with designer brands, according to Jose Castro, Senior Vice President, Soft Lines, Fashion & Lifestyle Licensing and Global Collaborations, ViacomCBS Consumer Products.
"We've had several collaborations working with luxury brands including Moschino, Miu Miu, Gucci and Supreme, "Castro explains, making the distinction, "Emily in Paris, in particular, offered us an opportunity to expand and create new exciting partnerships in the luxury and fashion space because fashion plays such a pivotal role in the series and fans were immediately clamoring as soon as they watched the first episode."
The MTV Entertainment Studios parent company is well versed in retailtainment though usually, the products specific to show have been in partnerships with retailers across the globe. "The Emily in Paris collection is one of many examples where we're creating additional engagement," Castro continues, adding. "We're always looking for ways to expand the retail experience. E-Commerce shops are another way we can dive deep into characters and storylines and give fans more of what they want."
While fashion is synonymous with Parisian style, Castro isn't limiting consumer product collaborations solely to French Je ne sais quoi. The popular series Yellowstone is soon to launch its 4th season and spinoff show 1883 starring Faith Hill and Tim McGraw. "The elevated Western looks set on the most beautiful mountain-filled scenery has created major fan demand for everything from the jackets the characters are wearing to the bedding featured in their rooms," Castro reveals.
A Star-Concept is Born
During the filming of Season 1, Prugnaud had the opportunity to visit the set of Emily in Paris. Seeing the degree of styling and the role fashion would have in the show—a staple in Darren Star productions—the savvy retail consultant saw the potential to develop and curate merchandise directly inspired by or even worn in some cases, by the cast.
"I'm a big fan of his work," she said, "There was an opportunity to associate this tv project with luxury for the first time; Afterall it's shot in Paris, and the costume styles are created with European brands." She officially pitched the idea in December 2020 to Star, and by early 2021, the idea was green-lit and planning underway. It's a concept that Prugnaud sees as a win-win for both the show and the brands. Mint Group is laying out stakes that shoppable content is the future, connecting entertainment and retail.
"The brands love new ideas, and right now, both brands and retailers are looking for ways to engage the clients. It's similar to how Emily loves to discover the savoir-faire in Paris; viewers can also discover more Parisian fashion through the show," said Prugnaud.
There are a few tactical obstacles when selling fashion timed to a television show as the production cycles of each aren't normally in sync. Prugnaud worked closely with both the brands and Fitoussi to achieve as many actual on-screen garments versus those similar to the ones worn in the show by engaging in her wholesale buying and fashion trend acumen. "After I identified the brands used by Marilyn, I focused on the artisanal styles, such as the savoir-faire rich Chanel brands. I worked with the brands to suggest pieces for the best chance of being included in the show and Marilyn would make her selection. It was fingers crossed at that point!" Prugnaud recalls.
Beauty and a Cause
Along with Mint's curation, other brands are joining the fun and exciting shopping experience. My Beachy Side, a resort wear brand with a socially conscious platform—Syrian refugee women in Turkey make it—will also sell their Resort 2022 collection through the program. The brand's founder Gamze Ates, originally from Turkey, was introduced to ViacomCBS via Star, a friend and supporter of the brand's mission.
"Emily in Paris captivated millions of viewers around the world at a time when we were all eager for lighthearted fantasy. My Beachy Side, similarly, evokes carefree beach adventures and poolside soirees through one-of-a-kind handmade styles," notes Ates of the partnership, adding, "Sustainability, cultural responsibility and environmental stewardship can intersect with the luxuries of life. I launched My Beachy Side to provide economic opportunity to unemployed women in my country."
The partnership shed's light on the plight of the 500 Syrian artisan women, severely impacted by the pandemic, who produced approximately 15,000 units to fulfill wholesale orders and DTC projections of the initiative. "The project is giving a voice to what we do: create sustainable jobs, cultivate local economy, empower disadvantaged women and refugees without sacrificing style," said Ates.
Spoiler alert, Season 2 takes Emily to St. Tropez. Thus, My Beachy Side resort wear matched the locale. The collection evokes summers on the 1920's French Riviera, inspired by nautical themes, classic French sailor chic and the primary color palette of Mondrian and seminal 20th-century artists.
Lancôme Paris—for which Lily Collins is a longtime ambassador—also curated and branded several products from their line to include a heart-shaped eye shadow palette that includes colors influenced by the three female lead characters: Emily, Camille and Mindy. The branded set, which comes complete with Eiffel Tower charm and pink and red Emily in Paris show branded content also includes mascara, lipstick, Idôle perfume, and facial serum.