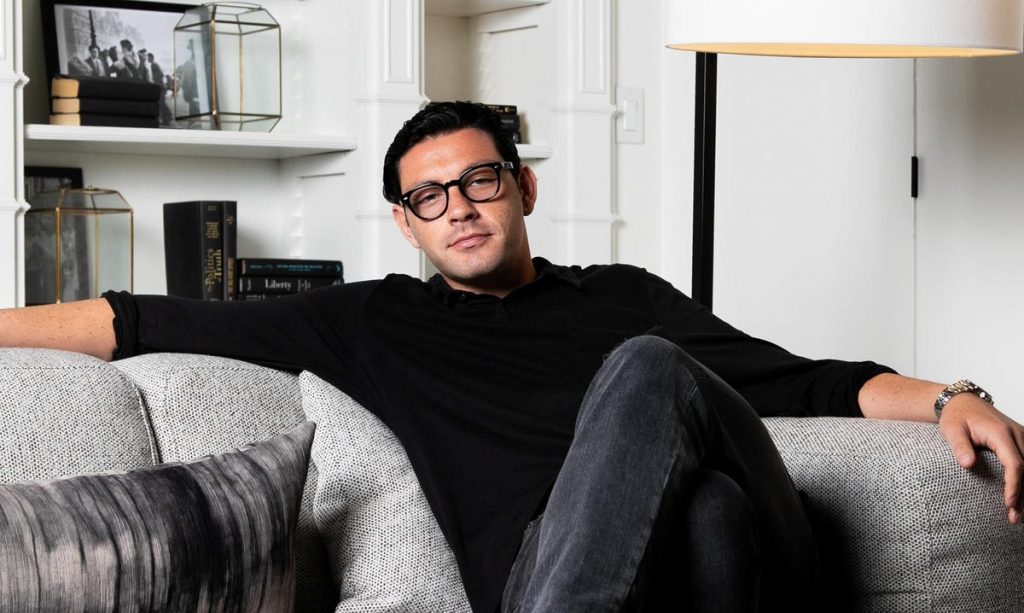 Elliot Grainge Expands His 10K Portfolio
Fast-rising rapper Iann Dior is as recognizable for his signature embellished fingernails as his beats, which landed him the No. 1 Billboard song Mood, with 24kGoldn. Now his record company, 10K Projects, is investing in a men's grooming brand through a new initiative under the umbrella of the independent label.
"We thought it was a really cool company that was saying, 'Be who you want to be.' Iann has been wearing their nail varnish. He's promoting it, he's a part of that whole process," says 10K co-founder Elliot Grainge of the company's stake in Faculty World. "And he's got an incredible fan base, where if he gets behind something there is a percentage of them who will want to be a part of that."
Welcome to 10K Ventures, which Grainge quietly launched this summer as an investment vehicle for early-stage, direct to consumer and tech companies. Its Faculty World investment was part of a $3 million seed round led by Este Lauder. Dior and actress Maisie Williams are also individual investors.
Grainge, 30 Under 30 Music alum and the son of Universal Music Group chairman Lucian Grainge, founded 10K Projects in 2016 and has proven to have a knack for backing winners not only in the music realm but also on the market, where he was an early and active participant. 10K Ventures will spend between $100,000 and $1 million per round, he says, with an eye toward supporting 15-20 companies in its first year.
As his label has grown, Grainge has remained devoted to keeping things nimble and artist-centric. As such, his latest venture isn't simply a dollars play.
In a consumer culture that's increasingly wary of advertising that fails to strike an authentic chord, 10K Ventures is seeking to generate heat via brands' symbiotic relationships within the music ecosystem. Specifically, with artists on the 10K roster, which also includes Trippie Redd, Surfaces and Coin.
"The audience is smart. They know what products are being forced on them and they can definitely smell the organic connections between an influencer and a business," Grainge says. "We can't force it, but if there are synergies we think can work for both sides, these are the partnerships that have the most cultural currency."
Grainge's door is wide open. Among the businesses 10K Ventures is funding are canned cocktail company Ohza; Wonder Works Studio, among the largest studios creating immersive experiences in the Roblox ecosystem; and sunglasses innovator FutureMood, which featured 10K Projects artist WizTheMC in its most recent ad campaign.
To ensure they're building the most beneficial portfolio, the team is partnering with PlayWRK, which operates under the Venture Capital-as-a-service model. 10K's plan resonates as a natural way to support corporate innovation for Maggie Sellers, the co-founding partner of PlayWRK who was previously head of artist development & brand strategy at Electric Feel Entertainment.
"Bringing innovative brands, concepts and ideas to the artist ecosystem after holistic due diligence is not something you often see," Sellers says. "This out-of-the-box VCaaS approach combined with the entrepreneurial environment that Elliot has built at 10K Projects is the dream scenario for record label innovation, true artist development and creative control for artists to see their creative visions through."
High on their list of prospects are the array of direct-to-consumer companies that cropped up, or gathered steam, during the pandemic. "There are so many wonderful companies; the one thing they need is audience. And right now it's very difficult to build an audience," Grainge says. "We can fit in there. We work with some incredible artists, and our artists also have networks of incredible artists. And we may be able to connect some dots there."
On the flip side of the coin, Grainge hopes 10K Ventures will help deliver more talent to his label.
"We're trying to show there is a value add to signing to 10K, and we want to be quick on this. We want to make our artists rich not only through the music, but give them an opportunity to grow their brand and increase their revenue within mediums outside of music, put some sweat equity into it. We're thinking about your income four years down the line. That's a value add we have that the majors don't," he says.
"We've proven we can break their music, If we can help break their brands, and help them partner with other brands and businesses, it's a great chance for them to enrich themselves. And if were playing a part in that, we aren't just a music company. We're a media company."