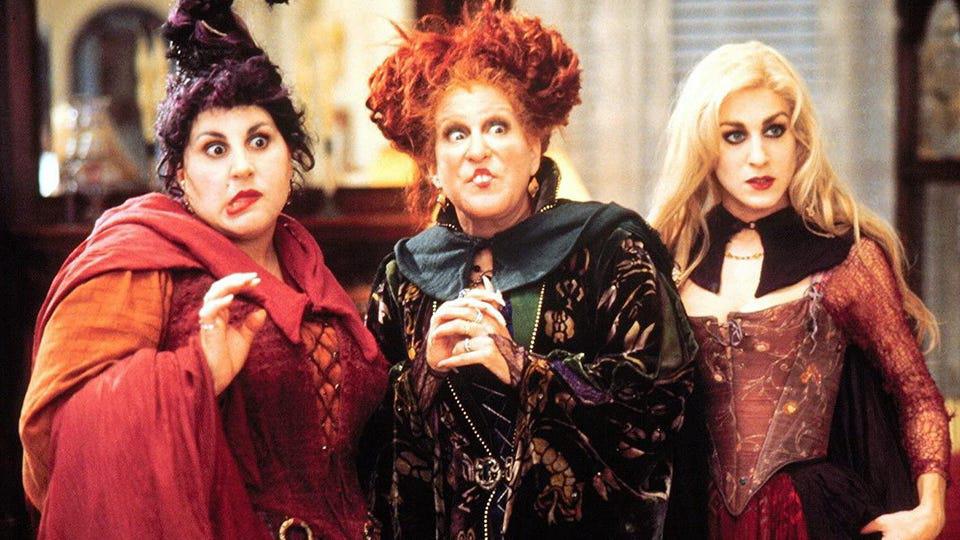 Disney+ Tops Netflix On Nielsen's SVOD Movie Ratings For October 11
Five Disney DIS + offerings earned a total of 1.118 billion minutes-viewed on the week of October 11 through October 17, so sayeth this week's Nielsen's SVOD ratings. Comparative, five of the top ten films this week were from Netflix NFLX , with a total of 883 million minutes viewed that week. Not only did Disney+ have the top two movies (Black Widow with 441 million and Hocus Pocus with 240 million), but Disney earned around 1/3 more total minutes for their film content than did Netflix. Now, to be fair, Netflix is ruling the television marketplace with an iron fist. The top three shows earned a combined 5.65 billion minutes.
Anyway, I'm guessing the cult flop (starring Kathy Najimy, Bette Midler and Sarah Jessica Parker as witches put to death in 1693 but accidentally revived in 1993 on Halloween night) will stick around over the next two weeks as a perennial seasonal favorite. The film gained a slowly growing cult following both due to copious television airings on or around Halloween and from those who were young enough to think the film was the bee's knees in or soon after the summer of 1993. I don't begrudge the obvious generational nostalgia, as it's not like kids movies were full of child murder and adolescent horniness then or now. Regardless, Hocus Pocus 2 will debut on Disney+ next season.
Black Widow earned another 441 million minutes, down 44% from its 676 million-minute debut as a free-on-Disney+ title. I'm not expecting legs, as it's way below the 757 million minutes earned by Cruella during its second "free on Disney+" week after a 815 million minute debut. The MCU film was presumably purchased (for $30) at a much greater volume on Disney+ concurrently with its theatrical release compared to Cruella, Raya and the Last Dragon and Jungle Cruise. Meanwhile, Jungle Cruise and Shang-Chi will debut as "free for Disney+" subscribers this coming Friday, where I'm guessing they will lord over the respective charts a month later.
Squid Game earned another 2.254 billion minutes, the third season debut of You (originally a Lifetime show picked up and rebranded as a Netflix original) nabbed 1.938 billion minutes and Maid earned another 1.464 billion minutes. Among originals, only Apple TV's Ted Lasso (352 million) and Hulu's Only Murders in the Building (317 million) made the top ten, while every acquired show in the top ten airs on Netflix. The Halloween season is giving Disney a momentary boost in terms of movies, with those two being joined by The Nightmare Before Christmas (151 million) and Cruella (not quite "scary," but close enough, with 131 million minutes) along with the immortal Moana (155 million).
Of note, Dave Chapelle's The Closer, which became a lightning rod for controversy over its alleged transphobic content, earned 357 million minutes, down just 10.6% from its 399 million-minute debut in its second week. In a kind of good news/bad news situation, the special wasn't a one-week wonder. In other strong holds, Seinfeld earned 581 million minutes in its third frame on Netflix, down just 1.5% from 590 million minutes last week. Whether it sticks around forever and ever, well, it's not currently on Netflix's daily top ten among TV shows. For that matter, neither is The Closer.