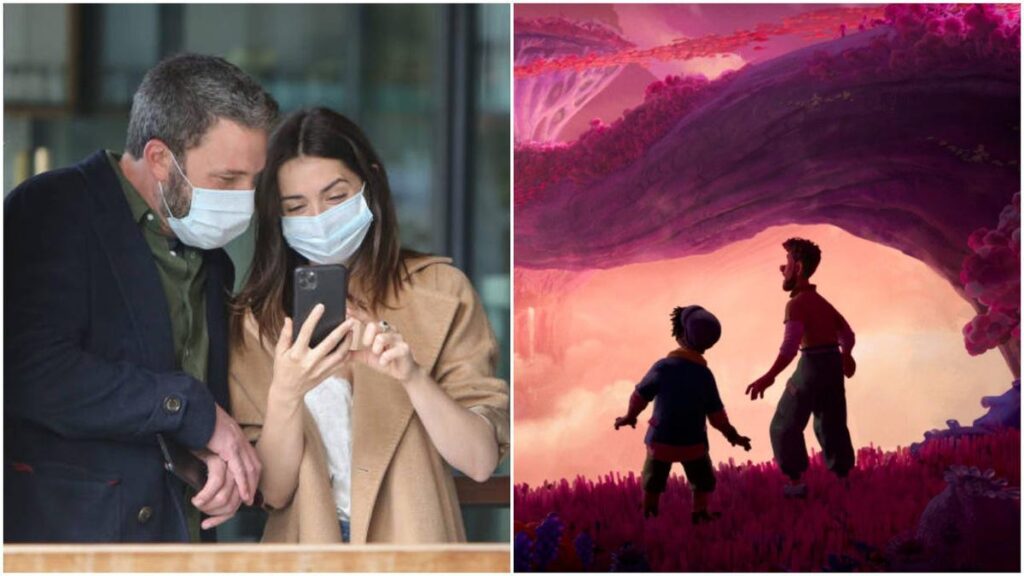 Disney Dates New Toon For Thanksgiving 2022 But Removes Affleck/De Armas Thriller
In retrospect, the latter isn't a surprise. Deep Water, starring Ben Affleck and Ana de Armas, is no longer opening theatrically on January 14, 2022, and (as of this moment) it's nowhere to be found on Disney's 2022 (and beyond) theatrical slate. Directed by Adrian Lyne (Fatal Attraction, Indecent Proposal, etc.), the adaptation of Patricia Highsmith's 1957 novel (about a married man who allows for an open marriage only to become a suspect when his wife's lovers seemingly meet foul ends) was supposed to open just over a month from today, yet there's been no poster, no trailer or any indication that things were on track.
I do not know what will happen to the film (maybe just a delay to later in 2022), although I wouldn't be shocked to see it sold to Netflix, as was the case with Joe Wright's (not very good) psychological thriller The Woman in the Window (boasting a great Amy Adams star turn but little else) when the would-be prestige pic underwent drastic reshoots and became essentially damaged goods. It's no shock to argue that an erotic thriller from the man who directed Unfaithful. 19 years ago, there was a place in theaters for the Diane Lane/Richard Gere infidelity drama to gross $119 million worldwide right alongside Spider-Man's record-setting $821 million global sprint.
The audience for such films has mostly gravitated to streaming platforms. If Netflix doesn't want to make it the latest "A-level acquisition that's really just the newfangled direct-to-video," and if the movie is any good, I might argue (speculation alert and without knowing about various contractual obligations) that Sony or Universal might want it. Hell, if Sony buys it then Netflix will get it eventually due to a big first-tv pay window deal going into effect in 2022. If Universal wants it, it can be the kind of "non-franchise" flick that will be a bigger event when it arrives on Peacock 45 days after theaters by virtue of having first been in theaters.
Disney is going to Disney, so the question is to what extent the rest of the industry will offer "not-Disney" theatrical films. On the plus side, "Disney gonna Disney" still means non-sequel/original theatrical animated films. I remain worried that the underperformance of Encanto ($61 million domestic and counting after 15 days) isn't just about Covid or Disney de-prioritizing theatrical in favor of Disney+ but also the general downturn over the last four years for original animated releases. We haven't had an original animated blockbuster since Coco in late 2017. Maybe some of the many original toons released in theaters or streaming during the last two years might have otherwise broken out, but we'll never know.
Encanto is still the biggest-grossing wholly animated film (sorry Sonic the Hedgehog) in North America over the last two years. If Disney takes my thoughts to heart about big-scale theatrical releases being bigger deals on streaming by virtue of them being theatrically-intended (in terms of budget, production values and related artistic ambitions), then one might argue that Disney will be somewhat okay with being the market leader in theatrical animation even at a currently depressed comparative rate of return. Or, maybe Illumination's (pretty good) Sing 2 is going to just crush Matrix: Resurrections, The King's Man and West Side Story this Christmas and the takeaway will be that animation is now as franchise-dependent as live-action cinema.
Nonetheless, we got the first image for Strange World this morning, along with a synopsis and a promise of a November 23, ,2022 theatrical release date. The film, directed by Don Hall and Qui Nguyen, journeys "deep into an uncharted and treacherous land where fantastical creatures await the legendary Clades, a family of explorers whose differences threaten to topple their latest—and by far— most crucial mission." The picture, inspired by pulp fiction adventure magazines, will open over Thanksgiving alongside Universal's Steven Spielberg-directed The Fabelmans. As bad as things got for theaters before Covid, I never thought I'd be grateful that a new Disney animated film and a Steven Spielberg-directed drama would be releasing to theaters.