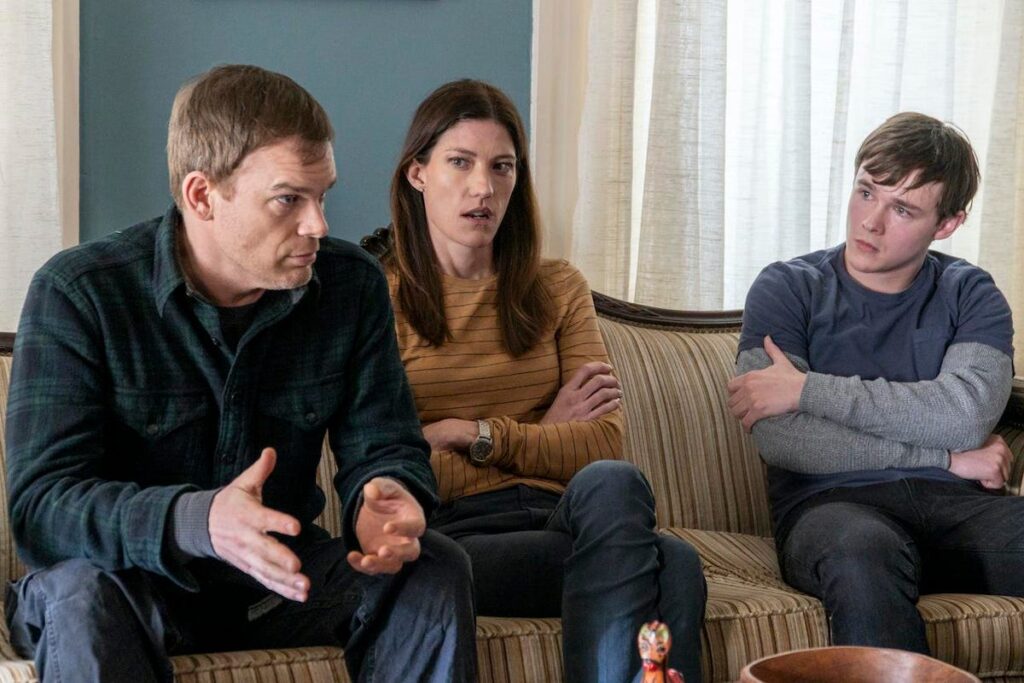 'Dexter: New Blood' Was Ratings Gold, Maybe It's Not The End
Who wouldn't grasp at the opportunity of a redo in life if given the chance? Those behind the cult classic Showtime series Dexter had this opportunity with the New Blood revival but again, fans were left split on the way it ended.
Sunday's finale broke records for the cable giant with the 10-episode reboot averaging more than 8 million weekly viewers across all platforms, becoming the most-watched series in Showtime's history.
This new telling was set set 10 years after Dexter Morgan went missing in the eye of Hurricane Laura as he attempted to start over with a new name in the fictional small town of Iron Lake, New York. In a recent interview, Michael C. Hall said it was the perfect time to resurrect Dexter and the fans agreed.
Viewers couldn't wait to see how the new season would unfold and with a total of 3 million viewers on Sunday alone, this was the biggest Showtime finale in more than eight years. It even surpassed the season three finale of Homeland in 2013.
The finale, which was written by series showrunner Clyde Phillips, also set a new Showtime record with 2 million viewers from streaming and on demand platforms on Sunday. Because of New Blood and the new drama series Yellowjackets, Showtime saw the most signups in its history during the fourth quarter of 2021.
As with the original series finale in 2013, fans are split at the fate of our favorite serial killer. The last image we now have of Dexter is him sprawled on the ice, dying. The image is actually quite beautiful and ironic. A growing pool of his blood against the pure white of the snow. As a blood spatter expert, and vigilante serial killer, he had to die a grisly death. He wouldn't have had it any other way.
The image lingers but is this how fans wanted it to end? It's better than our last farewell with a presumed dead Dexter as a lumberjack, which irked fans back in the day. Some think his death at the hands of his son Harrison (Jack Alcott) is fitting, others wanted another season.
Like a superhero, he managed to escape death, and getting caught, a myriad of times over the years. It seems fitting that if he had to die, he would do so on his terms. When Harrison, the one person he thought he could truly connect with, proves to be nothing like him, Dexter is more than willing to die. Like everything else in his life, he has to find a way to control this moment.
That rifle he bought Harrison for Christmas seems fitting, he even reminds him to turn off the safety. Though a life of vigilante justice isn't what Harrison seems to want, he is able and willing to kill his father so they do have an ability to murder in common. And though Harrison claims to not be like his father, the two are actually very much alike; their instincts are to kill when it's deemed necessary.
Alcott not only looked the part, he and Hall could be father-son in real life, he also played it to perfection. The scene itself was acted well but there's something that still feels incomplete about it all.
The original eight-season series was a classic and if any show deserved a revival, it was Dexter. Based on a series of novels by Jeff Lindsay, with "Darkly Dreaming Dexter" as the main inspiration, the series ran from 2006 to 2013 and over the course of its 96-episode run fans and critics fell in love with Dexter.
The first episode of the revival was ok, not great. Then, episodes two to nine were so good that the expectation was a finale that could potentially lead to either a second season, or perhaps a spin-off. Now, with all hope for a second season as dead as Dexter, there is still a way for a spin-off if Hall and Phillips are up to it.
Perhaps the cabler will listen to the fans and give us a spin-off. Some do not feel Alcott can carry a series but this fan disagrees. Here's how it could go: Before he died, Dexter had a plan for the two to move to Los Angeles, aka La La Land, a town rife with misfits and yes, serial killers. It's the perfect backdrop and it would be very interesting to see what kind of trouble Harrison would get in and out of.
Maybe at first he gets caught up in the glitz and glam of Hollywood but that Dark Passenger he thinks doesn't exist is lurking in the background. Perhaps killing his father satiated its appetite for the time being. He tries to ignore and push those urges down but he does have his father's blood running through his veins, after all. He comes to realize he's more like Dexter than he thought. It would be fun to see him get guidance from beyond the grave from both Deb (Jennifer Carpenter) and Dexter.
It brings to mind that old saying: "Wherever you go, there you are." We cannot escape ourselves and it doesn't matter where we go, eventually we must all face ourselves and our demons.