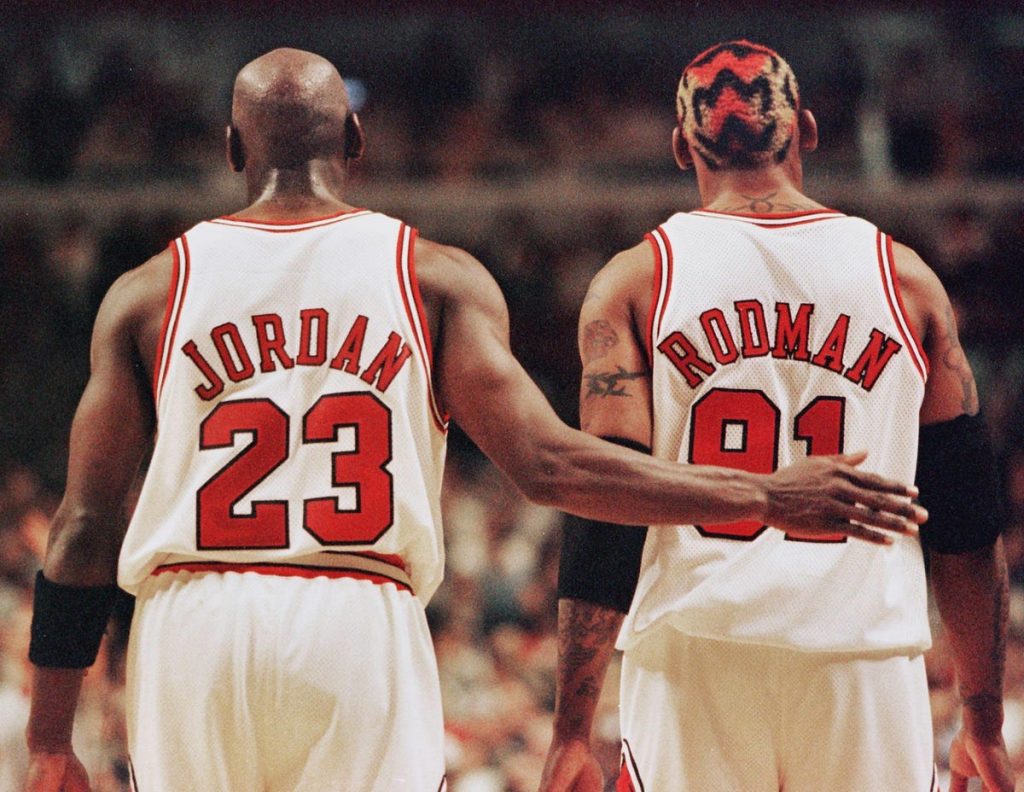 Dennis Rodman To Executive Produce Film About His 48 Hours In Las Vegas During The 1997-1998 NBA Season
Dennis Rodman will executive produce a film from Lord Miller about his infamous 48-hour pass in Las Vegas during the 1997-1998 season. The film has been picked up by Lionsgate.
The movie is based on a screenplay by Jordan VanDina and will be produced by Phil Lord, Chris Miller and Aditya Sood.
The story of Rodman's trip during ESPN 10-part documentary series The Last Dance gained the former NBA star newfound popularity, standing out as a particularly outlandish anecdote during the project.
What happened?
The incident began when Scottie Pippen came back to the Chicago Bulls halfway through the season after missing the first 35 regular-season games because of a ruptured tendon in his ankle and a contract disagreement with the team's front office.
During Pippen's time away Rodman had to fill the gaping void that Pippen left, being a model citizen for the team. Something we found out was uncharacteristic of the record-holding seven-time rebounding titleholder.
Upon Pippen's return, Rodman asked Phil Jackson – and by virtue Michael Jordan – for permission to unwind for a couple of days in Las Vegas because of the extra pressure he'd been carrying. The assistant GM for the Bulls was tasked with going with him. Rodman was also accompanied by then-girlfriend Carmen Electra.
Rodman's trip – ironically – turned into a 5-day party fest with Michael Jordan coming to Vegas in person to bring him back to the team.
Key quotes
Speaking to Deadline Lionsgate's Nathan Kahane, president of Lionsgate's Motion Picture Group, said on the production: "There's only one Dennis Rodman. In 1998, there was nobody on Earth who'd be more fun – or maybe more dangerous – to party with. And yet that's not even half of who he is."
"This movie takes you on an unforgettable ride with the myth, the legend, and also the man that Dennis is, behind everything you think you know."
Filmmakers Phil Lord and Christopher Miller added, "Dennis refused to follow the herd. That is what made him a target and it's also what made him a star."
"His weekend in Las Vegas is full of fun and high jinks but it is also full of important questions about the way public figures, and workers are treated, especially when their individuality is expressed so vividly."
Producer Lord Miller are also currently making a sequel to their Academy Award-winning animated film Spider-Man: Into the Spider-Verse.
Rodman's antics are well-known throughout his NBA tenure. Some of them include effectively forking over $1.5 million in salary, fines and settlement monies after tripping over a cameraman and subsequently kicking him court-side, head butting an NBA referee – inducing a $200,000 fine, and famously marrying himself in a custom French wedding dress.
Rodman will be executive producing the film with Ari Lubet and Will Allegra.