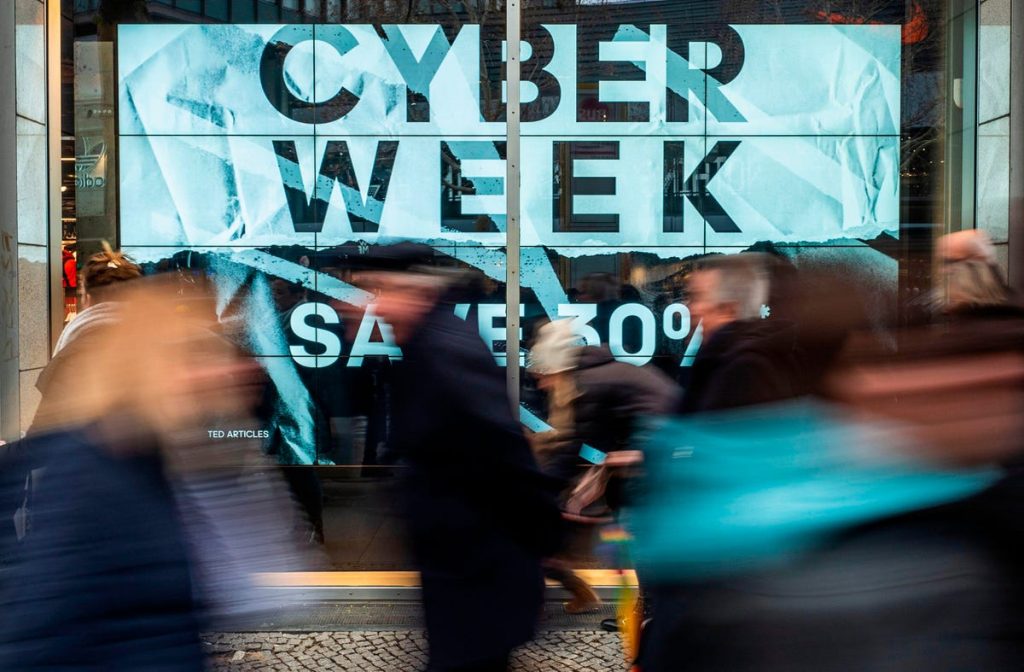 Cyber Week Online Sales Down 1.4% Physical Store Visits Up
Cyber Monday was the biggest online shopping day of the year according to Adobe's ADBE Digital Economy Index, bringing in $10.7 billion. This is slightly below last year by 1.4% but meeting expectations. Month-to-date for November, consumers have already spent $109.8B online, a significant increase of 11.9% over last year. On Cyber Monday, smartphones were used for 40% of online sales (vs desktops/laptops), up 8.4% year-over-year (YoY). According to Adobe, with many consumers working from home on a desktop/laptop, the smartphone is losing some of its potential as a major shopping channel.
Cyber Week (from Thanksgiving Day through Cyber Monday) generated $33.9 billion in online spending, down 1.4% YoY, as Black Friday dipped 1.3% YoY at $8.9 billion vs $9 billion (2020) and Thanksgiving Day stayed flat at $5.1 billion. "Consumer spending on Cyber Monday is not growing as fast as it did last year," said Vivek Pandya, lead analyst of Adobe Digital Insights. "It reaffirms that many consumers had fulfilled their shopping urge earlier in the season. When all is said and done however, we still expect to see a record season and year for e-commerce."
For shoppers looking to buy a new computer, the day with the deepest discounts is expected to be this Wed (Dec. 1) with discount levels at -26%.
Out-of-stock remains a problem online. In the month of Nov. 2021 so far (through Nov. 29), out-of-stock messages are up 169% vs pre-pandemic levels (Jan. 2020) and up 258% vs two holiday seasons ago (Nov. 2019). "With early deals in October, consumers were not waiting around for discounts on big shopping days like Cyber Monday and Black Friday," said Taylor Schreiner, director of Adobe Digital Insights. "This was further fueled by growing awareness of supply chain challenges and product availability. It spread out e-commerce spending across the months of October and November, putting us on track for a season that still will break online shopping records."
Physical stores show more traffic than last year but less than 2019
Lauren Bitar, head of shopper insights and partnerships at RetailNext, said, "Shoppers showed they were ready for a return to holiday tradition." The initial weekend numbers from RetailNext which measures shopper visits in stores, shows traffic for Friday through Sunday down 18% to 2019 and sales about flat. Regardless of the average ticket price of items being over 15% higher than 2019, average basket size still increased by about 3%. Bitar stated, "Price increases would not stop shoppers from buying new holiday outfits or crossing items off of their shopping lists."
Placer.ai's BlackFriday report, which analyzes shopping visits to physical stores, also showed declines to 2019 pre-pandemic levels but a strong uptick compared to last year. The mall index showed November traffic for indoor malls to be up 84% from last year and down 9% from 2019. Outdoor malls experienced a lift of 45% from last year and a decline of 9% compared to 2019.
Ethan Chernofsky, Vice President of Marketing of Placer.ai, said, "The push by many retailers to extend the holiday retail season has been a notable trend for years and only gained greater strength considering 2021's unique supply chain challenges and labor concerns. And Black Friday did take a hit compared to 2019 for many retailers."
Black Friday becomes less dominant for store visits compared to 2019
Black Friday store visits showed strong increases compared to last year when stores were on modified schedules. In the big box sector, warehouse clubs and discount stores showed increases in traffic for Costco, Target TGT , Sam's Club and Walmart WMT , ranging from 16% to 32% according to data from Placer.ai.
Department store increases ranged from 26% to 108% with Nordstrom JWN and Neiman Marcus leading the sector. Department store traffic was down 18% to 27% compared to 2019. The off-price sector was particularly strong compared to last year, with store visit increases ranging from 34% to 42% across major players like T.J. Maxx, Ross Stores ROST and Burlington.
Speciality store Best Buy BBY was up 33% in store visits on Black Friday but under 2019 by 24%. Beauty retailers Ulta Beauty ULTA and Sephora showed strong performance compared to last year with visits up 42% and 98% respectively. Both beauty stores are ahead of 2019 in terms of shopping visits by 10% and 21% respectively.
Chernofsky, stated, "Black Friday is not going to disappear overnight and is still the center of the holiday retail season for brick and mortar. While the holiday retail season is clearly becoming less oriented towards a single day or week, the power of key retail holidays to drive urgency and excitement persists."