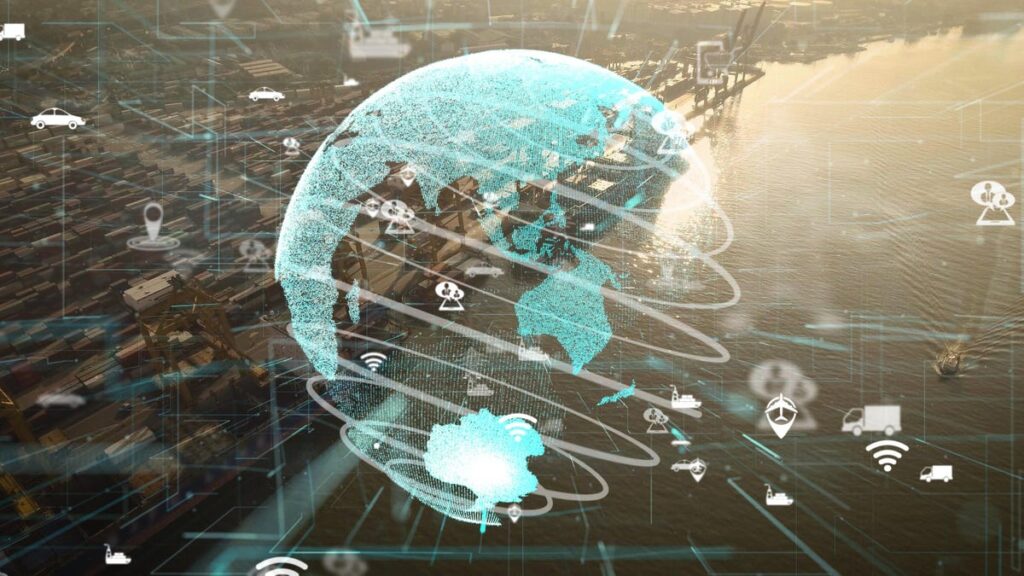 Covid-19 Causes Global Supply Chain Havoc Intensifying Last Mile Logistics AI Innovations
What a challenge COVID-19 has had on our global supply chains, exposing vulnerabilities in production capacity, shipping logistics and in particular last mile enablements. According to a recent report of Technavio, the last mile delivery market will grow to USD $14.96B from 2021 to 2025, with a CAGR of 15.06%. Also according to tier one market research firm, Gartner Group, by 2023, 50% of leading global enterprises will have invested in real-time transportation visibility solutions.
Last mile delivery is defined as the transportation of goods and services from a distribution hub to the final customer destination, within a reasonable time at an affordable rate and in mint condition. Supply chain focus on the last mile has significantly become top of mind given the COVID-19 global pandemic, as organizations have had to refresh/rethink their conveyance systems and develop new creative strategies to build more proficient conveyance intelligence.
In times of unprecedented challenges, especially in the past two years, companies are accelerating their investments in robotics, trade channel expansion, laser precision targeted product and supply chains, and last mile intelligence systems.
This blog discusses the impacts COVID-19 has had in our supply chain ecosystems, and highlights AI innovations worthy of taking note as 2022 strategic execution plans ramp up.
In my career horizon, I don't ever recall experiencing some fragile supply chains, impacts by sever labor shortages, availability of communications and supply chain infrastructure, and vision of lean manufacturing – all these forces coming together and then like puzzle pieces increasingly loosely federated, often referred as dis-integrated to enable core competencies internally to flourish and trust external supply chains and specializations to deliver our precious cargo.
Let's pause and reflect on the changing landscape of China for example. In the past China, was viewed as an attractive labor market which could cost effectually do manual assembly of all parts sourced globally. No longer does China depend on global markets as much of what they need is increasingly manufactured in their own country.
Due to the increasing US China trade war challenges, many countries have had to source from within their respective geographies or neighbors to secure sufficient supply for local demands.
International Data Corporation (IDC), a leading market research firm has predicted that logistics companies are expected to dedicate 35% or more of their business processing outsourcing services budget to process automation, in inventory, order and shipment tracking in 2022, only a few short days away.
Responding to the COVID-19 crisis has required Board Directors, CEOs, and their leaders to accelerate improvement in their ERP value chain transformation to help manage increasingly uncertainty. Here are a few companies, noteworthy to mention on their innovative focus on visibility solutions. The criteria to consider when defining visibility solution needs include:
· Enterprise (plant, factory and warehouse) visibility versus multi-enterprise (including business partners) visibility,
· Asset (truck, trailer and container) tracking versus product tracking,
· Shipment (load) tracking versus product (down to box and SKU) tracking,
· Real-time tracking (for example, updates every 15 minutes) versus milestone (pick-up, delivery) insights,
· Positioning tracking versus conditioning tracking (for example, temperature, humidity, pressure and damage),
· Single transportation mode versus multimode coverage,
· Visibility only versus visibility plus advanced capabilities (intelligence),
· Domestic scope versus international or even global scope
Innovative AI visibility companies pioneering on last mile logistics includes Bolt, a Canadian company which solves storage, fulfilment and logistics challenges. Other companies profiled in the Gartner Group magic quadrant for real-time transportation visibility platforms include: Blume Global, C.H. Robinson, Convey, Descartes (MacroPoint), FarEye, FourKites, IntelliTrans, Overhaul, project44, RateLinx, Shippeo, Transporeon (Sixfold), Trimble and Trucker Tools. As you can see from the list above, there are only a few large well proven companies in the leader roster, project 44, and FourKits.
More noticeable is that most of these challenging, visionary or niche players are not the old guard companies like IBM, Oracle, or SAP. As 2022 unfolds and the demand increases, we can count on accelerated M&A transactions, and a bright future for these last mile real-time visibility platform innovators who are building AI insights at every touch or swipe.
Board Director and CEO Leadership Advice
As the year is rapidly coming to a close, those who follow me know that I always integrate points of view to advance leadership skills in AI. so on this topic these are my recommendations:
1.) Intensify and focus on developing a data visibility strategy on every customer, supplier, employee touch point interaction. Each bread crumb has a pattern, harness it wisely or you are going out of business in the AI digital transformation world.
2.) Attract skilled digital transformation talent – and put your people front and center to advance collaborative improvements in your supply chain and logistic management operating practices.
3.) Be Mindful – evaluate diverse supply chain scenarios and focus on being creative and invest in the new emerging challenger and niche companies – take more risks and help entrepreneurs fuel job growth in our economies.
4.) Recognize that AI is a data intense enablement software layer and cultural transformation skills will need to be front and center. Adding an AI expert to your board of directors Technology or Audit Committee is advised, given the increasing ethical and legal risks of data and cyber security risks.
5.) Educate your board directors, CEO's and leadership teams on AI digital literacy and ethical data management practices, and extend your learning to your suppliers and customer ecosystems. They all need AI knowledge skills and support. Stand out from your competitors by sharing more know-how.
Notes:
1.) To read the full Gartner Group report, see here.
2.) To read one of most recent logistics and transportation and supply chain AI focused articles, check out my article on smarter AI cameras delivering powerful real-time vehicle intelligence.