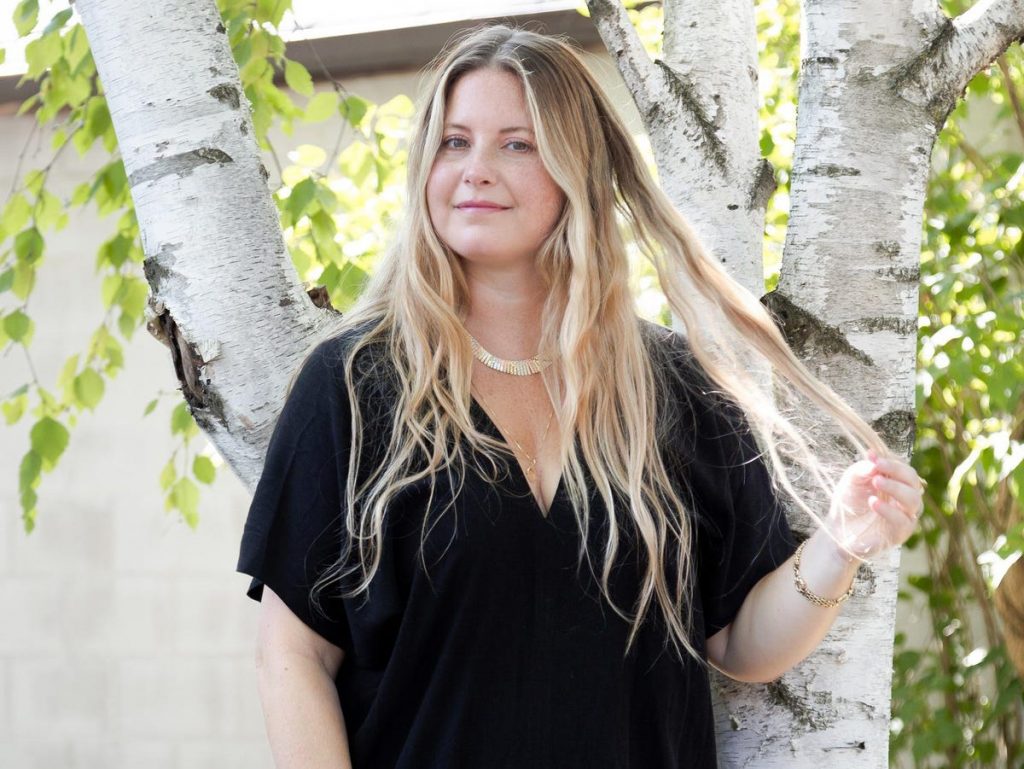 'Coveteur' Cofounder Is Redefining Modern Luxury With Her Cozy Lifestyle Brand Sidia
Erin Kleinberg is a storyteller at heart.
So the fact that she is one of the original cofounders of the aspirational lifestyle site Coveteur, and cofounder and CEO of branding agency, Métier Creative, is perfectly on-brand for this serial entrepreneur who has always had her fingers on the pulse of the latest trends.
Kleinberg's most recent venture is also based on storytelling and it's her most personal one to date.
Sidia is a direct-to-consumer modern-day heritage fashion brand, featuring a collection of caftans and matching sets. But forget whatever preconceived notions you have about caftans: Sidia's caftans are elevated, chic and a total mood.
"It's so much more than a caftan," Kleinberg states. "It's a celebration of the stories that make and mold complex women in every sense of the word. Across cultures, races, backgrounds, shapes, sizes, and experiences. Our stories are plural, but our viewpoint is singular."
Here is Sidia's story.
While Kleinberg was focusing on her branding agency, Métier Creative (working with fashion and beauty-focused clients like Ouai, Stuart Weitzman, Versed, and Megababe), her team was feeling inspired to build its own brand.
So in August 2019, they soft launched a lifestyle brand called Out of Office as a test pilot to assess the market, gather data and product feedback, build community, and acquire learnings from real customers. Out of Office featured the first generation of caftans, which have since become beloved by Sidia's loyal customers.
Out of Office garnered the attention of sites like Refinery29 (who referred to the caftans as the "cool girl fashion handshake") and of fashion-minded, influential women like Eva Chen, Geri Hirsch and Katie Sturino. For seven months, Out of Office exclusively sold caftans via Instagram DM — word-of-mouth was the label's strongest sales tool. (The e-commerce site launched in March 2019.)
Then, a year later, two major events occurred that led to Out of Office's "rebirth" or brand evolution.
For starters, Kleinberg's grandmother, Sidia, passed away after a five-year battle with stomach cancer.
And of course, the pandemic hit, not only causing Kleinberg's life as an agency owner to feel uncertain (as this was a period of global confusion), but also for the brand name "Out of Office" to take on new meaning — and feel slightly tone deaf.
"As a result of the pandemic, many people were 'out of office' unwillingly — myself included. I had to layoff employees and simultaneously, my grandmother passed away the same week that Covid shut us all down, and it just hit me — I'm going to rename this brand, Sidia."
Don't get it twisted: while these caftans can be considered perfect stay-at-home loungewear, Kleinberg wasn't designing them with the new comfort economy in mind.
"Quarantine normalized sweats for people, but our caftans allow women to feel the comfort of sweats, while looking fully meeting-appropriate and dressed without putting in much effort. Cozy is the new luxury, and we are here for it."
Sidia's caftans feature a deep V for breathability and a carefully considered blend of stretch and structure. They are equal parts chic, comfort and confident — the perfect tribute to the family matriarch, the real-life Sidia.
"I decided to dedicate everything to Sidia and her legacy and heritage, as well as her style and grace. She was strongly matriarchal — she ran our family — and she was a Holocaust survivor who immigrated to Canada. I think the reason why I love fashion and style so much is because of her."
Kleinberg's grandmother Sidia was the epitome of grit and resilience, with a strong joie de vivre. She also loved design and architecture, and became a realtor later on in her life, which led to her other passion: flipping homes. Sidia the brand's sets are each named after the different homes she lived in, "as an homage to how Sidia pulled it together and was able to make a life for herself in Canada — while always looking effortlessly chic," Kleinberg explains.
In December 2020, Kleinberg extended the ready-to-wear brand to include two-piece twin sets: "The cardigan and wide-leg palazzo pant combination is the elevated version of a classic sweatsuit to act as our armor in 2021."
(The luxe feel and softness of Sidia's caftans and sets are thanks to a bamboo blend, which is an Oeko-Tex certified fabric, made in a sustainable fabric mill.)
Sidia the brand's tagline is "come home to yourself", because it cherishes effortless pieces that allow you to show up as the best version of yourself.
In the ultimate "circle of life" moment, Kleinberg shares that she wore her Sidia caftans while giving birth to both of her children, and Sidia her grandmother wore her caftan in her last days.
Sidia's social mission is woven into the fabric of the brand as well.
"We inspire women to embrace their personal history, whether joyous or painful, to root and ground themselves in order to be equipped for the future. Our social mission is around intergenerational trauma. As a Holocaust survivor, IRL Sidia experienced a collective trauma that was woven into her lasting personal and familial legacy. We established the Sidia Stories Grant, a grant program that sponsors individuals to receive ongoing healing and writing therapy sessions." Sidia the brand is also supporting the India COVID-19 Relief fund.
Kleinberg was also intentional about creating a journey with the unboxing experience of a Sidia package, to delight the customer on every level. For starters, Kleinberg's grandmother Sidia was superstitious, so there's a red string woven into the sleeve of the set's cardigan. (The red string represents good luck in several cultures.) The package also includes beautifully designed prompt cards that invite the recipient to think about and share their story.
"For us, it's an open invitation to think about where you came from. And it might be hard, it might be easy, but we can relive our story, because everyone's personal story is what makes the world go round."
This is not Kleinberg's first apparel brand — her innate fashion sense run in her veins, and in 2008 she launched her eponymous fashion line, which was sold at retailers like Barneys (the ultimate "pinch me moment") and Nordstrom.
And although she loved selling her own line globally on the wholesale front, her heart is ultimately in the direct-to-consumer experience.
"The magic of DTC during our test phase — while selling Out of Office — has been like an adrenaline kick for me," Kleinberg shares. "I love that the power is in the people — with each sale, our customers are helping to create the building blocks, metaphorically and financially, for us to proceed. It feels so democratic and I love that!"
The proof is in the numbers — here are some of Sidia's recent milestones:
doubled sales in the last three months
doubled new and returning customers in the last three months
Continue to have triple-digit % growth YoY
85% sold-out of sets within two hours of launch
100% sold-out of major product launches within a week
For Kleinberg, having a range of only three SKUs is intentional. The strategy is in going deeper into the caftans and sets by introducing new colorways and prints, rather than having a wide array of product assortments.
The third SKU dips into the beauty category: it's Sidia's Cloud Nine headband, which is perfect for indulging in skincare, from washing your face and applying a face mask, to simply unwinding at home with hair pulled back.
"I love that we can start to own the oasis of your bathroom and closet. And that's the space we really want to be in," Kleinberg explains. "After all those years running Coveteur and seeing this intimate view of people's closets and their little night-table vanities, their bathroom setups and their coffee tables — these are the moments of your ritual that we want to help enrich. So many brands want to be the ritual. With Sidia, we just want to be here with you, on your journey."
Kleinberg's goal isn't "to have people running around the city in the Cloud Nine headband." Her goal is to create this range of accoutrements, "that enriches your ritual."
And speaking of lifestyle products that help create an oasis, Sidia's next drop is a collection of two candles, in time for holiday. (Kleinberg is also very intentional about Sidia's "drop" cadence: there's a new product launch every month.)
Coming up next, releasing in mid-September: The Heathers, "a collection of deliciously soft bamboo caftans and Sidia Sets in heather grey mélange colorways," followed by new colorways in October.
For Kleinberg, it's about luxuriating at home or while out, in an effortless yet elevated way.
"Our mission is to create objects with intention and beauty to help us live with ease, without restrictions."