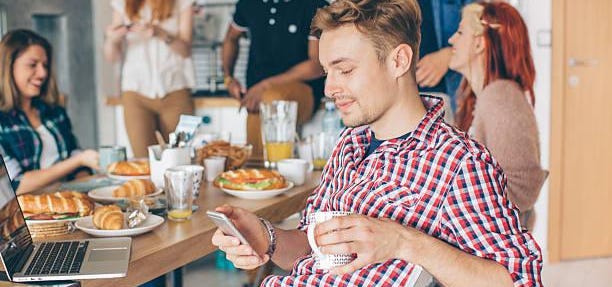 Co-Living Serving As Social Glue For Remote-Learning Students
When Eddy recently opened its third Los Angeles, Calif.-area co-living community, Eddy East Hollywood, the buzz centered on the company providing a cost-effective option for young Angelenos and LA transplants hard-pressed to find affordable apartments. But despite the fact Eddy East Hollywood opened at the start of the 2021-22 academic year, many overlooked a key advantage of co-living spaces from companies like Eddy in this particular day and age.
That benefit is that at a time when many college classes continue to be offered remotely, leaving students isolated, co-living is helping provide the social glue so crucial to personal growth, collaboration and fun during college years.
The 2021-22 fall semester for many students will be a blend of in-person and remote classes, internships and study abroad. Eddy expressly set out to partner with area colleges to house students in purpose-built settings with robust community activation spaces – replicating on-campus experiences during a time of physical separation.
"We think these types of programs will grow significantly as schools modify their value proposition to students," said Eddy co-founder Leeor Maciborski. "Looking further, we see the future of higher education as more digital, remote and on demand . . . That structure misses one of the most important parts of college – the social experience."
Eddy East Hollywood was the latest unveiling from the collaborative housing company, in the wake of last year's launches of Eddy West Hollywood and Eddy Beachwood Canyon. Openings slated for 2022 include Eddy Virgil Village and Eddy Hudson.
Getaway space
It's not only Eddy encouraging social interaction at a time many remain Covid cautious. Treehouse is another L.A. co-living enterprise, one that offers a variety of settings sparking non-virtual meetups. A rooftop lounge, resident café, dining hall, library, music studio and a laundry doubling as an art studio are all designed to bring folks together. Another nook, the "mezz," looks to be the kind of getaway space where two could study nicely for mid-terms.
As Treehouse proclaims, "Our communal spaces belong to all our residents. They are designed both for impromptu moments and planned events, providing residents a canvas to create the gatherings they have always dreamt of."
On the opposite coast, it's co-living company Outpost speaking to students, creatives, entrepreneurs, newcomers and others who understand loneliness remains a problem even in the teeming metropolis that is New York City. Outpost is out to mitigate that woe. Planned social events, folks to chat with at virtually any time and a resident mix from all corners of the world spur face to face connection among residents.
Changing thinking
Connecting folks was what Eddy was about from the start, says Michael Stavredes, Eddy chief product officer. "Our event programming – everything from cooking classes to professional lectures to intimate concerts – is a tool that helps our members to connect with each other and enjoy the properties," he observes.
"It's also a resource that encourages learning and professional growth, specifically with our speaker series and networking opportunities. We intentionally take a distributed approach to social engagement, empowering our members to create the community they want to see via events and activities."
Leeor says social engagement is a "check the box" feature for many companies. "We consider it a core competency of ours, and a key differentiator," he says.
One of Eddy's missions is to change the way people think about housing, taking the concept from something purchased and owned to something rented and borrowed.
Meantime, providing affordable, functional and community-minded spaces that create chances for meaningful relationships will continue as a prime Eddy goal.
Says Leeor, "We need to make sure, now more than ever, that our next generation of students, ambitious creatives and visitors have access to affordable housing options in larger cities."