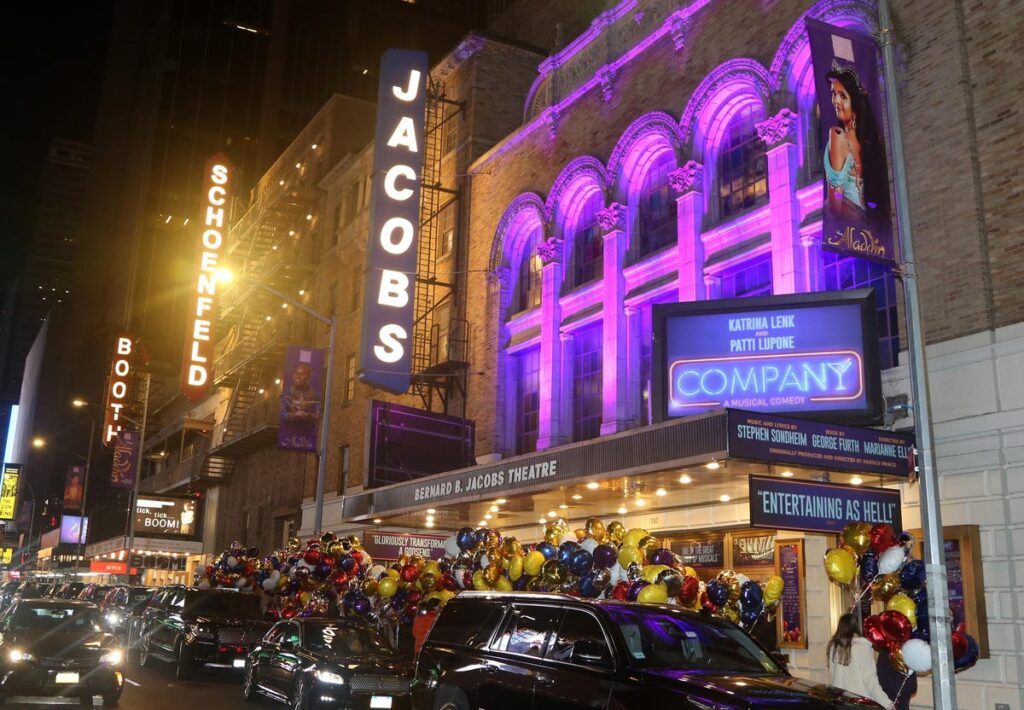 Closures, Accidents, Illness: Broadway's Recovery Is A Work In Progress
Did somebody say "Macbeth" last week?
Given the troubles plaguing multiple Broadway shows, you'd be forgiven for believing the Scottish superstition, which foretells misfortune if the name of Shakespeare's tragedy is uttered inside a theater.
Both Chicago and Wicked cancelled several performances due to Covid breakthrough infections in the fully vaccinated companies, while American Utopia was dark the whole week as creator and star David Byrne contracted a non-Covid illness. Meanwhile, multiple technical accidents befell Company, including a malfunctioning trapdoor that crushed part of the set and nearly injured its star, Katrina Lenk, according to audience members who witnessed it. (Its other star, Patti LuPone, was out sick for the night, to boot.) (Not Covid, though.) (Phew.)
All parties involved appear to be safe and recovering, which is good news. Less good is that a Shakespearean gloom may be affecting more than the sets: The industry's box office numbers point to a faltering recovery after autumn's valiant reboot.
After a welcome Thanksgiving boost, grosses dropped almost 20%, according to the Broadway League, an industry trade organization. All productions collectively grossed $26.21 million, following a year-to-date record of $32.54 million the week prior. For context, three plays have since closed, in addition to the aforementioned cancellations, and revenue always drops after holidays.
But even with those caveats, the numbers are disconcerting. Accounting for inflation, number of shows running, and number of performances played, Broadway grosses are only 79% recovered to where they "should be," compared to the same week in 2019. (Here's a breakdown of the math behind that guess – and its ambiguities).
While 79% is solid given how long the sector was shuttered, it's part of a larger concerning trend. Optimists were hoping that the closure of three underperforming plays might help balance the overall numbers and give a more accurate picture of a booming business. But even with a tighter market, overall recovery continued to slip, from 81% over Thanksgiving, 85% the week before, and all the way from 94% in October.
As ever, the sales data only provides aggregate numbers, instead of a traditional show-by-show breakdown, so there's no way of measuring the recovery of musicals vs. plays, or new work vs. long-running hits. A bevy of industry sources agree, however, that a small number of established musicals are in fine shape, while the rest are somewhere between good-not-great and dire. The three shows that closed early were, perhaps not incidentally, all new plays.
Some industry veterans remain sanguine, or at least coolly pragmatic. "It might take a couple of years, but we had 10 record-breaking years in a row," said League President Charlotte St. Martin in an earlier interview. "We can survive and not be record-breaking."
But sanguinity is a luxury, and plenty of producers don't have the privilege. Existing brands will have an easier time weathering the months ahead, especially if they received government support, but they represent only a portion of the content that fills Broadway houses. Newer, smaller ventures have their work cut out for them.
What's the upshot here? Given the trend, it would seem that the current slate of shows has hit a plateau – demand is simply not keeping up with supply. The uncertainty has allowed more unorthodox work to play Broadway houses, granting exposure that might have been harder to come by if every theater still had half a dozen shows clamoring for a spot. But it's also made such work an even tougher sell. Expect more empty theaters than usual this winter, and expect them to stay empty longer as independent producers circle the wagons.
The good news: Pfizer PFE just announced that booster shots provide robust protection against the Omicron variant, which should quell the nerves of anyone in live entertainment. And given that Broadway theaters require both masks and proof of vaccination upon entry (even for kids), you'd be hard-pressed to find a safer way to gather indoors this winter. And for the most part, prices have never been better.
Take that, Macbeth.