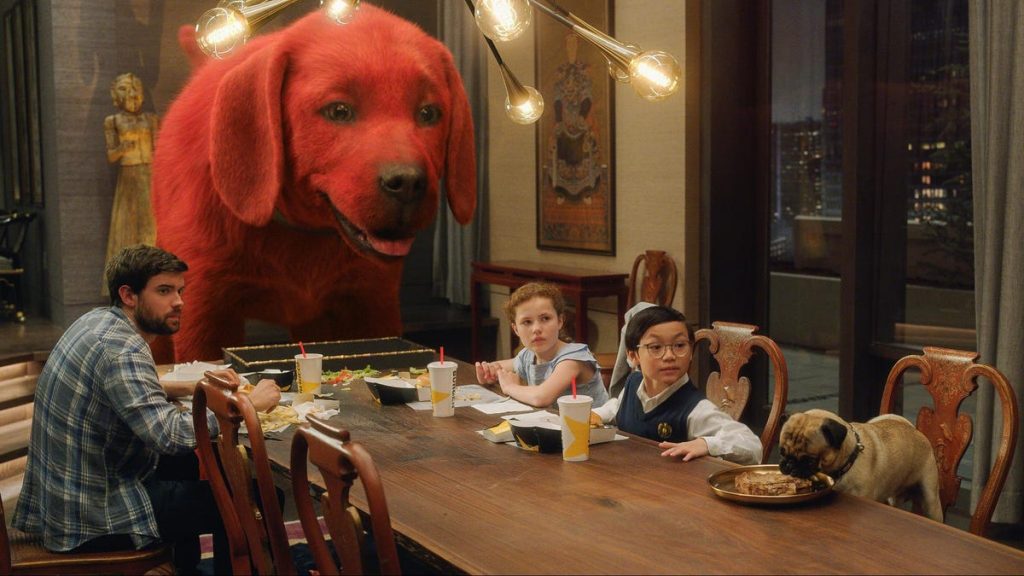 'Clifford' Was A Hit At The Box Office And On Paramount+
Yay for Paramount+?
Paramount+ is reporting that it added one million new subscribers in just the last week. That's a new record for the Viacom-owned streaming platform since CBS All Access was rebranded as Paramount+. They are also reporting new records for most hours streamed, mostly thanks to the day-and-date premiere of Clifford: The Big Red Dog (which earned a better-than-expected $22 million over its Wed-Sun theatrical debut) Taylor Sheridan's new drama Mayor of Kingstown and the CBS event Adele: One Night Only. Clifford was, by default for the moment, the service's most-watched original movie.
For the record, Paramount+ has a very deep bench of varied content, from a deluge old(er) movies to various libraries for Comedy Central, Nickelodeon, Smithsonian and the like. For $100 a year, that's just $8.33 per month, it's as much of a "bang for your buck" platform as any of the others. This goes back to what I've frankly argued for a while. Yes, some streaming platforms are going to be bigger than others, and yes one or two biggies might fall during the great streaming war.
Every (big) platform wins the streaming war?
But as more consumers become acclimated to streaming as a standard mode of entertainment consumption, well, is it really that absurd to expect folks who once spent $100-$200 a month for cable to spend around $75-$100 now instead for essentially every major streaming platform (Netflix, HBO Max, Amazon, Peacock, Apple TV+, Paramount+ and an ESPN/Disney+/Hulu bundle along with one or two smaller platforms like Shudder) as just the monthly price of at-home entertainment? If I'm right, and that's a big "if," the winners of the streaming war could be "everyone."
Netflix (which was first) and Amazon (for free Prime shipping) have the advantage, with Disney+ existing as the babysitting service (with a regular supply of new MCU and Star Wars content) and HBO Max existing as the comparatively prestige option. The rest will spend their days fighting for fourth or fifth place. Branding WB's service under HBO may have been a good long-term strategy). Even Peacock, which may not be setting the world on fire, has not been positioned as the be-all/end-all for the Comcast media empire.
The danger of neglecting theatrical…
It's no secret that I worry that Bob Chapek seemingly putting all of his Disney eggs into Disney+ is a bad idea, not least because most of the folks who will sign up for MCU shows, Pixar movies or related high-end offerings have already done so, and retention only goes so far when your stock takes a beating due to adding "only" two million subscribers in a given quarter. Disney either needs to bring non-nostalgic adults into their platforms or stop viewing Disney+ as the center of its universe.
Again, as we've seen with Jason Kilar's "Project Popcorn" and Netflix's big-bucks first pay tv window with Sony, theatrical cinema is still a driving force for high-end streaming content. Netflix titles like Red Notice are tying to approximate the Hollywood theatrical tentpole, while HBO Max bet its short-term future on offering theatrical Warner Bros. movies concurrently on the platform. Disney+ is only raking riches from those MCU shows and Star Wars episodics because the franchises became so damn valuable/popular as theatrically-specific brands.
When everything's special…
The day-and-date releases of Wonder Woman 1984, Halloween Kills and Clifford were only big deals because they were also theatrical and/or initially intended to be theatrical-only. They were events by virtue of being "forbidden fruit." You take away the "$200 million actioner intended for global theatrical release," and Mulan becomes Lady and the Tramp. Alas, audiences may become acclimated to expecting theatrical movies available concurrently or soon after their theatrical release from home for little-to-no additional fee.
At what point does a release of a movie like Clifford become an inter-company war between employees whose bonuses depend on box office or post-theatrical revenue and those who depend on high streaming consumption? Halloween Kills and Dune show that high-end box office and streaming can coexist, at least for now. But if theatrical success is now predicated on viewer indifference to or unawareness of alternative distribution platforms, how hard will the studios work to educate them, even to their long-term detriment?
Will Wall Street allow theatrical to thrive?
It's great now that A Quiet Place part II ($160 million domestic and $297 million worldwide) wasn't impacted by the 45-day window, or that Godzilla Vs. Kong ($100 million/$469 million) frankly overperformed despite HBO Max availability, but will that be allowed to be the way of the world? Or will studios, egged on by a Wall Street that favors streaming-specific revenue, go out of their way to reeducate their consumers to google where a new theatrical release is playing aside from theaters and/or when that title will be available at home?
That's doubly-true when the smaller-sized platforms (Paramount+, Peacock, etc.) have subscription loads on par with Disney+ or even Netflix. Audiences want theater-worthy or theatrically-released movies on streaming platforms but the ecosystem requires a global theatrical release for any shot at profitability. Whether the streaming-centric ecosystem and those rallying for streaming at the expense of anything else will drown out the ability to justify producing the very theatrically-specific pictures on which streaming platforms partially depend is one huge question going forward. Ask me again in a year.