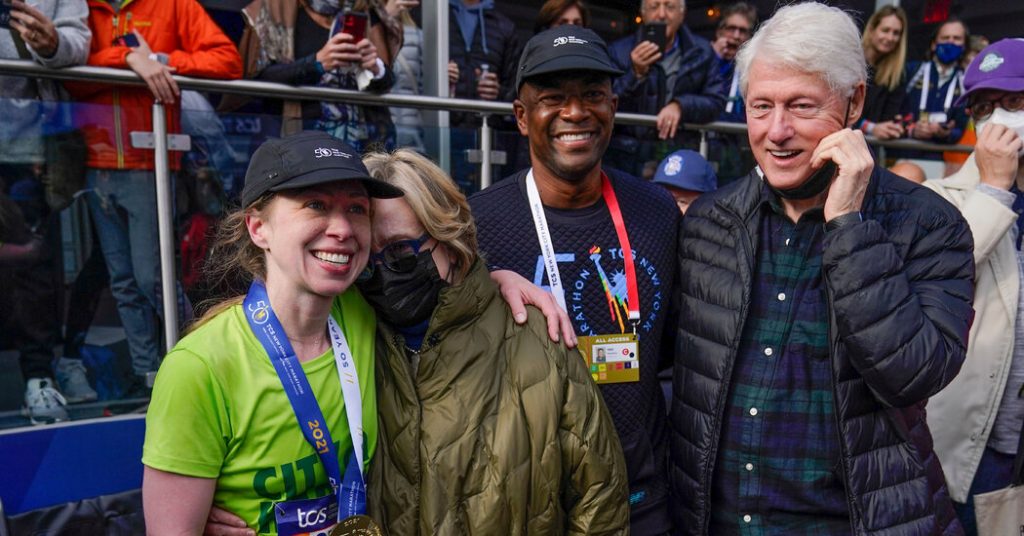 Celebrity Runners in the Marathon: Former Athletes, 'Bachelorette' Stars and More
For the first time since the onset of the pandemic, tens of thousands of runners hit the streets for the New York City Marathon, and celebrities and athletes once again raced alongside regular folks.
The U.S. women's national soccer team had several Olympic gold medalists and World Cup winners running in this year's race, including its alumnae Abby Wambach, Lauren Holiday, Leslie Osborne and Kate Markgraf.
The retired Giants running back Tiki Barber is a veteran marathoner and ran in his seventh in-person New York City Marathon this year. Christy Turlington, a model, activist and seasoned marathoner, will also compete.
The Broadway actress and Tony Award-winner Kelli O'Hara; the Grammy winning musicians Marcus Mumford and Ben Lovett of Mumford & Sons; as well as several contestants from "The Bachelor" and "The Bachelorette" franchises, including Tayshia Adams and Matt James, were also among the celebrities scheduled to run. And Chelsea Clinton, the daughter of former President Bill Clinton and former Secretary of State Hillary Clinton, was also seen completing the marathon.
Here are some of the notable runners whose finish times were made available:
Tayshia Adams from "The Bachelorette": 4:40:24

Tiki Barber, former Giants running back: 4:47:49

Nicole Briscoe, ESPN "SportsCenter" anchor: 5:35:16

Ryan Briscoe, professional racecar driver: 2:57:06
Tyler Cameron from "The Bachelorette": 5:02:16

Zac Clark from "The Bachelorette": 4:40:24

Kristine Froseth, model and actress: 4:29:49

Willie Geist, host of "Sunday Today" and a co-host of "Morning Joe": 3:58:23

C.J. Hobgood, ASP World Championship surfer: 4:20:17

Lauren Holiday, former U.S. soccer player: 3:40:30

Daniel Humm, chef and owner of Eleven Madison Park: 3:04:15

Matt James from "The Bachelor": 5:02:23

Ben Lovett, musician from Mumford & Sons: 4:18:29

Marcus Mumford, musician from Mumford & Sons: 3:53:22

Leslie Osborne, former U.S. soccer player: 3:41:33

Christy Turlington, model and activist: 4:01:20

Will Reeve from "Good Morning America": 4:11:51

Abby Wambach, former U.S. soccer player: 3:44:25