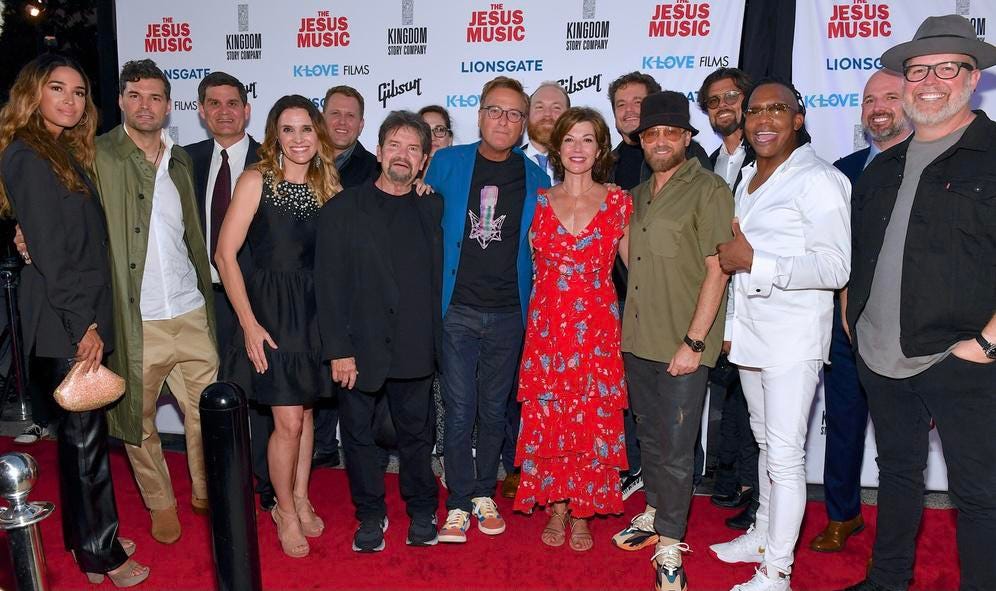 CCM Artists Celebrate 'The Jesus Music' Film Which Hits Theaters This Weekend
Some of the biggest names in Contemporary Christian Music gathered this week to get their first glimpse of the new film The Jesus Music.
Amy Grant, Michael W. Smith, Toby Mac, Michael Tait, Bart Millard, CeCe Winans, John Schlitt, and many others came together to watch the The Jesus Music on a big screen in downtown Nashville.
"It's so great seeing old friends," noted Amy Grant. "That's the first thing that hits is just what incredible camaraderie there is."
Grant and Michael W. Smith are Executive Producers on the documentary created by the Erwin Brothers. (Jon and Andy Erwin are directors and screenwriters behind the successful 2018 film I Can Only Imagine.)
The Jesus Music, a Lionsgate film, is set for release exclusively in theaters this weekend. The documentary draws upon extensive footage and numerous interviews to help tell the story of Contemporary Christian Music. One of the most interesting surprises in the film is where it all began.
"This story has never been told," Michael W. Smith explained. "I mean people have written books about it, but it's never been on the big screen. I think you're going to have 95-percent of people go, oh my gosh, I had no idea this was the catalyst that spurred the movement in the late 1960s. Vietnam, the drug evolution, civil unrest. And to know this all started with some hippie preaching at a Calvary chapel in California, and then these hippies started getting saved."
The film highlights the music's growth in different decades, sharing the story with many of the people who lived it. It also uses uses archive footage to show the role many others who have since passed, such as the Reverend Billy Graham, played in helping take this new form of music to the masses.
The three members of DC Talk, a group that started a movement in the late 80s when it added both rock and rap to Christian music making it appeal more to young people, were all interviewed for the film. Michael Tait and Toby Mac attended the premiere.
"Years ago when Toby Mac and I met at Liberty University," Tait said, "there was no place for youth movement music. And we had a little slogan that if it's Christian it ought to be better. And we've never left that mentality."
Today, Tait is lead singer for the Newsboys. He's grateful to have watched the genre grow and yet, he believes the best is yet to come. He applauds the film for telling the full story.
"I think the movie chronicles the beginnings of Larry Norman (considered the father of Contemporary Christian music) straight up to where we are now, and it does it so well. So classy, so much information, and it even shows some of the rougher issues of people going through personal problems and that spilling out onto the stage. Because it turns out we aren't perfect honey, we're forgiven."
Toby Mac says sharing the struggle has always been important.
"One thing we did with DC Talk is we wanted to be transparent about our weaknesses and that at any moment we could stumble," he said. "We didn't want to act like we had it together and be a plastic Christian singer holding a microphone. We wanted to say look at us, we could mess up at any moment."
As the movie looks back on the history of Christian music with an eye to the future, he's proud to be part of it.
"I take a lot of pride and joy in what this Jesus music offers. I love to pay homage to the pioneers who were before me, that's why I got to do what I do, and I want to shed as much light on it as I can because I believe in the promise of these young artists coming up."
The film highlights a long list of groups and artists. During the 90s, Kirk Franklin added his gospel influences to the mix. The film details how his song "Stomp" became big in pop culture, but caused a backlash in the church. Franklin shares his story, as well as some of the racial challenges that still exist in Christian music.
Also in the 90s, Amy Grant burst onto the Christian music scene to become one of the biggest artists in the genre as she took it in a new direction. She says it's been interesting to look back on some of the history.
"First of all, there have been beautiful deep pockets of gospel music, black gospel music, southern gospel music, that have roots that are much older than Contemporary Christian music. But it's fun to have been a part of something and have it matter enough to the Erwin Brothers to say this is where this branch of the family started. Music is a big family and this is just one small part of it. But for those of us that it really shaped our young lives, it's a great celebration."
Those behind the film are hoping it serves as a celebration of the music, as well as the message behind it.
The Jesus Music film opens October 1st and is available only in theaters.