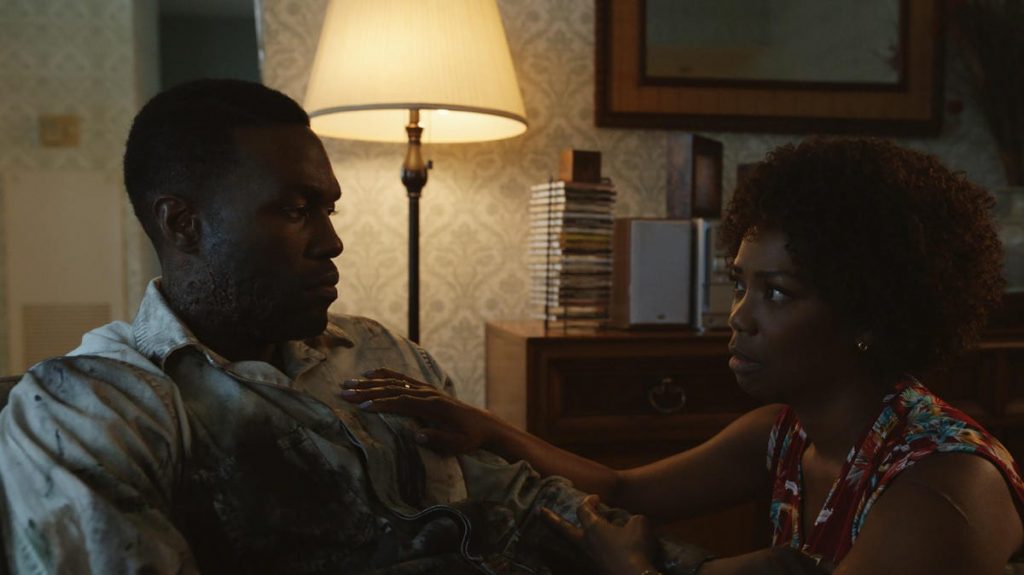 'Candyman' Tops Box Office With Strong $22.4M Weekend
Universal and MGM's Candyman easily topped the box office with a solid $22.37 million Fri-Sun debut. That's an opening right in line with the $24 million launch of Warner Bros.' The Conjuring: The Devil Made Me Do It back in June and (in non-Covid times) the $25-$26 million debuts of The Curse of Llorona, Don't Breathe and The Visit. There was a time, right when the, uh, buzzy first teaser dropped in February of 2020, when Candyman was positioned as the horror movie event of summer 2020. At that time, there was real hope that the Nia DaCosta-directed film, co-written and produced by Jordan Peele, would capitalize on multi-generational nostalgia, a demographically-specificity and genre-specific anticipation to become a multi-pronged event movie. However, on a Covid curve, a $27.6 million global debut is more than good enough.
The $25 million-budgeted, R-rated Candyman sequel (and, yeah, it's Candyman 4 and not just a sequel to the 1992 classic) pulled a solid-for-horror 2.45x weekend multiplier and a B grade from Cinemascore. In a cruel irony, Universal's good-faith choice back in October of 2020 to push Candyman to late-August 2021 may have (relatively) backfired. The idea was to hold out so that more viewers (especially but not exclusively Black moviegoers) would be vaccinated or otherwise protected from Covid. Still, the Delta variant upended the expectation that progress would tilt ever upward. If anything, the circumstances are arguably worse just compared to late May/early June when A Quiet Place part II ($160 million cume) and The Conjuring 3: The Devil Made Me Do It ($65 million) earned relatively "business as usual" grosses.
Any notion Candyman would open near Get Out ($33 million in 2017) or A Quiet Place ($50 million in 2018) expired in March 2020. However, a film like Candyman (which told a timely tale of systemic racism, gentrification, generational trauma and how even well-meaning white people can exploit stories about Black pain) is now somewhat more par for the course in 2021 versus 1992. Bernard Rose's Candyman was also, at the time, the rare film (alongside Wes Craven's New Nightmare) to take the "Silence of the Lambs means horror films can be for adults again!" flag and run with it for something other than a serial killer procedural (Copycat, Se7en, Kiss the Girls, etc.) or a prestige "Classic Monsters" movie (Bram Stoker's Dracula, Wolf, Mary Shelly's Frankenstein).
Heck, sequelize-ing Candyman as a response to Get Out isn't that much more inspired than remaking Total Recall in response to Inception. Still, the arty, claustrophobic, not-entirely crowd-pleasing horror sequel didn't necessarily open with 1/2 of what it otherwise would have nabbed in June of 2020. We may have always been looking at Get Out as a best-case-scenario comparison instead of A Quiet Place ($50 million in 2018), Us ($71 million in 2019) or Halloween ($77 million in 2018). A $22 million launch instead of a $35 million launch makes Candyman another "successful disappointment," with an emphasis on "successful." A $25 million R-rated horror flick starring an almost entirely Black cast has earned mostly positive reviews (86% fresh and 7.4/10 on Rotten Tomatoes despite the contentious Film Twitter discourse) and grossed $27.6 million worldwide in its debut frame.
As for the "why," the Candyman IP has remained popular and well-liked for the last 25 years. However, it has been mostly untouched since the straight-to-video Candyman: Day of the Dead in 1999. The film positioned itself as a legacy sequel, with the "added value" of a marquee filmmaker (more so Jordan Peele than director Nia DaCosta, but whatever gets them into the theater) and the always relevant topicality/politics present in the franchise from the get-go. The anticipation and interest were always there, so those interested in early 2020 mainly were still onboard by August 2021, with positive reviews and decent buzz (no pun intended) closing the sale. The iron may not have been as hot as it might have been in summer 2020, but it was still more than warm enough.
M. Night Shyamalan's Old has already earned $46 million from a $16.5 million debut, and even The Forever Purge has $44 million from a $12 million debut. Even legs like Us ($175 million from a $71 million debut) get Candyman to $54 million domestic. At a glance, we're probably looking at a final domestic total of between $55 million and $65 million. That might have been a disappointment in regular times, but it's still a hit with or without Covid variables. Following the strong legs shown by Old, Free Guy and Jungle Cruise, the everyone out of the pool mentality after The Suicide Squad may have been misplaced. There is a clear difference between movies that were always doomed (Snake Eyes) and those which might have broken bigger in better circumstances (Jungle Cruise). Candyman is the latter.