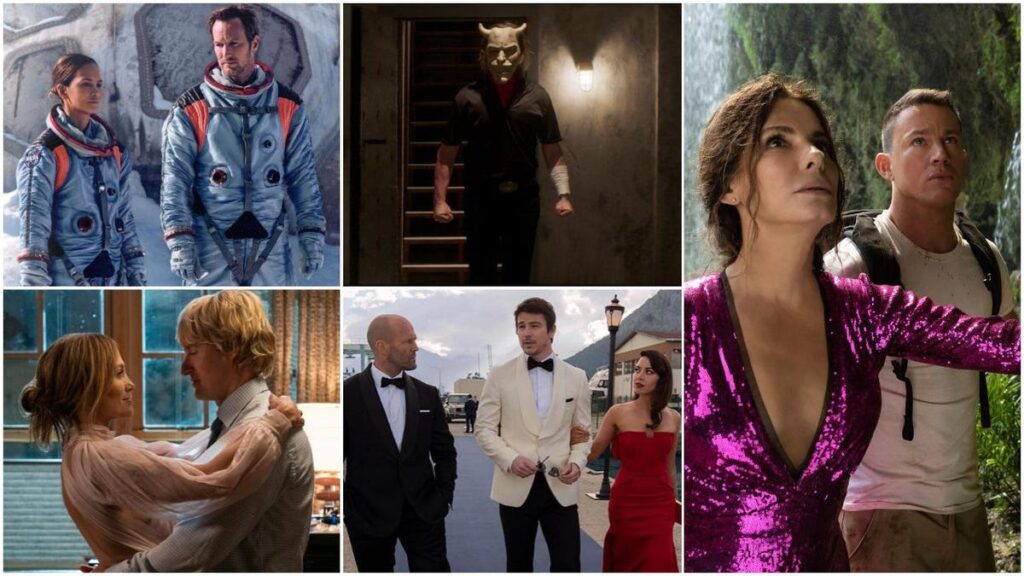 Can The Movie Make A Box Office Comeback In 2022?
Absolutely no one expects Universal's The 355 ($350,000 in Thursday previews) to break out to any extent this weekend. Simon Kinberg's badly reviewed and buzz-free ensemble actioner, starring Jessica Chastain, Fan Bingbing, Penelope Cruz, Lupita Nyong'o and Diane Kruger, is earning lousy reviews and frankly is the kind of "women can kick ass too" actioner that is now almost its own sub-genre in the streaming world. Why drive out to the theater to see The 355 when you can catch up on Karen Gillan's Gunpowder Milkshake, Chastain's Ava, Mary Elizabeth Winstead's Kate, Kate Beckinsale's Jolt (along with Maggie Q.'s theatrical but now on VOD The Protégé) at home? Nonetheless, it's the first example of a specific kind of movie that will try a comeback in 2022. It is an original, non-franchise, star-driven, high-concept theatrical release. In other words, it's just a movie.
We learned in 2021 that the preordained tentpole blockbusters, think Godzilla Vs. Kong, A Quiet Place part II, F9, No Time to Die and the Marvel movies, were still safe bets. That Hollywood is hoping for a comparative return to normalcy (if not quite the $11 billion-plus highs of the last few pre-Covid years) is thanks to the steady supply of preordained mega-movies (think Jurassic World: Dominion, Mission: Impossible 7, Avatar 2 and the various Marvel/DC flicks) beginning in March with The Batman. Spider-Man: No Way Home ($635 million domestic and around $1.42 billion global) shows that pre-pandemic grosses are still possible, which bodes well for the action/fantasy tentpole franchises that were already threatening to monopolize the industry. But has two years of at-home consumption, along with studios bending or breaking the theatrical window for short-term streaming gains, further made the studio programmer obsolete?
As regular readers know, the commercial peril for the high-concept star vehicle and new-to-you adaptation didn't start with Covid. Whereby audiences once saw the event films and other relatively commercial offerings in theaters, be they star vehicles, high-concept originals or new-to-you adaptations, that "see a movie just to see a movie" demographic transitioned, almost overnight in late 2015/early 2016 to streaming. We saw a wave of once-commercial 2016 releases (Whiskey Tango Foxtrot, 13 Hours, The Boss, etc.) underwhelm or outright bomb while audiences showed up in droves to the superhero movies (Deadpool, Batman v Superman, Captain America: Civil War, etc.) and talking animal toons (Zootopia, Finding Dory, Secret Life of Pets, etc.). At-home offerings included "prestige" television shows and streaming originals, often adult-skewing, star-driven fare, which offered production values and relative quality almost on par with much of what Hollywood could provide in theaters.
Combine that with affordable home theater set-ups, allowing more households to buy that 55" HDTV and sound bar, and a shorter "from theaters to VOD" window. Nonetheless, domestic box office cracked $11 billion in 2015 (partially thanks to over performances by Jurassic World and Star Wars: The Force Awakens) and stayed up that benchmark until Covid forced theaters to close in 2020. Even accounting for inflation, total ticket sales declined but not disastrously so. However, more money was being spent on a smaller and smaller number of annual theatrical releases, with more of those tickets being "premium" options (IMAX, 3-D, Dolby, D-Box, etc.). In 2011, the top six domestic earners accounted for 16.9% of the annual box office. The top six movies in 2019 accounted for 28.5% of an $11.4 billion total. Last year, presuming No Way Home cracks $750 million, it was 38% of $4.5 billion total.
This "1/4 to 1/3 of total box office spent on the top six movies" stat accounts for almost every grim trend I whine about. It's why original movies and star vehicles struggle. It is why audiences would seemingly want to watch more Harry Potter instead of discovering the "next Harry Potter." It is why audiences claim to want and champion diversity but only show up when it's a movie they already want to see. Raw star power used to allow high-concept originals like Magic Mike (Channing Tatum is a stripper), Hitch (Will Smith as a non-toxic pick-up artist) and Air Force One (Harrison Ford as an ass-kicking president) to thrive alongside the more explicit franchise/IP plays. The "this person you like in an interesting-looking movie" hook has shifted to streaming, whereby likely theatrical whiffs like Red Notice and Spencer Confidential can become record-breaking Netflix originals.
Last year was about proving the vitality of the preordained franchise blockbuster tentpole in this new normal. Fair or not, this year will be, especially once Omicron infections decline, essentially the last chance to prove the theatrical viability of the "movie movie." Halle Berry and Patrick Wilson will save the world from the moon in Roland Emmerich's Moonfall in February. Sandra Bullock and Channing Tatum will cosplay Romancing the Stone in The Lost City in March. Brad Pitt and an all-star cast will try to make Bullet Train a star+concept hit in July. Olivia Wilde's Don't Worry Darling, starring Florence Pugh and Chris Pine, will try to be the next Gone Girl in September. Damien Chazelle's old-Hollywood romp Babylon will end 2022 trying to prove La La Land wasn't a fluke. We've got two Jennifer Lopez rom coms (Marry Me in February and Shotgun Wedding in June).
There are plenty of others, including Michael Bay's new-to-you remake Ambulance, Guy Ritchie's original Jason Statham/Aubrey Plaza action-comedy Operation Fortune, the meta-comic The Unbearable Weight of Massive Talent (Nicolas Cage's first big-deal star vehicle since Left Behind in late 2014), biopics for Elvis Priestley, the Bee Gees and Whitney Houston, Steven Spielberg's semi-autobiographical The Fabelmans, two Blumhouse originals (Scott Dickenson's The Black Phone and Jordan Peele's surefire smash Nope) and the Kevin Hart/Woody Harrelson "regular guy gets mistaken for an assassin" romp The Man from Toronto. Some of these films will be good, and not all of them would have been commercially surefire even in pre-streaming times. Some of them will end up being glorified loss leaders for their eventual debut as an A-level streaming item. These are nonetheless mostly old-school, star+concept films that aren't intended to launch a franchise and aren't relying on existing IP.
I'm hoping Sony's pay-tv window deal with Netflix is a commercial safety net for making the next Baby Driver. We may see a situation where Nightmare Alley or Last Night in Soho only exist theatrically to compete for awards and use the prestige of a theatrical existence as pre-streaming promotion, a notion that Netflix seems to already understand. Nonetheless, I'm hoping that this diverse and voluminous slate of (mostly escapist) "just a big movie" offerings can be successful enough to convince studios to keep making them for theaters. It's easy to look at Warner Bros.' IP-focused slate or Disney's Marvel/animation-centric line-up and mourn. When Warner Bros. spends three years offering up King Richard, The Way Back and The Kitchen to empty auditoriums and Disney watches Tomorrowland, A Wrinkle in Time and Queen of Katwe (and most 2018-2021 Fox offerings) bomb, well, studios aren't charities.
If we don't show up for In the Heights, then the next In the Heights will either not exist or will be a cheaper streaming original. Yes, a global pandemic complicates the situation. Moreover, some studios (like arguably Disney) have been all-too happy to tell audiences to wait until home for the non-event films, especially as Wall Street seems to prioritize streaming revenue above other sources no matter the actual raw currency earned. Theaters may be able to survive with just a steady supply of stereotypical tentpoles, as A) higher ticket prices for IMAX-worthy tentpoles means more money and B) a popcorn bought for Spider-Man: No Way Home costs the same as one bought during Nightmare Alley. But studios need to be shown that there is still commercial vitality in the non-franchise movie. Otherwise, as I've said for many years, we get the movie industry we deserve.