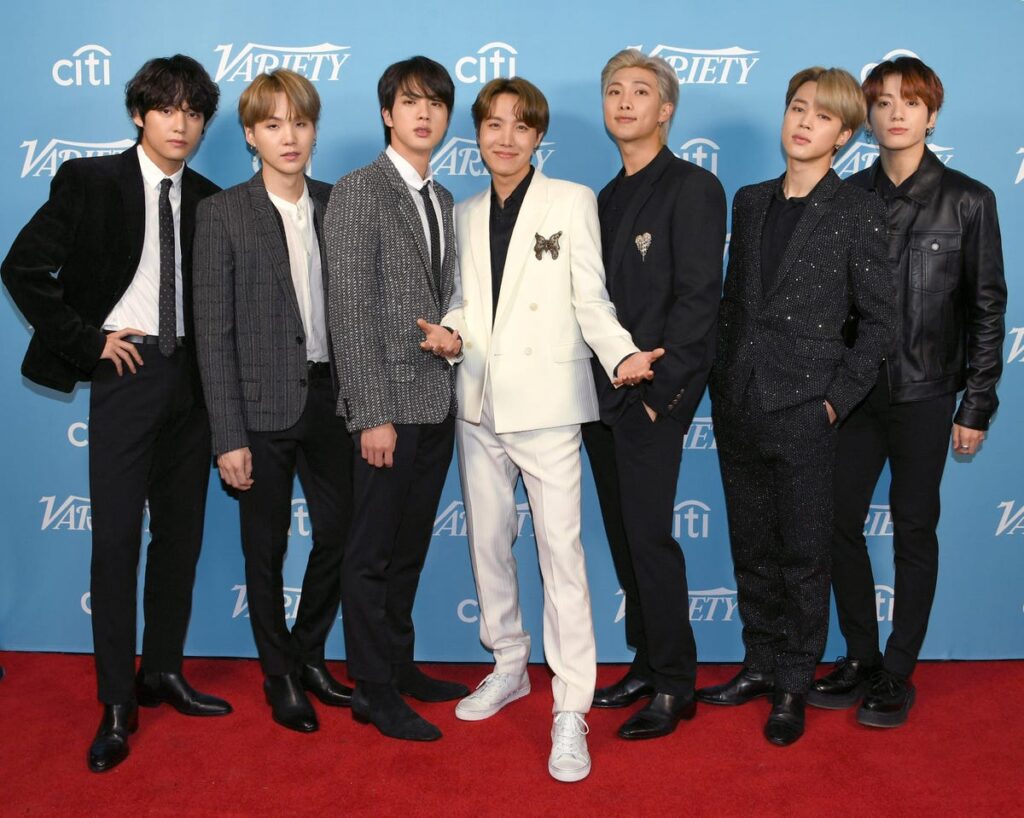 BTS Members Suga, Jin, Jung Kook And V Are Making The Most Of Their Band's Break By Dropping Solo Music
A little more than a week ago, BTS announced that the band is planning on going on an "extended period of rest," which will allow them to spend time with family and recharge. When they return to group activities, they will hopefully be rested and creatively inspired, ready to conquer the charts all around the world once again.
While the seven members reunite with loved ones, it appears many of them are still hard at work on solo projects. In just the week-plus since the band revealed their break, several of the singers featured in the globe-dominating outfit have scored Billboard chart hits, and it seems like more solo material is on the way.
In just the past few weeks, BTS member Jin has enjoyed his time in the spotlight, as he has reached Billboard's Hot Trending Songs chart with not one, but two songs. His solo single "Yours" was a quick win on the tally before the break announcement was made, and the tune has continued to find space on the Twitter-focused list for a month now. "Yours" also became Jin's first No. 1 hit in America on his own, as it ruled the World Digital Song Sales chart, and it also managed to come in second place on the all-genre Digital Song Sales roster.
"Yours" was recorded and released before BTS revealed they're taking some time to relax on their own, but it's possible Jin jumped at the opportunity to work on his solo material when the seven musicians decided to take a break. This week, the singer's "Super Tuna," a birthday gift to his fans, also blasted onto the tally, doubling his total number of appearances.
MORE FROM FORBESBTS's Jin Proves His Immense Popularity Online With His Latest Billboard Chart HitBy Hugh McIntyre
Fellow BTS member Jung Kook also scored a hit on the Hot Trending Songs chart in early December when his song "Falling" landed at No. 20 on the 20-spot tally. The cover of one of Harry Styles' most popular tunes was a hot topic on Twitter, and thus it brought the performer to the new list for the first time. "Falling" also appeared before the hiatus announcement, but chances are Jung Kook worked on it in advance of the reveal.
Suga of BTS is currently featured on the new Juice WRLD album under his own name, and he may soon score another Billboard chart hit with the collaborative song "Girl of My Dreams" from the late rapper's Fighting Demons full-length.
Before 2022 arrives, one more BTS member will also release a new solo song, and it could also become a big hit on a number of Billboard charts in no time. V has signed on to lend his vocals to the soundtrack of an upcoming South Korean romantic comedy called Our Beloved Summer, which is slated to premiere in late December. The singer has recorded a track titled "Christmas Tree," which is slated to drop on, appropriately, December 24. After the cut's first full tracking week has eclipsed, it's entirely possible the title will rank as a bestseller in America, and it also stands a good shot at reaching the Hot Trending Songs ranking, which seems open to all BTS members.
In the coming weeks and months, it's possible that other BTS singers will share solo projects, either standalone songs or full collections of some kind. The septet didn't elaborate as to how long their hiatus will last, but chances are the musicians won't remain silent for long.
MORE FROM FORBESBTS's Jin Joins Blackpink's Lisa In A Very Special Achievement On One Billboard ChartBy Hugh McIntyre