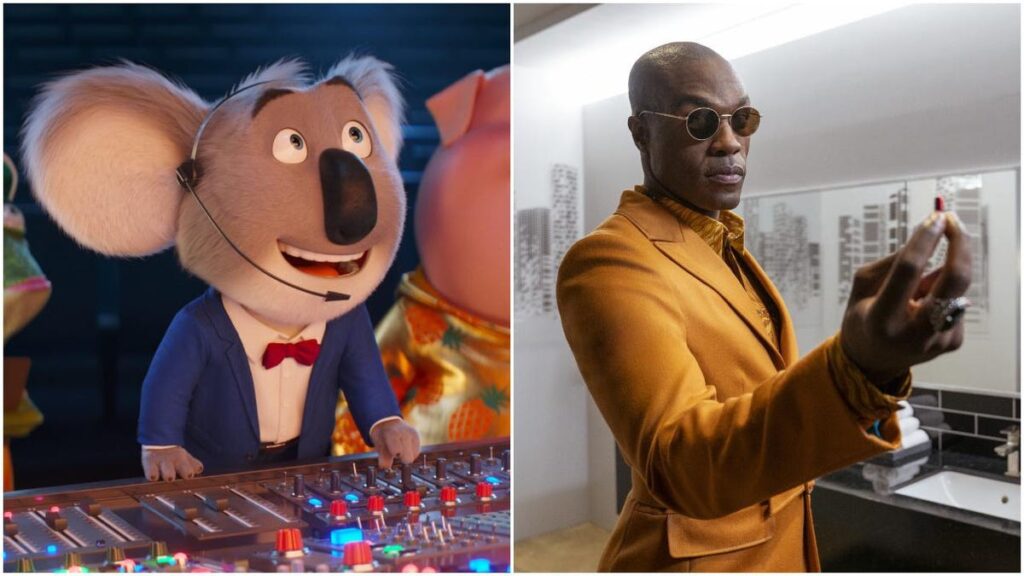 Box Office: Why 'Sing 2' Is Soaring While 'Matrix 4' Is Bombing
Illumination's Sing 2 earned another $5.25 million (-30%) for a three-day total of $22.5 million domestic. If it legs like Sing, it will end up with a $23 million Fri-Sun gross and a $40 million Wed-Sun domestic debut. Yes, that's below Sing's $35 million/$56 million Christmas launch in 2016. That is a better drop than The Secret Life of Pets 2 opening with $48 million in 2019 after The Secret Life of Pets opened with $104 million in 2016. We are also dealing with an $85 million animated sequel that will have around $66 million worldwide by Sunday.
Or it could leg as well as Little Fockers (which also dropped 30% on Christmas Eve 2010) and still top $50 million for the holiday frame. Even if it does not leg out as well as Sing (4.84 times its five-day debut for a $271 million finish), the kid-targeted, four-quadrant toon earned an A+ from Cinemascore and it is not like The 355, Scream or Morbius are terribly kid-friendly over the next month. At the very least, Sing 2 is going to be the biggest global-grossing toon since The Croods: A New Age ($203 million in 2020/2021).
Warner Bros.' The Matrix Resurrections is proving to be a frontloaded affair. The Keanu Reeves/Carrie-Anne Moss sci-fi actioner earned another $2.7 million (-34%) on Friday for a $13.5 million three-day cume. Barring a miracle, the pricey Lana Wachowski-directed sequel will nab a $14.32 million Fri-Sun and a $24.82 million Wed-Sun debut. The Matrix Revolutions was a big disappointment in November 2003 via a $24 million Fri-Sun/$48 million Wed-Sun launch. 47 Ronin grossed $20 million over its Wed-Sun Christmas launch in 2013. Wonder Woman 1984 opened last Christmas amid mostly closed theaters (and strong HBO Max viewership) with $16.7 million over the Fri-Sun frame.
The result, with mixed-positive reviews and mixed word-of-mouth, is not a surprise. Simply put, general audiences didn't care about another Matrix sequel, not 22.5 years after the first one and 18 years after the divisive sequels. Keanu Reeves is a star in something like John Wick, but those action films cost $30 million, $40 million and $75 million to produce. I would argue even Lionsgate's John Wick: Chapter 4 (now slated for March 24, 2023) would open with a lot more than $25 million even on a Covid curve and with concurrent streaming availability.
Back when John Wick 4 and Matrix 4 were scheduled on the same day, well, I would have put my money on the present-tense R-rated Keanu Reeves action franchise. I would argue the Matrix Resurrections was sold via a marketing campaign that, a dynamic and exciting first teaser notwithstanding, was predicted almost entirely on the mere notion an IP you once liked or have heard of was getting another decades-later installment. What didn't work for Blade Runner 2049, Doctor Sleep or West Side Story ($23 million by Sunday) didn't work for Matrix 4 either.
Like Scream 4 and presumably Scream 5, it was another case of IP for the sake of IP and attempting to create nostalgia for a franchise where only the first film was truly beloved. Meanwhile, Sing 2 was a present-tense sequel to a recently popular family-friendly hit. Sing was popular/well-liked in this decade while The Matrix was popular in the late 1990's/early 2000's. And yes, commercially speaking, making a Matrix film without Laurence Fishburne and Hugo Weaving is as risky as making an Independence Day sequel or a Suicide Squad sequel without Will Smith.
The King's Man continued to vanish without a trace. The Ralph Fiennes-starring origin story prequel earned $1.2 million on Friday for a $6.1 million Fri-Sun/$9.7 million Wed-Sun debut weekend. The Kingsman opened in February 201 with a $10 million Friday while The Golden Circle earned $15 million on its first day in September 2017. I like the film, as it was clearly Matthew Vaughn using an IP to tell an original World War I-era spy actioner. Just because audiences liked The Kingsman does not mean they wanted to see The King's Man.