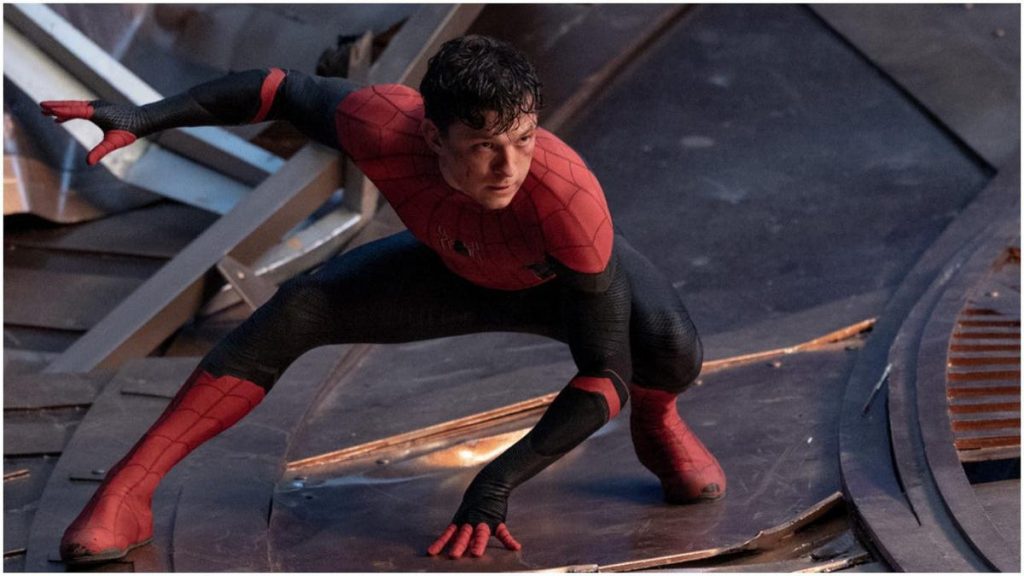 Box Office: 'Spider-Man: No Way Home' Chases The Pandemic-Era Triple Crown
To the surprise of nobody, Spider-Man: No Way Home shattered pre-sale records for the "pandemic era," notching the best single-day transactions recorded by Fandango since Avengers: Endgame, notching bigger first-day sales than Avengers: Infinity War, Spider-Man: No Way Home, Star Wars: The Last Jedi and Star Wars: The Rise of Skywalker. Of course, pre-sales aren't a one-to-one correlation with eventual box office, as we should have learned when Solo: A Star Wars Story ($215 million domestic from a $103 million Fri-Mon opening) had a bigger first-day pre-sale than Black Panther ($700 million from a $242 million Fri-Mon debut). Nonetheless, there's little doubt that Jon Watts' third MCU Peter Parker passion play is set to crush all relevant pandemic-era records when it opens three weeks from tomorrow night. The goal is to become the biggest-grossing Hollywood movie of (at least) the last two years.
Spider-Man: Homecoming earned $334 million domestic and $881 million worldwide in 2017, while Spider-Man: Far from Home earned $390 million domestic and (partially thanks to a 71% jump in China and $199 million gross there) $1.31 billion worldwide in summer 2019. I cannot say if the new normal for China implies a gross closer to Free Guy ($95 million) than F9 ($203 million), but Godzilla Vs. Kong ($188 million) offers hope for the latter. However, here's one box office milestone it may not notch: It won't score the biggest single-territory gross of the year, as it probably isn't going to earn as much in North America as Detective Chinatown 3 ($690 million), Hi, Mom ($835 million) and The Battle at Lake Changjin ($890 million) earned in China alone. North America may never notch the "biggest single-territory gross of the year" milestone ever again.
That said, it's all-but-certain that the Tom Holland/Zendaya/Benedict Cumberbatch multiverse-hopping adventure will earn more in North America than the $225 million earned by Walt Disney's Shang-Chi and the Legend of the Ten Rings. Barring a miracle from Matrix 4, Sing 2 or West Side Story, the 2020/2021 season will end with three of the four-biggest domestic earners (Bad Boys For Life, Venom: Let There Be Carnage and Spider-Man: No Way Home) coming not from Disney but from Sony. Not even counting the Chinese biggies, Disney's biggest overseas earner in 2021 remains Eternals with just $217 million. That's behind Universal's No Time to Die ($598 million) and F9 ($553 million), Warner Bros.' Godzilla Vs. Kong ($367 million) and Dune ($272 million) and Sony's Venom: Let There Be Carnage ($260 million). We'll see if anything that's left (including The King's Man) can top even $300 million overseas.
But surely Spider-Man: No Way Home is going to pass wherever Daniel Craig's fifth and final James Bond movie ends up, right? It's likely, but not assured. Inflation and overseas expansion notwithstanding, Amazing Spider-Man and Amazing Spider-Man 2 grossed over/under $500 million outside of North America, while the Sam Raimi trilogy earned $418 million in 2002, $416 million in 2004 and $558 million in 2007. Homecoming earned "just" $545 million overseas in 2017, while Far from Home grossed $741 million, including the aforementioned $199 million in China. Up until 2019, the biggest-grossing Spidey movie was still Spider-Man 3 with $890 million global. The Internet is excited about previous Spider-Man franchise characters reprising, but do general moviegoers care about seeing Jamie Foxx's Electro back again? If not, then No Way Home may have to settle for "most of the money" instead of "all the money."
Even if China gives it a F9-sized drop (51% of what Fate of the Furious earned), I wouldn't bet against Spider-Man 3 version 2.0 earning at least enough here, there and everywhere to become the biggest non-Chinese global grosser of 2020 and 2021. The film is probably going to do "good to great" business in almost every conceivable territory, as opposed to F9 and Godzilla Vs. Kong overperforming in China or No Time to Die crushing it outside of North America ($160 million) and China ($60 million). Even $105 million in China, $425 million elsewhere outside of North America and even $235 million domestic would still give it $765 million worldwide. If that seems like a low-ball, well, it is and that's intentional. Anything remotely higher than that (and the film could notch a $150 million domestic debut) would send it over $800 million.
Some of this will depend on reviews (Is the seemingly nostalgia-centric sequel going to fall into Rise of Skywalker traps? Will it play well to kids and general audiences who aren't necessarily going weep if Andrew Garfield shows up?), the Covid variables as they exist by mid-December and how the rest of the Christmas biggies perform concurrently. Spider-Man: No Way Home is almost certain to be the biggest domestic earner of 2020 and 2021, with a halfway decent chance of surpassing No Time to Die's overseas and global cume. Can it top the $1.073 billion totals of The Rise of Skywalker and Joker to become the biggest earner since Frozen II ($1.45 billion)? That may depend on it performing as well in North America as it would have in non-Covid times, which the likes of Venom 2 and Halloween Kills have shown is possible.