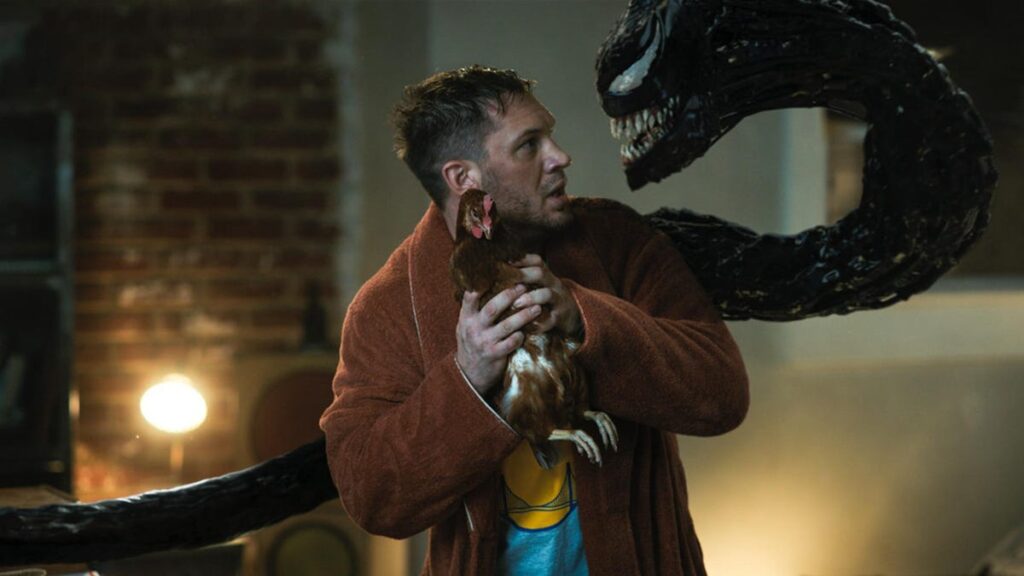 Box Office: 'Spider-Man' Nears $1 Billion As 'Venom 2' Tops $500 Million
In Thursday box office updates, Spider-Man: No Way Home earned $30.4 million (+9%) on day seven, bringing its week-long cume to $386 million as it prepares to pass the unadjusted domestic cumes of Spider-Man ($402 million in 2002) and Jumanji: Welcome to the Jungle ($404 million in 2017) to become Sony's biggest domestic earner. Meanwhile, with $876 million worldwide, it'll pass $900 million today and pass $1 billion worldwide tomorrow, becoming the first film to do so since The Rise of Skywalker ($1.073 billion) in late 2019. Once it passes The Battle At Lake Changjin ($904 million, mostly in China), it'll be 2021's biggest global grosser. Its $386 million cume is below The Force Awakens ($390 million after a $27 million Christmas Eve gross) and Avengers: Endgame ($473 million) among seven-day cumes.
We may get a big Friday-to-Friday drop because Christmas Eve is a downer day for box office, but it'll likely be paired with a Christmas Day recovery. The hope is a second weekend drop closer to 50% ($130 million) than 60% ($104 million), but it's joining the "$100 million losers club" either way. And, yeah, it's a little comforting that we're still getting opening weekends big enough for a film to gross $100 million (or more) less on weekend two. The only reason it "matters" how much ground No Way Home loses behind The Force Awakens is that I'm sure Hollywood would love to snatch The Battle at Lake Changjin's single-territory gross milestone for the year. It's arbitrary for sure, but in a year where China will again lead the world in single-market grosses.
Venom: Let There Be Carnage will cross $500 million worldwide today. That includes $212.5 million domestic, just under the $213.5 million cume for Venom in October 2018. And while $500 million is far away from Venom's $854 million total, the former earned $269 million in China. Let There Be Carnage has yet to play in China, and the delay almost certainly means it'll earn a hell of a lot less this time out should it actually open there. Nonetheless, the sans-China total for Venom was $585 million, meaning the Tom Hardy/Woody Harrelson sequel will earn around 86% of its predecessor's grosses outside of China. That's entirely within the realm of "business as usual" grosses for the well-liked and $110 million sequel. Let There Be Carnage's $500 million cume is as impressive as No Way Home's $1 billion-plus finish.
Spider-Man: No Way Home was sold as and embraced as an MCU event movie, essentially an Avengers-level tentpole that also played off nostalgia for the previous two Spider-Man movies. It featured Benedict Cumberbatch's Doctor Strange as a co-star while offering up supporting roles and glorified cameos for five villains (Alfred Molina, Willem Dafoe, Jamie Foxx, Thomas Hayden Church and Rhys Ifans) from the two prior Spidey franchises. And, yeah, spoilers, it also includes major third-act roles for both Toby Maguire's Peter Parker and Andrew Garfield's Peter Parker, with a buzzy climax featuring all three Spider-Men (including Tom Holland of course) doing battle with the Sinister Si… uh… Sinister Five. Venom: Let There Be Carnage is *just* another Venom movie. It's got Tom Hardy romantically sparring with himself in a stand-alone, 95-minute "stupid in a smart way" single movie.
All due respect to Woody Harrelson's Carnage and Naomie Harris' Shriek, the biggest draw in Venom: Let There Be Carnage is "Hey, it's a second Venom movie… I liked the first Venom movie!" If No Way Home is Captain America: Civil War or Rambo: First Blood part II, then Venom 2 is John Wick: Chapter 2 or Lethal Weapon 2. Venom 2 didn't need three generations of Spider-Man actors or a deep connection to the MCU. Hell, it didn't even need Spider-Man as the film's post-credit cookie turned out to be essentially a troll maneuver. By the way, hat's off on that set-up and pay-off. Without getting into better/worse, I am as impressed, if not more so, with Let There Be Carnage topping $500 million as I am at No Way Home likely heading to $1.3 billion.