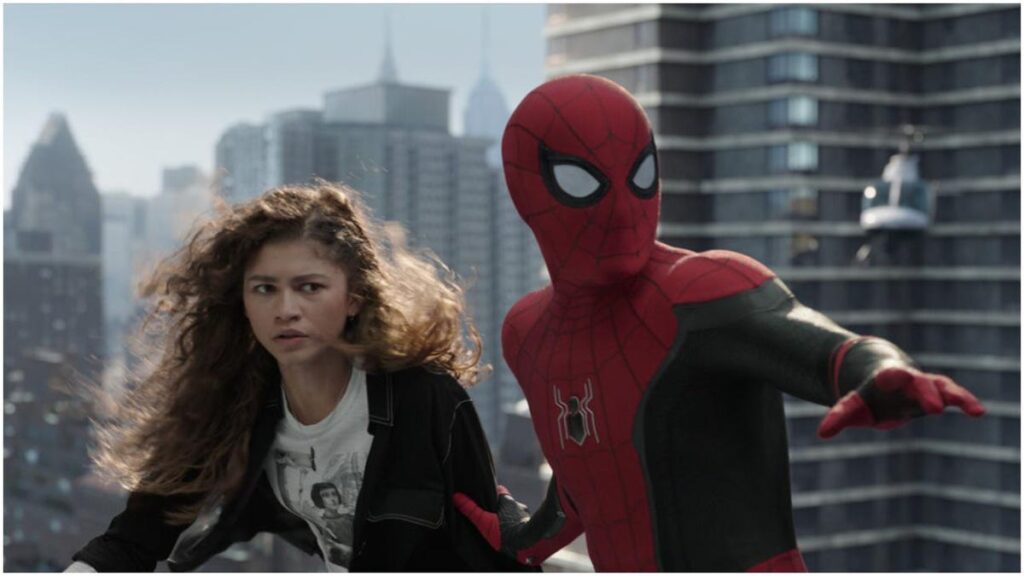 Box Office: 'Spider-Man' Falls Behind 'Force Awakens' But Tops $800M Worldwide
Spider-Man: No Way Home earned $27.8 million on its sixth day of domestic release, dropping 11% from its $31.41 million Tuesday gross. That's the 14th-biggest Wednesday gross (sans inflation) right between Spider-Man: Far from Home's second day ($27.5 million) and Star Wars: The Force Awakens' 14th day ($28 million). Speaking of which, The Force Awakens earned $38 million on day six, actually rising up +1.8% from a $37 million Tuesday for a $363 million six-day total. So yes, on day six, Spider-Man: No Way Home has fallen beyond The Force Awakens, which means, horrors, it almost certainly won't get past that film's record $937 million domestic cume.
We're probably looking at a $110 million (-58%) second-weekend gross for a $469 million ten-day cume. That will put it closer to The Last Jedi ($368 million after day ten following a $220 million debut) than The Force Awakens ($541 million/$247 million) despite a larger opening weekend than both of them. Uh oh, at this rate, Spider-Man: No Way Home may only end up with a domestic total closer to Avengers: Infinity War ($679 million) than Avengers: Endgame ($867 million). Say it with me now, because my god it feels so good to say again without actually meaning it for once, #CanThisFranchiseBeSaved?
Yes, I'm being a little snarky, although it may be interesting if No Way Home drops as hard as Rise of Skywalker (much larger opening weekend and Covid variables notwithstanding) despite far better reviews and audience buzz. Sony and Marvel's $200 million Spidey sequel has earned $356.5 million in just six days, already the biggest-grossing domestic earner since Frozen ($450 million) and The Rise of Skywalker ($515 million) in late 2019. It earned another $34.8 million (-10%) overseas for a new $457.4 million foreign gross (without a penny from China). So, yes, trivia and comparisons to some of the biggest movies ever notwithstanding, it's a monster hit.
With $813.9 million worldwide, it A) will pass the unadjusted gross of Sam Raimi's Spider-Man in the next two days ($403 million domestic tomorrow and $821 million worldwide today) while zooming past No Time to Die ($774 million) to become the biggest Hollywood global grosser since late 2019. It still has a few days to go before it passes the $613 million overseas cume of James Bond 25, which just shows you how well Daniel Craig's farewell performed overseas. Will it pass $1 billion worldwide by Christmas or will it need another day? To quote everyone's favorite deleted scene from Amazing Spider-Man 2, isn't that the question of the day?
The Tom Holland/Zendaya-led MCU fantasy is currently at a 43/57 domestic/overseas split, with the larger-than-normal domestic proportion likely due to American nostalgia and the current absence of China. Far from Home earned $199 million in China, a 71% jump from Homecoming's $117 million cume which pushed the $170 million sequel to $1.131 billion in summer 2019. Whether it plays in China and how well it performs under very different circumstances is, well, the question of another day. But with $814 million in just over a week, China is absolutely a cherry on top rather than vital ice cream in this box office sundae.
If this continues sans any extreme deviations, No Way Home could have around $465-$470 million domestic (entering the all-time top-20) and around $1.1 billion worldwide (just over/under The Dark Knight Rises or Transformers: Age of Extinction depending on where it ends up on day ten) on Sunday night. At this point, the question of legs and China is merely about whether No Way Home ends up as the biggest global grosser since Frozen II ($1.45 billion), The Lion King ($1.662 billion) or Avengers: Endgame ($2.8 billion). Meanwhile, Venom: Let There Be Carnage should be past $500 million worldwide (again, without China) sometime this weekend.