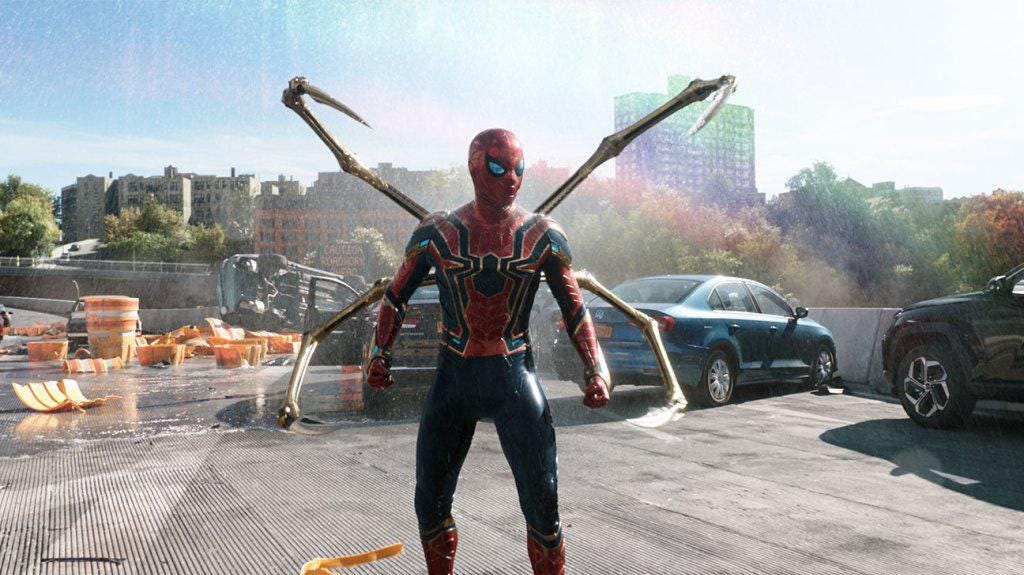 Box Office: 'Spider-Man' Falls 69% But Nears $1.1 Billion
Sony and Marvel's Spider-Man: No Way Home earned another $81.5 million in weekend two, dropping 69% from its $260 million opening Fri-Sun. That's a harsh drop ($171 million less than weekend one), especially in December, closer to Last Jedi (-67% from a $220 million debut) than Rise of Skywalker (-59% from a $177 million launch). It is the biggest second-weekend drop for the MCU, worse than Eternals (-62% from a $71 million launch) and Black Widow (-67% from an $80 million debut). All three of the biggest MCU second-weekend drops occurred in this year. You can blame Covid variables and differing expectations in terms of the theatrical window, but it makes Shang-Chi and the Legend of the Ten Rings' 54% drop (from a $75 million Fri-Sun/$95 million Fri-Mon debut) even more impressive.
Oh, and there is also the matter of Spider-Man: No Way Home's $467 million ten-day domestic cume. Sony and Marvel's $200 million superhero sequel earned the ninth-biggest non-opening weekend behind Frozen II ($86 million from a $130 million debut), Beauty and the Beast ($90 million/$174 million), The Avengers ($103 million/$207 million), Jurassic World ($107 million/$208 million), Black Panther ($112 million/$200 million), Avengers: Infinity War ($115 million/$257 million), Avengers: Endgame ($147 million/$357 million) and Star Wars: The Force Awakens ($149 million/$247 million). Its ten-day cume is behind only The Force Awakens ($541 million) and Endgame ($621 million). However, its second-weekend drop was closer to the 67% drop of The Last Jedi than the 40% drop of The Force Awakens. No Way Home's $81 million weekend-two gross is lower than Star Wars VII's $90 million third-weekend gross.
The Force Awakens had a unique advantage in having its second Friday fall on Christmas as it third Friday fell on New Year's Day. The Last Jedi took a big hit after its opening partially because its "holiday break" period (during which kids were out of school and many adults had time off work) did not start until its second Monday. However, that No Way Home dropped about as hard despite an A+ Cinemascore and a week of 94% positive coverage implies that audiences did not really sour on Star Wars VIII. With no concurrent live-action competition like Jumanji: Welcome to the Jungle or The Greatest Showman and no mainstream Oscar breakouts like The Revenant, Hidden Figures La La Land and 1917, well, No Way Home could still be leggier than the last two Star Wars sequels.
If it legs out from this point like the last two Star Wars sequels ($620 million from a $368 million ten-day total and $515 million/$362 million), then it will end with between $665 million (just behind Avengers: Infinity War and Black Panther) and $788 million domestic (between Avatar and Avengers: Endgame). If, however, it legs like Will Smith's I Am Legend ($256 million/$137 million in 2007 despite brutal competition from National Treasure: Book of Secrets and Alvin and the Chipmunks), it will end with $874 million. That's… unlikely as even The Force Awakens legs from here on out ($937 million/$541 million) gets Spider-Man: No Way Home to "just" $811 million. Again, we are dealing with comparisons with The Force Awakens and Avengers: Endgame, so Spider-Man: No Way Home is in incredibly rare company.
With $468 million in ten days, Spider-Man: No Way Home is Sony's biggest domestic grosser ever. Even if it collapses after tonight, it is still likely to pass the inflation-adjusted likes of Ghostbusters ($229 million in 1984/$625 million adjusted) and Spider-Man ($402 million in 2002/$635 million adjusted). Meanwhile, the Tom Holland/Zendaya flick has earned $587 million overseas, just shy of No Time to Die's $613 million overseas total, for a new $1.05 billion cume. It will soon pass The Rise of Skywalker ($1.073 billion) to become the biggest earner since Frozen II ($1.45 billion). It'll soon also pass Spider-Man: Far from Home ($1.131 billion) and Skyfall ($1.1 billion) to become Sony's biggest global earner ever. Nitpicks about the holds notwithstanding, it may pass Frozen II ($1.45 billion) worldwide even if it never plays in China.