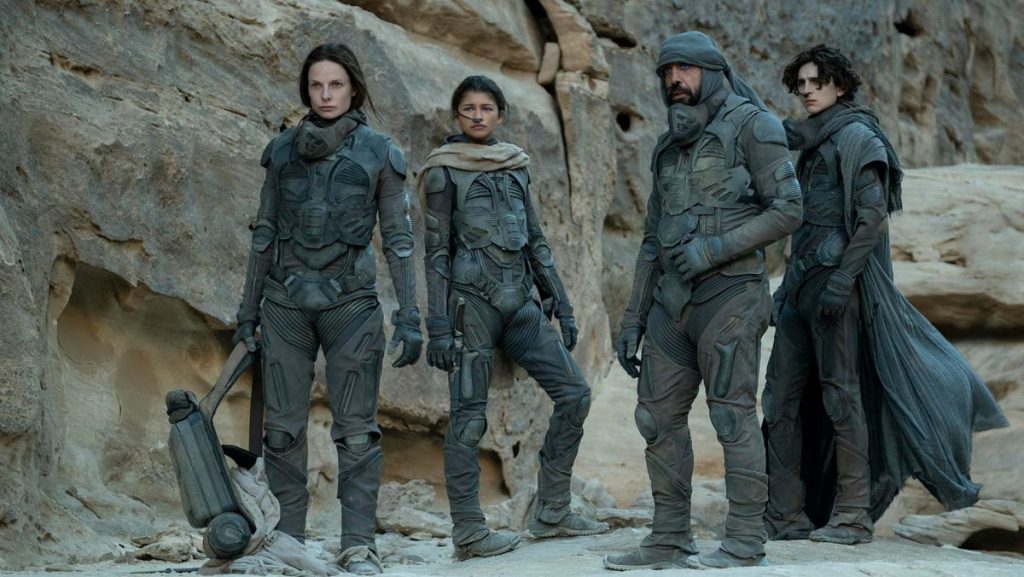 Box Office: 'Shang-Chi' Tops $320M Global As 'Dune' Nabs Promising $37M Overseas
Since the domestic report for Shang-Chi went long, here's a quick(er) update on the overseas grosses. To wit, Destin Daniel Cretton's MCU actioner has now earned $135 million outside of North America for a $320 million global cume. That puts it above A Quiet Place part II ($298 million) and Sonic the Hedgehog ($306 million in February 2020) among 2020/2021 Hollywood offerings. It's still behind, for now, Tenet ($366 million in summer 2020), Bad Boys for Life ($430 million in early 2020), Black Widow ($370 million), Godzilla Vs. Kong ($460 million) and F9 ($716 million). To be fair, the MonsterVerse sequel nabbed $188 million in China while Fast & Furious 9 earned $216 million over there.
That's a boost which Shang-Chi may not get. Still, even without China, it's probably looking at a global cume close to the sans-China $414 million cume of Ant-Man (it earned $105 million there). As noted yesterday, there's no guarantee that it wouldn't earn closer to Doctor Strange ($109 million) than Spider-Man: Far from Home ($199 million). It's not like China is starving for big-budget tentpoles starring mostly Asian ensembles. While the MCU was more popular than ever (Captain Marvel nabbed $154 million in early-2019, eight months after Ant-Man and the Wasp earned $125 million) before Covid, big Hollywood movies partially made for (or partially made by) China had an over/under $150 million ceiling.
Think, offhand, The Great Wall, The Meg and Kung Fu Panda 3. Yes, a run in China (plus better conditions in any number of overseas marketplaces) might have made the difference between grosses closer to Doctor Strange ($677 million in 2016) and Thor ($449 million in 2011), but in a normal world Disney was intending to treat Chinese box office for Shang-Chi and even Mulan as an inessential bonus. Still, Thor was seen as a trend-setting hit in 2011. Heck, at the time it was the biggest comic book superhero movie ever which didn't feature Batman, Spider-Man, Wolverine or Iron Man. Shang-Chi deserves no less accreditation, especially on a Covid curve.
Meanwhile, Warner Bros. began rolling out Denis Villeneuve and Legendary's Dune overseas this weekend, with frankly promising results. The $165 million, star-packed (Timothée Chalamet, Zendaya, Oscar Isaac, Rebecca Ferguson, Jason Momoa, Dave Bautista, etc.) adaptation the first half of Frank Herbert's trendsetting sci-fi novel, earned $36.8 million on 7,819 screens, topping most of those 24 markets. In overall global earnings, it was 4% ahead of Tenet (which ended up with $305 million overseas even in the middle of summer 2020), 33% ahead of Black Widow ($187 million overseas without a playdate in China), 52% ahead of Blade Runner 2049 ($167 million overseas, including just $11.5 million in China), 58% ahead of Shang-Chi ($144 million-and-counting) and 80% ahead of Godzilla Vs. Kong ($188 million in China and $367 million overseas).
$3.6 million of that came from 142 IMAX screens, with new pandemic-era records set in Russia, France, Belgium, Denmark, Germany, Norway, Sweden, Ukraine, Hong Kong and Singapore. The film will open in eight smaller markets next week with most of the rest in October leading to its October 22 domestic debut. That it'll be open in most of the world prior to North America means that the HBO Max availability may not put that much of a dent in online piracy. Ditto a day-and-date release in China, just announced last night. I don't want to get too excited about a $165 million movie nabbing $37 million in two dozen overseas markets, but it's A) better than the pre-release $20 million projection and B) it's certainly cause for cautious optimism.
The "release it overseas really early" strategy can sometimes backfire (Battleship comes to mind), but the likes of Zootopia, Aquaman and Jurassic World: Fallen Kingdom (all of which topped $1 billion global) shows that if the movie is well-liked and well-received then audiences will wait for their turn. I've been pessimistic about this one for the last two years (save for when it was scheduled as the year-end biggie for December 2020), because Villeneuve's critically-acclaimed Blade Runner 2049 earned $260 million on a $155 million budget and because I have very little faith in general moviegoers in a streaming-centric era. But Warner Bros. has a long history of turning unconventional event films into outright blockbusters, think Gravity, American Sniper, Magic Mike, Inception, A Star Is Born, and Mad Max: Fury Road.
Ironically, under these circumstances, anything close to Tenet ($366 million, including $66 million in China) might justify a sequel depending on word-of-mouth and legs. If anyone can turn Dune into a mainstream franchise, or at least successful enough (with or without a Covid curve) to justify Dune part Two, it's the Dream Factory. Of note, if it's even halfway successful, in terms of halfway decent global grosses (rate of return notwithstanding), then a sequel may be of value so as to make the two-part film into a complete narrative of whole value for streaming and physical media purposes. And since most "part two" flicks (Breaking Dawn part II, Deathly Hallows part II, Endgame, etc.) are more successful than the well-liked "part one," well, that's another reason to hope against hope.