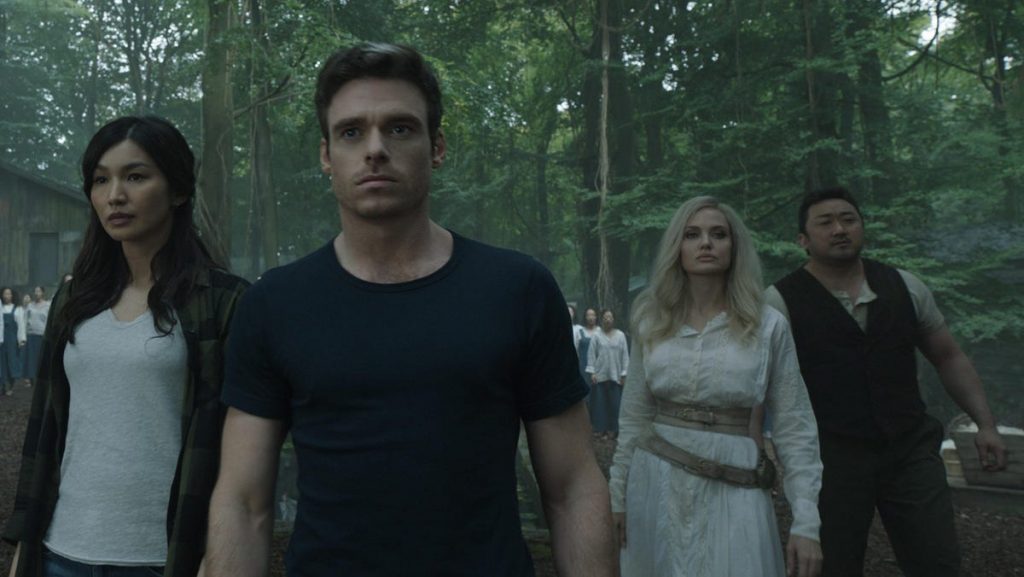 Box Office: 'Eternals' Superhero Fatigues To Mighty $31M Friday
Bad reviews (currently at 48% rotten with a 5.6/10 average critic score at Rotten Tomatoes) and mixed buzz (a B from Cinemascore) couldn't stop the Marvel Cinematic Universe, at least for one day. Chloe Zhao's Eternals, starring the likes of Gemma Chan, Angelina Jolie, Richard Madden and Kumail Nanjiani, earned a rock-solid $30.7 million on Friday. That includes $9.5 million in Thursday previews, and is the third-biggest "pandemic-era" opening day behind Venom: Let There Be Carnage ($32 million) and Black Widow ($39 million). It's just ahead of Shang-Chi: Legend of the Ten Rings ($29.5 million) and F9 ($29.8 million) among top-tier openers in 2021. Among MCU movies opening on this early November weekend, it's right alongside Thor: The Dark World ($31.8 million in 2013) and Doctor Strange ($32.6 million in 2016). So far, so good.
However, as we've seen with the likes of Batman v Superman: Dawn of Justice (which also earned poor reviews and a mere B Cinemascore grade and ended up barely quadrupling its $81 million Friday gross), the negative variables may not kick in until after Thursday and Friday. Those who are going to see it regardless and those who bought advance tickets weeks ago will get their fill this weekend, leaving word-of-mouth among the fans and the casually curious to decide its fate. Sometimes, as I was with Watchmen (another grim and somber 2.5-hour murder mystery about retired superheroes being picked off one by one) and Green Lantern (another "just a superhero movie" that struggled ten years ago), I'm pessimistic about an otherwise solid opening day because I'm convinced it's all down hill from here.
To be fair, even a 2.04x multiplier gets Eternals to $64 million for the weekend, right in line with the unadjusted $65 million likes of Thor and Captain America. Yes, that was ten years ago, but in this case the characters are entirely unknown, the marketing didn't do much to explain who they are (they are basically loose variations of the Zack Snyder's contemplative and self-doubting Justice League in a movie that feels like a riff on Alan Moore's Watchmen) and the film is being sold entirely as "It's the next Marvel movie!" So that we're probably looking at a $65-$70 million opening weekend despite the above variables is a testament to the Marvel brand. Running jokes aside, four of the top five opening weekends since 2019 will have all been Marvel superhero movies.
If I'm wrong and it legs out between now and mid-December, well, all the more. Disney's 2021 releases, save for Black Widow (which was, like Cruella, Raya and the Last Dragon and Jungle Cruise, concurrently available on Disney+ for $30), have been remarkably leggy thus far. All the handwringing and online discourse notwithstanding, Eternals could just play like a "normal" MCU movie, albeit closer to Phase One grosses than Phase Three. But if it does crash like an early DC Films flick, if Eternals is going to be Marvel's first flop since Incredible Hulk, then there is value in an ambitious swing-and-miss when you can damn-well afford it. I'm guessing the next wave of "safe" sequels (Spider-Man: No Way Home, Thor: Love and Thunder, Doctor Strange and the Multiverse of Madness) will be just fine.
Meanwhile, Neon released Spencer into 996 theaters in an unusually wide push for what is obviously an art house movie. The justly acclaimed Princess Diana Spencer biopic, starring Kristen Stewart in a role that might win her an Oscar, earned $760,000 on Friday for a likely $1.95 million opening weekend. That's an indifferent $1,958 per-theater-average, which might hurt its Oscar hopes if this were a more conventional awards season. The film, directed by Pablo Larraín and written by Steven Knight, is arguably even less commercial than Larraín's "Natalie Portman as Jackie Onassis Kennedy" drama Jackie, reminding me more of Gus Van Sant's The Last Days. It's a historical biopic as claustrophobic horror movie, and it's obviously a hell of an acting treat for Stewart fans. It's quite good if you know what you're getting into.