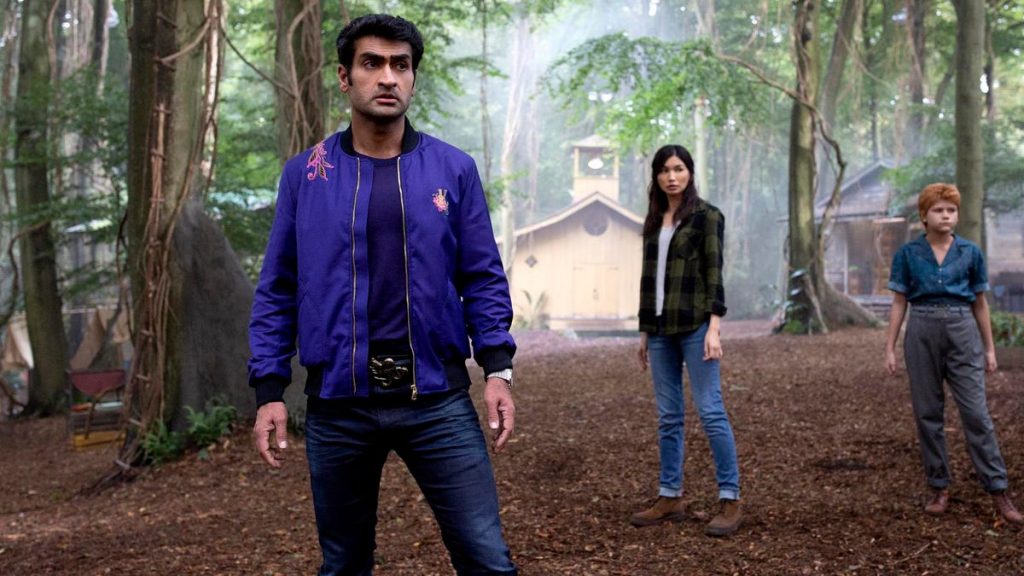 Box Office: 'Eternals' Drops 73% On Monday For $76 Million Cume
Eternals earned another $4.5 million on Monday, dropping a not-unreasonable 73% from its Sunday gross, bringing its four-day cume to $75.8 million. Presuming the film's domestic/overseas split (44/66), the latest MCU film has earned around $171.5 million worldwide as of Monday night. In terms of Sunday-to-Monday drops, that's essentially tied with the 73% drop for Venom: Let There Be Carnage and the 70% drop for Halloween Kills, and right between Doctor Strange (-70% after a $85 million debut weekend on this frame in 2016) and Thor: Ragnarok (-74% from a $123 million weekend in early November 2017).
Oh, it's just a bit worse than the 68% drop on day four for Spectre after that James Bond film's $70 million debut on this frame in 2015. Yes, it's a bigger drop than Black Widow (-59% after an $80 million launch in July) and F9 (-63% after a $70 million opening in June), but kids were out of school in mid-summer. The concern is that lousy reviews (on par with the likes of X-Men: Apocalypse, The Amazing Spider-Man 2 and Man of Steel and weak buzz will lead to similarly frontloaded runs. Those last films earned (respectively) $155 million from a $78 million Fri-Mon Memorial Day weekend debut, $203 million from a $93 million opening and $291 million from a $128 million launch, multiplier comparisons which would give Eternals a $155 million-$165 million domestic cume.
The good news is that most of Disney's DIS big 2021 releases have been quite leggy. Free Guy earned $121 million from a $28 million debut and Cruella earned $85 million from an $26.5 million Memorial Day weekend launch. However, the bad news is that the exception remains Black Widow, which earned $184 million from an $80 million opening, a multiplier on par with Captain America: Civil War ($409 million/$179 million) and the $110 million Venom 2 (a likely $204 million final gross from a $90 million). Eternals might perform domestically, in terms of legs, essentially like Black Widow but without the alibi of Disney+ Premier Access availability.
That's something of a doomsday scenario, but it's almost certainly not getting to $200 million domestic, not without some serious Disney magic. It opened bigger overseas than both Black Widow ($158 million) and Shang-Chi ($128 million) and just below the $163 million launch (in late May, including China but not North America) of F9 earlier this summer. The hope is that stronger/healthier overseas markets compared to earlier this year could lead to an approximate final global gross on par with Shang-Chi ($413 million) without that crowd-pleaser's superb $222 million domestic cume.
We'll obviously know a lot more this weekend, but we can expect a big (especially for Marvel) drop in North America and possibly overseas, and if so that'll be because audiences just aren't crazy about the movie. If that happens, the most important thing Marvel can do is keeping moving forward. First, panic-driven course-correction (The Rise of Skywalker, Batman v Superman, etc.) almost never works. Second, they've got a slate of surefire sequels to (deep breath) Spider-Man, Doctor Strange, Thor, Black Panther, Captain Marvel and Ant-Man and the Wasp on the horizon. If those films stumble, then Marvel can reenact everyone's favorite scene from Event Horizon.
Eternals isn't comparatively the film you make for money. It's the movie money allows you to make. Ironically, they fashioned an MCU movie that somewhat feels (in ways good and bad) like an early Zack Snyder-helmed DC movie (including Watchmen) and now they are getting similar buzz and critical reaction. You can argue that was a mistake, but it was a risk worth taking. After all, if Eternals, which featured approximations of Superman, Wonder Woman, Green Lantern, Flash and more, turned into a huge hit and gave Marvel their own popular cinematic incarnations of what is essentially Marvel's Justice League, what a delicious troll that would have been.