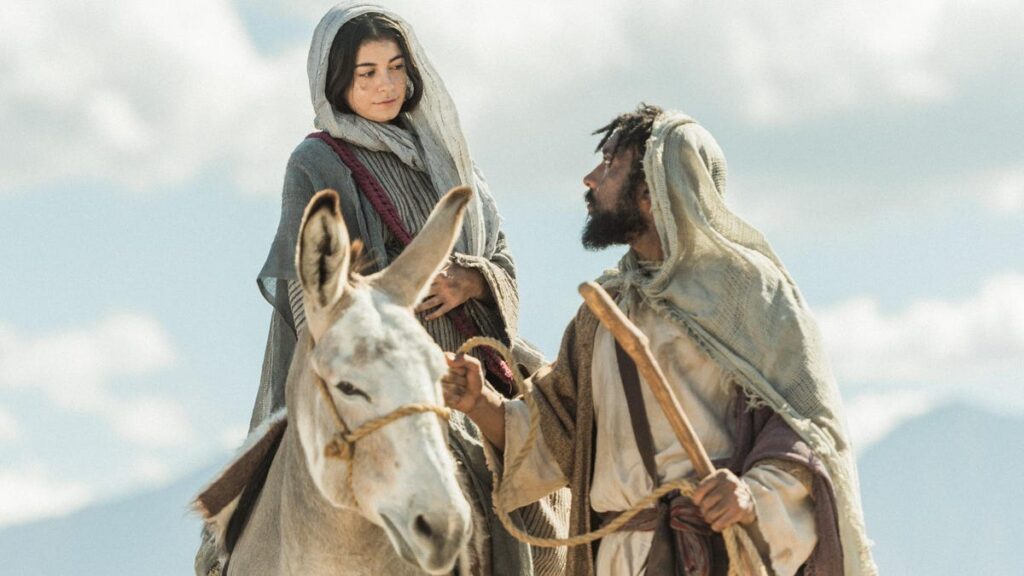 Box Office: 'Christmas With The Chosen' Nabs $1.23M Friday
It's been 34 years since The Naked Gun: From the Files of Police Squad, 33 years since National Lampoon's Christmas Vacation, 30 years since Star Trek VI: The Undiscovered Country, 20 years since Behind Enemy Lines, 18 years since The Last Samurai and six years since Krampus. All of those films opened on what is traditionally a dead post-Thanksgiving frame, and all were good-to-great commercial successes. Tom Cruise's 2.5-hour period-piece adventure earned $111 million domestic from a $24 million debut and a whopping $455 million worldwide on a $140 million budget, at the time one of the biggest R-rated grossers ever. Heck, Natalie Portman's Brothers opened on this weekend and earned $43 million worldwide, making it the biggest grossing straight-up drama (not an action movie) concerning those dealing with or fighting the post-9/11 War on Terror.
I bring these up to note yet again that, yes, if Hollywood bothers to put out a genuinely commercial option (RIP Punisher: Warzone) during this post-Thanksgiving frame, then this allegedly dead weekend "comes alive." Alas, this weekend is closer to the many, many such frames over the last 40 years whereby there are no conventional new wide releases in play. The biggest newbie is actually a Fathom Event flick, Christmas With the Chosen: The Messengers. The cinema-specific installment of the popular streaming series opened with $2.57 million on Wednesday and $2.1 million on Thursday. The film grossed $1.23 million yesterday in 1,600 theaters, though obviously not via conventional full-day showtimes. The film will earn around $3.55 million this weekend, good for fifth place on the charts, bringing its cume to $8.45 million.
That's the biggest-selling event in Fathom Events history. The film, showing the birth of Jesus from the point-of-view of Joseph and Mary, is the kind of thing for which Fathom exists. It's also a refreshingly old-school example of when making a movie version of an existing property, be it an in-universe continuation (The X-Files: Fight the Future) or a big-screen adaptation (Teenage Mutant Ninja Turtles) meant that the given property was officially a big deal. Now, exceptions like Demon Slayer and Downton Abbey notwithstanding, it feels like the opposite is true. Big-screen cinema doesn't so-much act as a kingmaker and chase the successes of existing properties in other mediums. Anyway, the religious musical special is a fine example that, yes, folks will show up if you give them something for which to show up.
Focus Features' Wolf, an indie drama about a young man who thinks he's a wolf, debuted in 308 theaters with zero buzz, thus explaining its $37,000 Friday gross and likely $110,000 weekend total. Paul Verhoeven's well-reviewed Benedetta didn't fare much better. The 83-year-old icon returned to cinemas (and VOD, natch) with this 17th century tale of a young nun engaging in an obviously forbidden affair with another member of her convent. No spoilers, but Verhoeven leaves little on the table with this angry and pointed screed, to the point where he almost seems to be satirizing himself (think John Woo's Mission: Impossible 2). The film has received a few outside-the-theater protests, which is hysterical as A) that's excellent marketing and B) what year is this again? Benedetta earned $46,000 on Friday for a $125,000 weekend gross on 202 screens.
Not to be a broken record, but I'd argue that something seemingly mainstream like The King's Man or even a well-liked, all-star Oscar flick like Guillermo del Toro's excellent Nightmare Alley could have done battle on this weekend rather than (as is often the case) have everything crammed into the last two weekends of the year. I mean, did A24 really have to hold Joel Coen's terrific The Tragedy of Macbeth (which is having a free IMAX preview tomorrow) until Christmas? Couldn't have Paul Thomas Anderson's Licorice Pizza expanded just a little bit in weekend two? Ditto lower-profile offerings like National Champions, Underdog or A Journal For Jordan, but I digress. One of these days, Hollywood will learn the lesson of The Last Samurai. But it is clearly not this day.