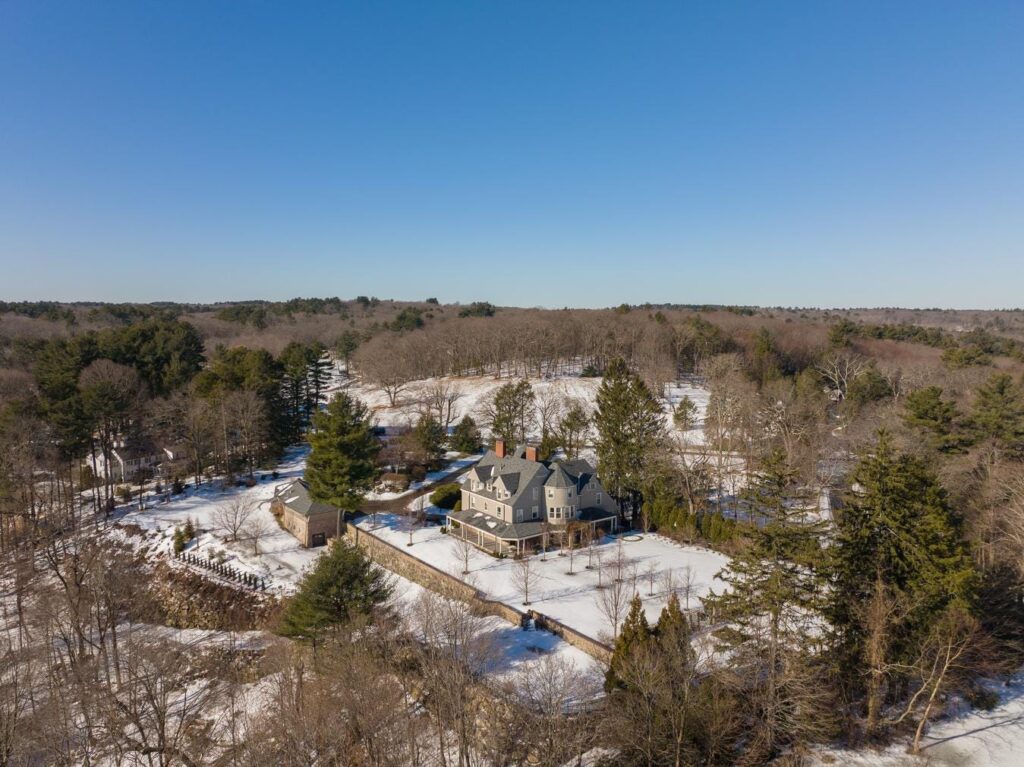 Boston Area Estate Entwined In Local History Seeks $12 Million
Century-plus old houses in Weston, Massachusetts, are frequently tied to local history, but few are as tethered to notable individuals as the Ridgehurst Estate, once the home of a wealthy cordage manufacturer.
The Shingle-style mansion was designed by Boston architect Francis Chandler, known for his large and picturesque homes incorporating Queen Anne elements. The American Shingle style was an outgrowth of that tradition. He would go on to become the head of architecture at the Massachusetts Institute of Technology.
Famed landscape architect Frederick Law Olmsted had a hand in selecting the original plantings and designing the gardens, which include formal gardens, expanses of lawn, fields and woods.
Built in the 1880s for jute fabric and rope maker Charles Townsend Hubbard, the house was part of a much larger family retreat and gentleman's farm once totaling 300 acres. Today it sits on four acres, adjoining land protected by the Weston Conservation Commission.
Approached from the circular driveway at the front, the house retains its early lines with a steep pitched roof and a tower with a domed roof. A portico with a filigreed pediment covers the double-door entryway.
While the 10,000 square feet of living space maintains its rich old-world details, the house and systems have been restored and updated for state-of-the-art living.
The central reception room features a fireplace, a coffered ceiling and detailed wood-clad walls. A wide, gradual staircase steps of up several landings, one of which has a window seat. The living room features inlaid wood floor, elaborate molding and a fireplace.
Wood floors continue in the formal dining room, which has a bay window and wainscoting as well. The cozy living library/den has a fireplace, built-in wood shelving and a glass-front built-in cabinet.
A large center island with bar seating and a slab top sits in the updated kitchen, which opens directly to the family room and a casual dining area. A butler's pantry is nearby.
The five-bedroom home has a theater room, a wine cellar, seven bathrooms and 11 fireplaces. A wrap-around porch extends the living space outdoors. There's also a detached five-car garage.
Catherine Bassick of Bassick Real Estate Advisors is the listing agent. The asking price for 80 Orchard Ave., Weston, Massachusetts, is $12 million.
Boston Logan International Airport is less than 14 miles away.
---
Bassick Real Estate Advisors is an exclusive member of Forbes Global Properties, a consumer marketplace and membership network of elite brokerages selling the world's most luxurious homes.