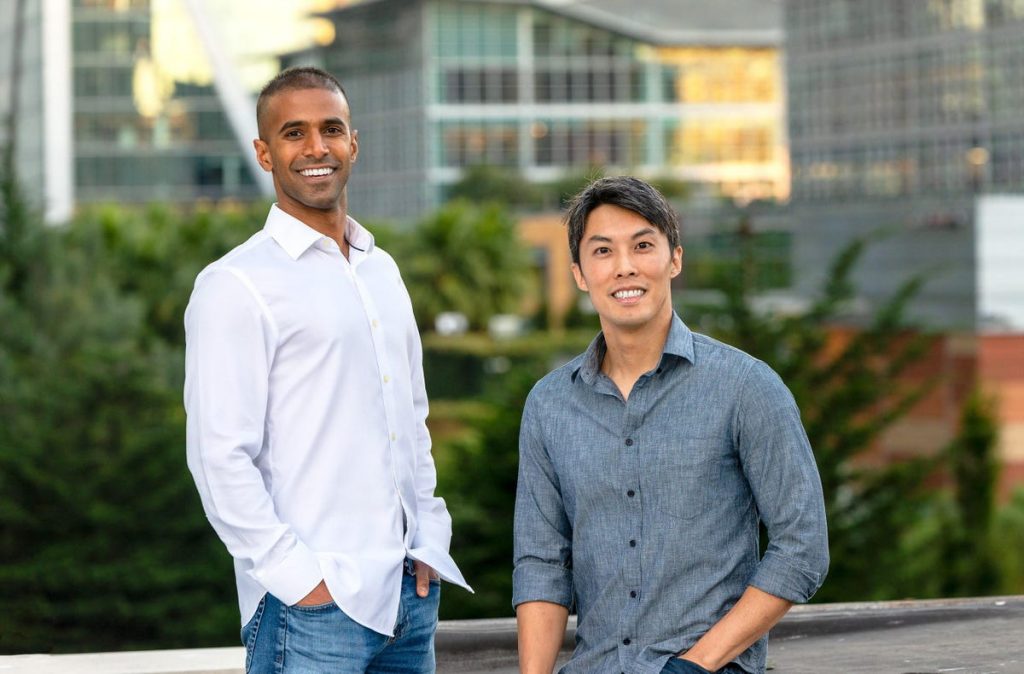 Blockchain Developer Alchemy Raises $250 Million Series C At $3.5 Billion Valuation
Alchemy cofounders Joseph Lau, 32, and Nikil Viswanathan, 34, started their entrepreneurial careers in 2015 when they built an app to make meeting up for $6 Safeway fried chicken lunches with their friends easier. Called Down To Lunch, the app soon became the most popular social app in the world, and Lau and Viswanathan wanted to fortify it with blockchain technology. But when they realized a platform for developing blockchain didn't exist, they built their own in Alchemy.
Since its August 2020 launch, Alchemy has become the world's leading blockchain and Web3 development platform, powering more than $45 billion in transactions. Today the company announces a $250 million Series C led by Andreessen Horowitz—with participation from Lightspeed, Redpoint and existing investors Coatue, Addition, DFJ and Pantera—bringing total funding to $345 million at a $3.5 billion valuation. Unlike most companies raising Series C rounds, Alchemy says it's extremely profitable and has enough money in the bank for 10 years of runway.
If they don't need the money to hire, launch products or fill the office fridge with snacks, why raise? Viswanathan and Lau say they did so to strengthen blockchain's already strong grip on the world. "It wasn't really about the money," says Viswanathan, who is the company's CEO. "We want to align ourselves with the best partners in the space that help us bring blockchain to the world as quickly as possible, and Andreessen Horowitz is the best of the best."
Alchemy aims to do for blockchain what Amazon Web Services did for the internet, and before that, what Microsoft did for the PC. Here's how: Using Alchemy's development suite, companies ranging in size from a dorm room-founded token with a paltry market value to consulting giant PwC can build blockchain-enabled products. Alchemy's tools for engineers include an Ethereum API, app notifications and analytics dashboards. Because its tools are available for free, Alchemy says it powers every NFT in the world. Alchemy, however, generates its revenue (and is quite profitable) from its sale of growth and enterprise products that utilize more advanced versions of options of its blockchain building box.
"I know to a lot of people it'll sound crazy, but we have the chance to shape the course of history," says Viswanathan. "Imagine if you could help build the internet and bring that technology to the world or help bring computers to the world—this is of a similar impact."
Lofty, sure, but Alchemy's numbers indicate exceptionality. With just 27 employees, the San Francisco-based company is smaller than a high school football team. But growing up in Lubbock, Texas, a small town that worships football, Viswanathan knows the importance of star players. Each member of the Alchemy team has been the Tom Brady of a previous company: from Jason Shah who cofounded and sold Do.com to Mike Garland who also sold his Y Combinator-backed startup. These employees have taken pay cuts (and title cuts—only CEO Viswanathan and CTO Lau have titles and the company maintains a flat structure) and consistently work into the early morning hours alongside the cofounders, helping to prop the company to its $3.5 billion valuation. And until last week, Viswanathan was acting as the company's head of public relations and human resources.
Lau and Viswanathan met while working as teaching assistants in Stanford's first open database class in 2011. Since then, they've been roommates and built over 10 products together (Lau jokes that he has spent more time with Viswanathan than he has with his fiancé). With the success of their meetup app Down To Lunch, the two earned a spot on Forbes 30 Under 30 Consumer Technology list in 2017.
"They're brilliant," says Ali Yahya, a general partner at Andreessen Horowitz, who led the round and studied computer science at Stanford with Viswanathan and Lau 15 years ago. "Alchemy's incredible growth is the result of powering a massive surge of developers building products that have real utility for millions of people globally."
It's also been a banner year for blockchain. Bitcoin hit an all-time high above $66,000 earlier this month, and blockchain startups raised nearly $4.4 billion in the second quarter of the year, a 900% increase from the same time period in 2020. And Viswanathan and Lau's fellow Under 30 alum Sam Bankman-Fried became, by far, the richest under 30 on the planet with his crypto exchange, FTX Trading, raising a jaw-dropping $421 million at a $25 billion valuation, giving him a net worth of $26.5 billion. With this in mind, it makes sense that Alchemy is turning talent, a hot market and powerful products into blockchain-backed gold.
"Alchemy is one of the fastest-growing companies we have ever seen," says Randy Glein, who invested in Alchemy (as well as Tesla and SpaceX) as a managing partner at DFJ Growth. "They are on track to have the same level of impact for blockchain that the trillion dollar AWS platform had on the internet."
Blockchain is not simply for cryptocurrency; it's a more general verifiable public ledger technology with a range of applications, notes John C. Mitchell, who has been a computer science professor at Stanford for the last 30 years and does not know Viswanathan or Lau. For example, its been used by the U.S. Department of Education to record teacher credentials and student transcripts. "In this environment, there is a tremendous growth opportunity for a company that successfully provides backend technology to power new applications," he says. "It makes sense for an ambitious company to seize that opportunity and secure funding as well as the additional recognition that can come from notable funding events."
The question is: Why has Amazon, with its almost infinite resources and manpower, tried to cut into Alchemy's market share by replicating its trillion-dollar AWS business for blockchain? Viswanathan believes this is because the total addressable market has been relatively tiny for so long, and because it's extremely difficult to replicate Alchemy.
Though Lau and Viswanathan won't say how much of the company they own, they know they could sell Alchemy tomorrow and live in comfort for the rest of their lives. The two besties, however, have no plans to sell.
"Our end goal isn't a sale to a company, real estate or something like that; it's not any specific event," says Lau.
Viswanathan, who sits beside his cofounder in an office chair and wears a t-shirt that says "everything is awesome," chimes in. "Our core technology will be as revolutionary as the internet and the computer—our goal is to bring those benefits to the entire world."