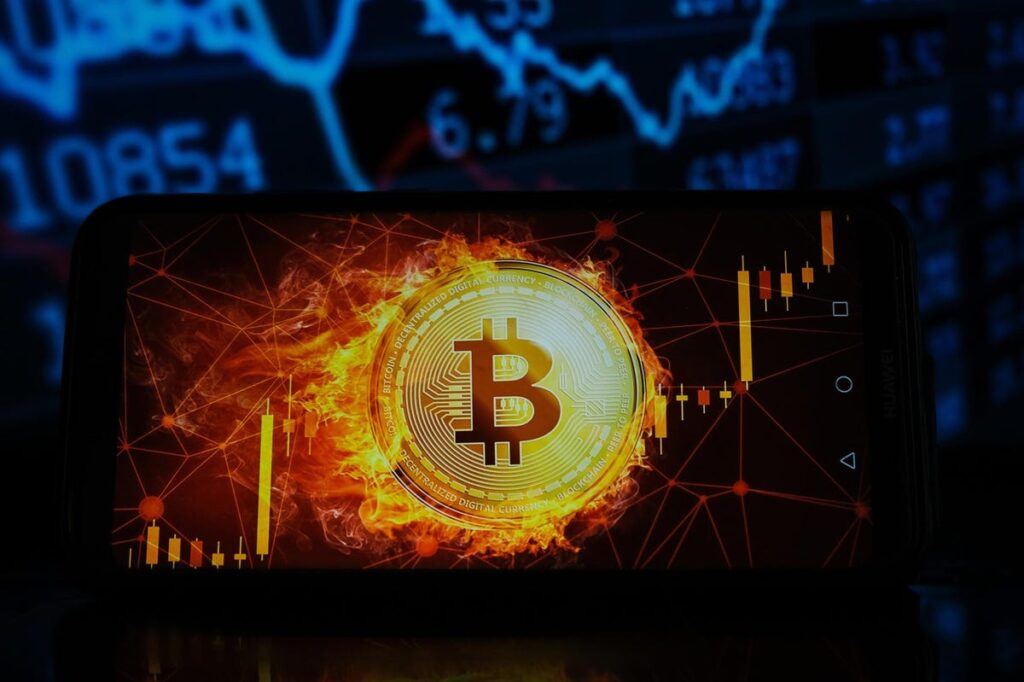 Bitcoin, Crypto And NFTs Are Braced For A Big Week As Extreme Price Swings Hit Ethereum, BNB, Solana, Cardano And XRP
Bitcoin, cryptocurrencies and NFTs have had a mixed beginning to 2022, with the bitcoin price recording one of its worst-ever starts to a new year.
Subscribe now to Forbes' CryptoAsset & Blockchain Advisor and discover hot new NFT and crypto blockbusters poised for 1,000% gains
However, the non-fungible token (NFT) market has gone from strength to strength as marketplace OpenSea generated nearly $2.7 billion in volume and is on track for its highest volume month ever. Ethereum and its biggest rivals Binance's BNB, solana and cardano have also struggled, along with bitcoin.
Now, after an investment giant issued a shock bitcoin prediction, cryptocurrencies and NFTs are braced for some of the biggest names in crypto to come together for the North American Bitcoin Conference—with billionaire investor Mark Cuban set to join crypto-friendly Miami Mayor Francis Suarez on stage.
Subscribe now to Forbes' CryptoAsset & Blockchain Advisor and discover hot new NFT and crypto blockbusters poised for 1,000% gains
MORE FROM FORBESLegendary Investor Reveals Huge Bitcoin Bet As The Price Of Ethereum, BNB, Solana, Cardano And XRP Suddenly SoarBy Billy Bambrough
The three-day North American Bitcoin Conference, starting tomorrow in Miami, is one of the world's biggest bitcoin conferences and will see crypto entrepreneurs, investors and influencers discuss the latest blockchain technologies, trends, and market opportunities.
Last year, El Salvador set the bar high for bitcoin conference announcements when it revealed it planned to become the world's first country to make bitcoin legal tender at Bitcoin 2021 in June.
"I'm just going to see if there is anything new," Cuban, the owner of the NBA team the Dallas Mavericks and celebrity investor who's recently launched an NFT website, says via email, pouring cold water on expectations he'll make a big announcement. "I don't expect any fireworks."
Cuban has clashed with some in the bitcoin and crypto community in recent years, famously saying a few years ago he'd "rather have bananas than bitcoin." However, Cuban, who owns a handful of pricey NFTs, has embraced both decentralized finance (DeFi), which wants to recreate traditional financial services using crypto technology instead of banks, and collectible NFTs, increasingly being used by sports teams and gaming companies as a new revenue stream.
In a North American Bitcoin Conference press release, Cuban said he's "investing in things like decentralized insurance applications" and "decentralized ways to distribute NFTs"—hoping to cash in on the ongoing NFT craze.
NFT marketplace OpenSea has generated nearly $2.7 billion in volume so far this year, mostly fueled by a price surge in wildly Bored Ape Yacht Club NFT collection, and is on track to surpass the $3.4 billion high it reached in August, according to data from Dune Analytics.
Other big names at the North American Bitcoin Conference include the billionaire founder of blockchain technology company Bloq, Matthew Roszak, Peter Smith, the chief executive of Blockchain.com, and Craig Sellars, one of the co-founders of controversial stablecoin Tether.
Miami mayor Francis Suarez, who'll also be speaking at the event, has said he wants to make the city the first in America to "give a bitcoin yield as a dividend directly to its residents" and hopes to one day run the city "without taxes."
"We're excited to see what industry-disrupting techs launch this year," North American Bitcoin Conference organizer Moe Levin in a statement.
CryptoCodex—A free, daily newsletter for the crypto-curious
MORE FROM FORBES'Visa Of Digital Assets'-Bank Of America Issues Shock Ethereum Rival Prediction As The Price Of Bitcoin, BNB, Solana, Cardano And XRP Suddenly SlideBy Billy Bambrough
Going into the conference, bitcoin and crypto market sentiment is relatively low, however, with the market still reeling from a price crash that wiped around $1 trillion from the combined crypto market in just two months.
"The first two weeks of the year haven't been the greatest for bitcoin and the whole crypto market," Lukas Enzersdorfer-Konrad, chief product officer at Vienna-based trading platform Bitpanda, said via email but adding, "it's too early to call it a bear market just yet."
"According to the Crypto Fear and Greed Index, the market sentiment is in a state of extreme fear and at its lowest point since July 2021. A 40% correction is not unusual, and it isn't the biggest we've seen in the past 12 months. Keep in mind that bitcoin fell by more than 50% from April to June last year, and completely recovered its losses by October."