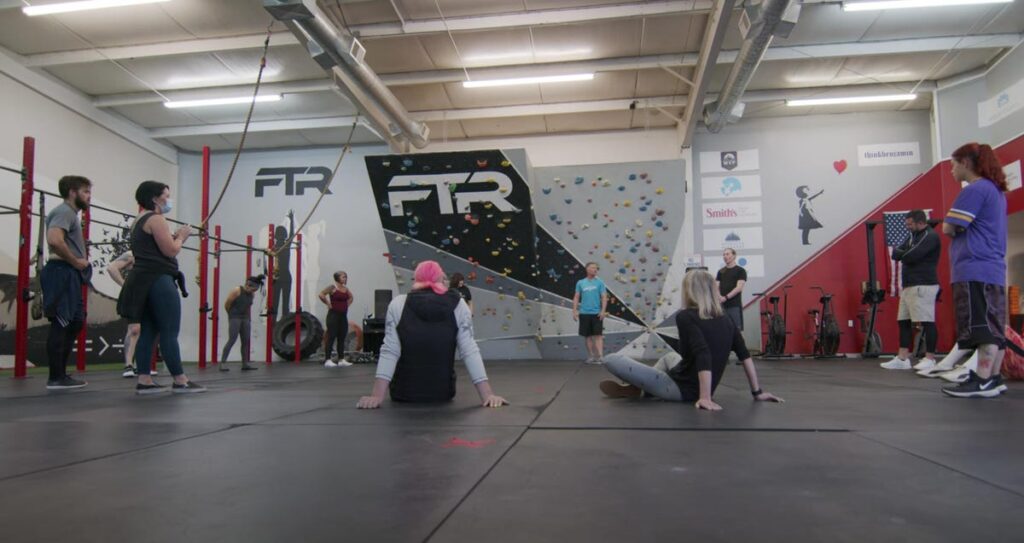 Beyond The Treatment Center: Investing In Long-Term Addiction Recovery
Sitting in an AA meeting in 2017, Sharon Ewer was in a dark place. Despite long term sobriety, Ewer did not feel healthy, physically or emotionally. "As a mom, and just as a person, I was struggling. I was overwhelmed by stress and I weighed over 300 pounds," said Ewer. "I was sitting there at a table in an AA meeting, feeling mortified, and Ian came up to me and said hi."
Ian Acker, an entrepreneur in recovery from drug and alcohol addiction, founded a gym in Salt Lake City called Fit to Recover. He immediately made a connection with Sharon. "Ian saw through everything on the outside and just treated me like a person," explained Ewer. When Acker invited Ewer to attend fitness classes at his gym she was hesitant. "Ian said something that I couldn't disagree with. He said, 'You've been sober a lot of years, right? How have you done that?' And I said, 'I just keep showing up.' He said, 'That's how this gym is. Can you make me a commitment to show up no matter how you feel, just like you've been doing all these years in sobriety?' And I said, 'Yeah.' That actually made sense to me. So that's what I did."
Fit to Recover (FTR), offers a safe haven to people in recovery through programming around fitness, nutrition, creative arts, and community service. It is both a physical place where those in recovery find relief and a community they carry with them. FTR can be life changing for members like Ewer. "All these people told me I could do it," she explains. "Even when I was discouraged at the beginning, I felt that support."
Ewer kept showing up. Along the way she lost over 170 pounds. But according to Ewer, fitness isn't the biggest thing she gained at FTR. Rather, it's a community that loves and supports her. And the chance to serve others. "Most of the people at the gym are young. I'm 46 so at first I thought, there's no way that I have a role here, but when I came I realized that I actually did have a role. I was 300 pounds but I had long term sobriety and a lot of these kids were still early in recovery. And I could show them that you can stay sober that long. So I didn't have to be the thin person, but I did need to be that person that they could see could stay sober."
FTR founder Ian Acker never intended to be an entrepreneur. The idea to start a gym stemmed from his search for community on his own journey of addiction recovery—specifically the gap he experienced with the lack of structured support for people in recovery after formal treatment ended.
Acker had gone through treatment five times. "I'd complete the program, get out and be like, 'now what?' And I'd go get drunk and high again. And every time I went back out the relief got shorter and shorter. Pills, alcohol, all of it stopped working, it always stops working. That's what I finally realized."
While in treatment, Acker, a lifelong athlete, would often lead workouts for others. He realized these workouts offered much more than just the usual benefits of exercise. "In treatment I would train people and then I'd find connection while working out," Acker said. "We would tell our stories, we would say what we're struggling with, we'd talk about gratitude. That's when I could feel connection. And that's what I've been longing for my whole entire life. So I kept thinking to myself: we need to build something for people when they get out of treatment."
So Acker decided to start small, but start with something. "It started with a Facebook post and a boombox," he recalls. In 2014, Acker posted an open invitation to join his workout at a local park. At first, only a handful of people showed up, but he was just grateful that they all stayed sober for the day. What began as a way to workout and connect with others quickly developed into something much more meaningful. And people just kept showing up.
Eventually over 100 people would show up to workout in the park each Saturday. Fit to Recover emerged as an answer to a major need in the recovery community—a need not just for intervention, but for social and emotional support and understanding. When winter arrived in Salt Lake City, Acker knew he had to find an indoor space.
In 2015 Acker started an IndieGoGo campaign and successfully raised enough money to secure the physical space where FTR has been running ever since. Funded by donations, grants, and membership fees, FTR serves more than 800 individuals in recovery each week. This unique funding method is what allows FTR to provide scholarships to members who otherwise could not participate.
FTR's unique approach rests on four pillars: fitness, nutrition, community service, and creative arts. In fitness classes, members tackle challenges in the gym to prepare them for the obstacles they face in everyday life. Vicki Shaw is FTR's head trainer. As the lead for the Fitness Pillar she oversees programming for all of the fitness classes. "Sometimes I stress about the programming," says Shaw. "But then I realize in most cases they don't really care what they do… I mean they are here for exercise and they are here to get stronger but that's not their primary goal. I just have to remind myself sometimes of that, it's not necessarily about the workout. It's just about the energy and the connection and the community."
Nutrition classes imbue members with a sense of ownership over preparing the food going into their bodies. This way, members avoid restriction and extreme dieting, which can complicate the journey of addiction recovery. Community service programs help people find a sense of purpose and gain confidence by serving others. Through its outreach program, FTR mentors populations vulnerable to addiction, including prisoners and youth. Creative expression programs allow those in recovery to express their recovery journey in a creative way. Creative expression allows individuals to regain control over a portion of their life.
Tony Ollerton, the Creative Arts Pillar lead at FTR, notes that the feeling of control is something addiction can quickly take away. "When your whole world is falling apart and things are just being destroyed, having a place where you can come and create and have control over something is crucial. And not only do they have control in the creative process, but they're being validated by others and connecting with others. They're being witnessed."
The power of community: a bulwark against relapse
While FTR is a physical place, the key differentiator is the social community. Community plays such a major role in combating the isolating, lurking nature of addiction. The American Society of Addiction Medicine defines addiction as "a treatable, chronic medical disease involving complex interactions among brain circuits, genetics, the environment, and an individual's life experiences." That can look like compulsive substance use or behavioral patterns that lead to harm. "All you're looking for is relief," explains Acker.
For many FTR members, the radical depth of community brings a sense of self-worth and belonging. FTR's philosophies include meeting people where they are, showing up for others, and recognizing that everyone has something to offer. FTR has also become a safe space through its conscious efforts to dismantle stigma and eliminate judgment. "It's one of the most nonjudgmental communities I've ever seen," remarks Ollerton. "And it is a community that's often so stigmatized, marginalized, so judged. But when you're inside the community, I cannot even tell you how forgiving and loving and supportive it is, no matter what you do. They accept you as you are," remarks Ollerton.
FTR provides a new way of life for those who walk through its doors. A life of intention, a life of connection. And a chance to have freedom from addiction. As founder, Acker fully attributes the success of FTR to the people. "Human connection is what makes you feel that you're not alone. When you feel a part of something, you can be yourself, and you can heal." says Acker. "I can't take credit for any of this stuff. I'm consistent, and I care about people's feelings, but it's the donors, the staff, the people that show up, the members. They're the ones that make this place what it is."
Pivoting with COVID-19 and the Road Ahead
During the last year of drastic changes to how humans connect, FTR had to quickly and constantly adapt, similar to how addicts have to adapt as they go through recovery. One of the primary priorities of the gym has always been to provide emotional and physical safety to lay the foundation for the deep healing that occurs within this tight-knit community. The Covid-19 pandemic meant quickly implementing safety procedures like virtual classes and social distancing. Counterintuitive to both human connection and its business model, FTR persevered through the pandemic because of the strength in the existing community. "Even when the gym was closed with Covid, I still had that promise to show up," says Ewer.
Despite challenges faced during the pandemic, FTR is expanding its reach to help more people in recovery. FTR's new certification program packages its business model and signature four pillars to share with existing businesses and nonprofits aimed at supporting addiction recovery.
So far, trainers from Utah, Colorado and Connecticut have completed the program and FTR plans to certify its first international affiliate early next year by welcoming in trainers from a Crossfit gym located in Namibia (pending pandemic developments).
FTR is also introducing a youth substance use disorder (SUD) prevention program. Studies have found that the average age of addiction onset is just 15 years old. The youth SUD prevention program will extend mentorship and exercise programs to youth in Utah treatment centers. Acker and his team are taking FTR to the next level while maintaining the core community aspect that has always made FTR so unique.
Since opening the gym doors in 2015, there have been over 96,000 check-ins at Fit To Recover; meaning that over 96,000 times, a person has walked through FTR's doors and received help in staying sober. FTR has served over 5,000 unique individuals and currently works with clients from 19 different treatment centers along the Wasatch Front and surrounding region.
Through their Nick Zurn's Scholarship Fund, they have awarded over 390 scholarships to low-income individuals who are unable to pay the $40/month membership fee. And in January 2022 Fit to Recover plans to open its second gym location, in Utah County, south of Salt Lake, effectively doubling the number of people it will be able to serve annually.
Lacey Garcia, who has been with FTR since the early workouts in the park and has helped build the community into what it is today, expressed her hopes for the future. "It's grown and it's serving so many people," said Garcia. "And that's what we wanted. My hope for FTR is that now we can take it elsewhere and other people in different states and cities can benefit from what we've created."
---
To learn more about FTR and to watch the full Fit to Recover documentary, visit Fit2Recover.org.