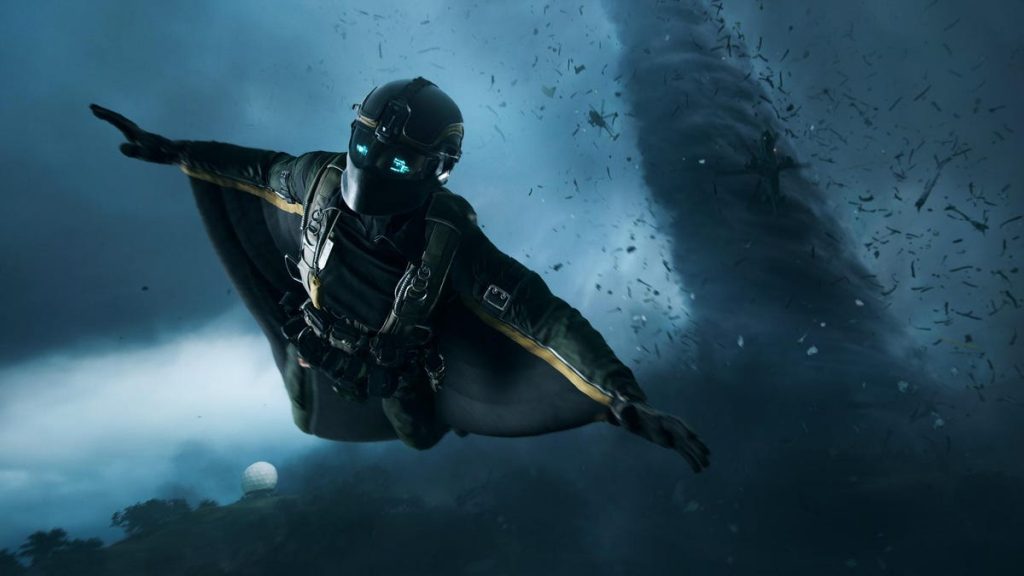 'Battlefield 2042' Beta Start-Times, Download Size And How To Play Early Without Pre-Ordering
Battlefield 2042 is still a couple months away, but fans eager to give it a trial run will get their way starting this Wednesday.
There are two phases to this week's Battlefield 2042 beta. The first is an Early Access period for press, influencers and—most importantly—preorder customers.
If you've pre-ordered the game on PC, PS4 / PS5 or Xbox One / Xbox Series X|S you'll be able to hop into this Early Access period.
After that's over, the beta (and let's be realistic here, it's more of a demo than a beta) will open up to everyone, regardless of whether or not you've preordered the game.
Pre-loading of the beta has already begun, so you can download (but not access) the game now and be ready to hop right in when it goes live. Here are all the start and end-times for Battlefield 2042 beta.
Battlefield 2042 Beta Start and End-Times
October 6th: Early Access Beta starts at 12 am PT / 3 am ET / 9 am CEST
October 8th: Open Beta starts at 12 am PT / 3 am ET / 9 am CEST
October 10th: Beta ends at 12 am PT / 3 am ET / 9 am CEST
So that's 48 hours of Early Access followed by 48 hours of Open Beta for a total of four straight days of Battlefield 2042.
What's The Beta Download Size?
PS5: 16.506 GB
PS4: 20.731 GB
Xbox One: 9.34 GB
Xbox Series X/S: 17.23 GB
What Content Will We Get To Play?
Battlefield 2042 is set in the near future during an all-out war for survival as climate change has evolved into full-blown calamity. Massive, powerful storms have wracked the earth leading to resource shortages, governmental collapse, famine and war. It's a bleak-sounding future, but at least the war part should be pretty fun (in the game, not in the real world where all this could very easily happen).
The beta will focus on the massive-scale Conquest mode on the giant Orbital map. On next-gen and PC these battles will have as many as 128 players (two teams of 64) while PS4 and Xbox One players will dial that back to 32-player teams.
Players will have access to four different Specialists and their unique gear and abilities, as well as vehicles, ziplines and a tornado event that directly impacts the battle. I'm very curious to see how that works, as it adds a pretty significant moving piece to the puzzle.
How To Play Early Without Pre-Ordering
If you don't want to pre-order the game you have two other options to gain access to the early portion of the beta.
Your first option is to subscribe to EA Play, the EA subscription service that includes lots of games, early access periods and game demos (like getting the first 10 hours of a new release free). If you're an EA Play subscriber, or just sign up for a month, you can be part of the Early Access period.
A better option if you're on Xbox or PC is to subscribe to Xbox Game Pass. This subscription actually includes EA Play so you're getting a better deal, since you also get a ton of other Xbox content, not to mention Bethesda games like DOOM and Skyrim and tons more, including this month's big Back 4 Blood release.
---
Speaking of first-person shooters, Call Of Duty: Black Ops Cold War and Warzone kick off Season 6 at about the same time as the Battlefield 2042 beta goes live. You can read all about the Season 6 launch—and how to score some COD points—right here.
MORE FROM FORBES'Call Of Duty: Black Ops Cold War' And 'Warzone' Season 6 Start-Time And Everything You Need To KnowBy Erik Kain
Battlefield 2042 releases on November 19th and costs $59.99 on PS4, Xbox One and PC and $69.99 on PS5 and Xbox Series X. You can learn more about the game and pre-order options at the official website.
Follow me on Twitter and Facebook. You can support my work on Patreon and sign up for my newsletter on Substack. Subscribe to my YouTube channel here.