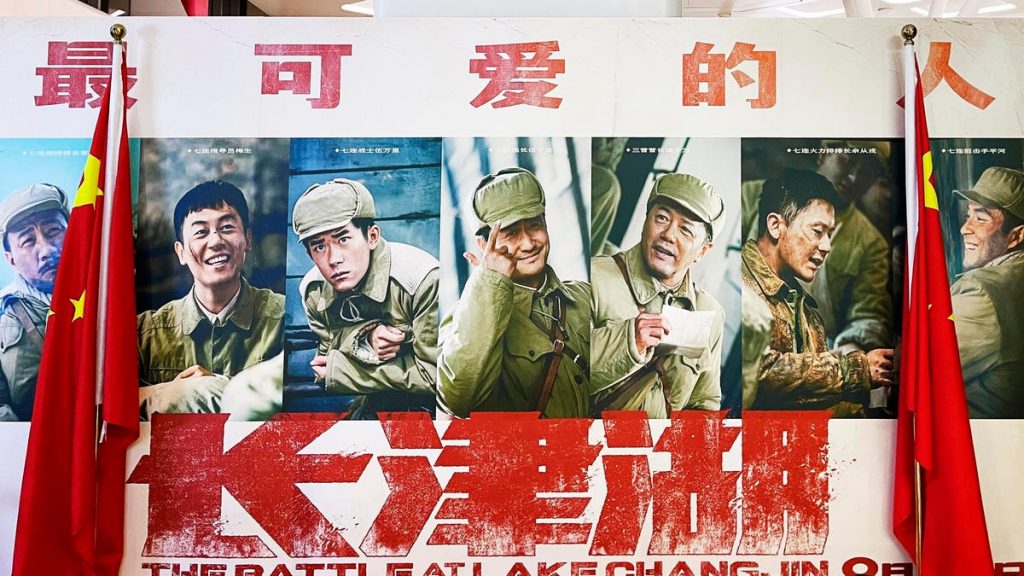 'Battle At Lake Changjin' Tops $655M As China Presents New Challenges To Hollywood
The Battle at Lake Changjin, a 176-minute, $200 million Korean War epic, earned $110 million in weekend two, dropping 45% from its $203 million Fri-Sun debut frame. With another $15.9 million on Monday, it has now earned $654 million. That puts it higher than any 2020 release and (among 2021 releases) behind only China's Detective Chinatown 3 ($690 million), F9 ($717 million, including $203 million in China) and China's Hi, Mom ($825 million). Three of the top four biggest global earners of 2021 are Chinese movies that played almost exclusively in China. Its success (helped by being an unapologetic propaganda flick, although arguably no more jingoistic than Midway or Pearl Harbor) is another example over the last six years of Chinese blockbusters approximating Hollywood tentpoles and earning massive sums just in China.
We've seen a steady supply of Chinese blockbusters (Monster Hunt, The Mermaid, Operation Red Sea, Detective Chinatown, the animated Ne Zha, etc.) which have earned towering single-territory cumes in China. Even before that, the notion of big Hollywood movies cashing in on an expanding Chinese marketplace was partially a mirage. Just because China liked Transformers, Avatar and The Fast Saga doesn't mean they would love any random Hollywood spectacle. China sampled The Force Awakens ($124 million from a $33 million opening day) but found Star Wars lacking. Disney's five Star Wars films earned "just" $273 million combined. Even during the "peak" years (offhand, 2014 to 2019), massive China grosses (of which studios often get 25% versus 50% elsewhere) mostly served to (I'd argue) pad the global cumes of globally successful films.
Transformers: Age of Extinction would have earned $805 million (instead of $1.105 billion) without China. Godzilla: King of the Monsters still bombed with $135 million in China and $390 million worldwide. Warcraft ($220 million in China) was still a bomb with $430 million worldwide on a $165 million budget. Aladdin earned $53 million out of $1.053 billion in China. Mission: Impossible – Fallout earned $181 million of its $792 million cume in China. There are exceptions of the big (Ready Player One earned $218 million out of $581 million in China in 2018) and small (London Has Fallen earned $55 million in China for a $204 million cume in 2016) variety. Most pre-Covid Hollywood movies that scored in China were the same that are big successes worldwide.
There were a few exceptions like xXx: Return of Xander Cage ($164 million out of $385 million) and Resident Evil: The Final Chapter ($159 million out of $312 million) There were some "drag it over the goal line" performances like Now You See Me 2 (with $94 million out of $334 million worldwide from China) or War for the Planet of the Apes ($115 million/$490 million). However, more often than not, if you bombed worldwide, a China release wouldn't save you. And the films that scored in China often barely needed the boost. Jurassic World: Fallen Kingdom earned $267 million out of $1.308 billion in China. Just because China flocked to Terminator: Genisys ($113 million in 2015) doesn't mean they wouldn't ignore Terminator: Dark Fate ($51 million in 2019).
However, the current pandemic-era "new normal" has indeed put a premium on Chinese box office right as China may be getting stricter and pickier about what gets in. Save for Black Widow ($377 million), Shang-Chi ($400 million) and No Time to Die ($315 million thus far) the pandemic-era Hollywood films that topped $300 million needed a boost from China. F9 earned $203 million out of $716 million from China and still came in below the $843 million sans-China cume of Fate of the Furious. Godzilla Vs. Kong earned $188 million out of $468 million and Tenet grossed $66 million out of $366 million. Free Guy earned $95 million out of $320 million. Heck, even The Croods 2 earned $56 million in China out of a $200 million-plus cume (on a $65 million budget).
If Hollywood movies can play in China and make money in China, the more the merrier. And if, pre-Covid, Hollywood was starting to realize that China was a bonus rather than (for most of its big franchises) the main event, all the better. However, for as long as the rest of the world remains compromised, it matters that China spent 2019 mostly ignoring everything save from Hollywood for The Fast Saga (Hobbs & Shaw with $202 million), the MonsterVerse (Godzilla: King of the Monsters with $135 million) and the MCU (Captain Marvel, Spider-Man: Far from Home and Avengers: Endgame with $154 million, $199 million and $620 million) and was mostly "closed for outside business" in 2020 as My People My Homeland and The Eight Hundred both topped $400 million.
Arguable deficiencies in the overseas markets are occasionally being compensated by good-to-great Chinese box office. I wouldn't normally view China as "do or die" markets for the Dune (Blade Runner 2049 earned just $12 million in China) or No Time to Die (Spectre earned $83 million out of $881 million worldwide in China). However, the situation has changed at least until overseas markets recover to the extent of domestic ones. Shang-Chi can earn maybe 85% of what it would have in North America, and in normal circumstances China might represent just 15-25% of a Marvel film's global gross. But with understandably depressed marketplaces elsewhere, that "missing" Chinese box office would be the difference between, to say nothing of theme park-related revenue, "bigger than Ant-Man" and "smaller than Thor."
In a normal scenario, Venom: Let There Be Carnage could miss out on China and any shot at matching Venom's $269 million gross and settle for an over/under $550 million global gross everywhere else. Now? I can only speculate as it expands this week. In a non-Covid world, Walt Disney's Jungle Cruise could have been "good enough" with $115 million domestic, on par with Dwayne Johnson's Rampage and Central Intelligence, with the expected overseas might on par with Jason Statham's The Meg ($144 million domestic, $156 million in China and $530 million worldwide). Until conditions improve in much of the world, Hollywood films playing in China really will get a leg up in a comparatively recovered marketplace. China may indeed be as valuable as Hollywood has long pretended it to be.