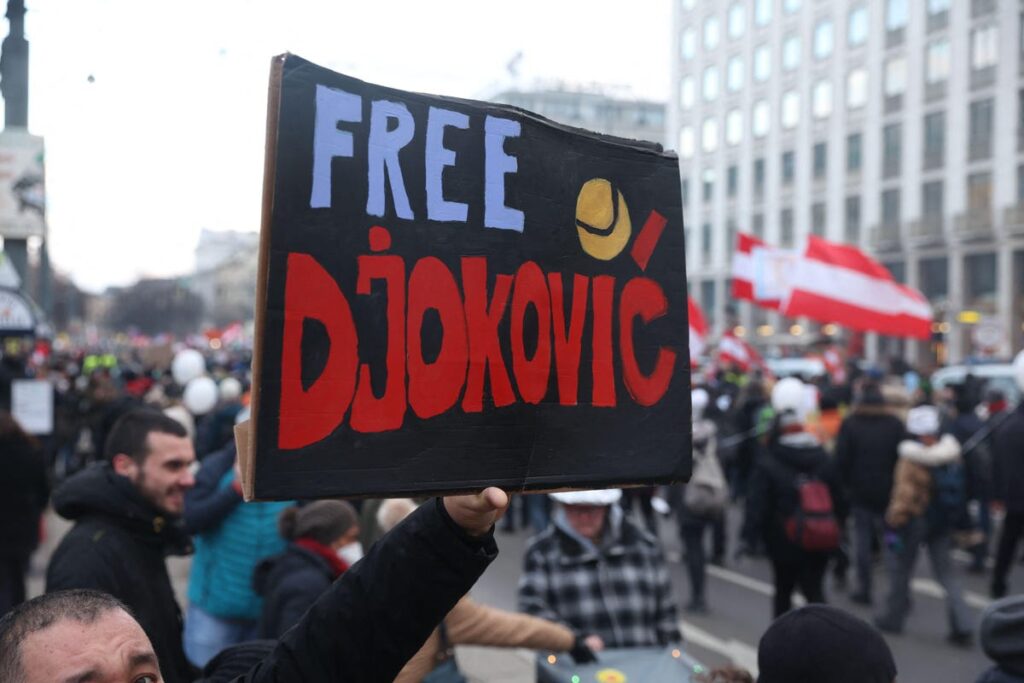 Aussie Court Holds Hearing On Whether To Deport Djokovic Prior To Australian Open
A virtual hearing is underway at this hour in the Federal Circuit and Family Court of Australia in Melbourne at which top-ranked tennis player Novak Djokovic will appeal the cancellation of his visa to enter the country because of his Covid vaccination status. He is scheduled to play in the Australian Open that begins on January 17.
Demonstrations in support of Djokovic have been held in Melbourne, Vienna, Austria; and Belgrade, Serbia.
The Washington Post noted that, "The case has polarized opinions around the world and elicited heartfelt support for the tennis star in his native Serbia. 'Today is a big day. Today, the whole world will hear the truth,' Djokovic's mother, Dijana Djokovic, told the crowd in downtown Belgrade."
Marina Mara, an international media, brand and reputation advisor, said that "This has now become the greatest crisis in tennis history. The country is losing its appeal and making global headlines."
'Victim Of Political Prosecution'
News.concerns.com reported that, "Serbian president Aleksandar Vucic claims Djokovic was the victim of 'political persecution' by the Australian Prime Minister Scott Morrison and others in the country's government, calling on them to move him from the "horrific hotel" where he is being detained into a private rented house."
Delay Request Rejected
On Sunday, CNN reported that, "An Australian government request to delay Novak Djokovic's visa hearing by two days has been rejected, according to court documents….No reasons were stated for the adjournment request, but it came just hours after Djokovic's legal team submitted a 35-page document outlining the player's defense against the decision to cancel his temporary visa."
'Rules Are Rules'
NBC News said that when he tried to enter the country "border patrol held Djokovic for questioning for eight grueling hours…on Wednesday, Scott Morrison, the prime minister of Australia, announced that Djokovic's visa had been canceled."
"Rules are rules," Morrison said in a Tweet, "especially when it comes to our borders. No one is above these rules. Our strong border policies have been critical to Australia having one of the lowest death rates in the world from Covid. [We] are continuing to be vigilant."
Tennis Star's Preparations At Risk
Robert Jahrling, a three-time Olympian for Australia and now managing director of equity capital markets at Citi said that as a former athlete he empathizes with Djokovic's position. He said, "This now puts Djokovic's finely tuned preparation at risk with a significant disadvantage to performing at his best given the emotional, mental, and physical circumstances he's experienced since arriving in Melbourne and being detained by the Australian Border Control prior to the Australian Open.
"The current situation proves that when there is a lack of coherency and understanding about the rules and regulations, it creates a significant misalignment of expectations, which in turn creates adverse outcomes for all parties involved," Jahrling observed.