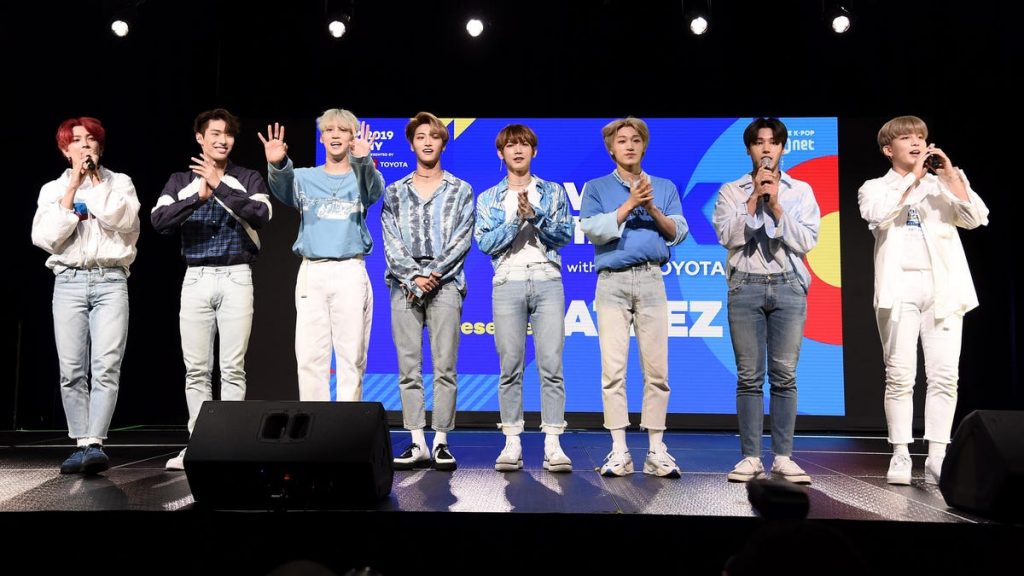 Ateez, BTS, NCT 127 And AB6ix: The Bestselling Songs In Korea In September
The Gaon Download chart ranks the bestselling individual songs in South Korea every week, and it also has a monthly component. The list of the most-purchased tunes in the country in September includes some of the biggest acts in the nation, as well as a handful of Western acts that managed to collect big wins with their latest smashes.
NCT 127 scores the bestselling album and song in South Korea in September, and they do so with the same title. The boy group's "Sticker" stands out as the most-bought track in the country, and the album it fronts of the same name also far outperformed every other release, selling more than two million copies in just about two weeks.
New at No. 2 is "My Universe" by the unstoppable pairing of Coldplay and BTS. The two bands came together to create one of the catchiest and most memorable tunes of the year, and fans in South Korean were quick to snag a copy anywhere possible.
Up seven spaces to No. 3 is "Stay" by another successful duo, The Kid Laroi and Justin Bieber. The Australian and Canadian pop stars have scored one of the sturdiest hits of 2021, and it has become the relatively uncommon No. 1 on the Gaon Digital chart for Western artists.
MORE FROM FORBESA Look Back At Ateez's Biggest Week Ever On The Billboard ChartsBy Hugh McIntyre
The second and only other debut inside the top five on the Gaon Download chart's ranking of the bestselling tunes in September is Ateez's "Deja Vu," which powered their latest EP Zero: Fever Part.3.
The next four tracks all rise from where they ranked on the end-of-August list, with one jumping more than 70 spaces to break into the top 10. K.Will's "Back in Time (The Moon During The Day)" bolts to No. 5, Lee Moo-jin's "Traffic Light" gains grund and lands at No. 6, Lim Young-woong's never-not-popular "My Starry Love" improves to No. 7 while Kim Ho-joong's "In Full Bloom" rockets an amazing 73 spots to No. 8.
LeeHi and Yoon Mi-rae's "Red Lipstick" arrives at No. 9, while AB6ix's "Cherry" breaks into the top 10 as well, as it launches at No. 10.
These were the 10 bestselling songs in South Korea last month.
MORE FROM FORBESNCT 127 Breaks A Tie With Ateez, Monsta X And Blackpink With Their Latest Bestselling Album In The U.S.By Hugh McIntyre
No. 1 – NCT 127 – "Sticker"
No. 2 – Coldplay & BTS – "My Universe"
No. 3 – The Kid Laroi & Justin Bieber – "Stay"
No. 4 – Ateez – "Deja Vu"
No. 5 – K.Will – "Back in Time (The Moon During The Day)"
No. 6 – Lee Moo-jin – "Traffic Light"
No. 7 – Lim Young-woong – "My Starry Love"
No. 8 – Kim Ho-joong – "In Full Bloom"
No. 9 – Lee Hi – "Red Lipstick (ft. Yoon Mi-rae)"
No. 10 – AB6ix – "Cherry"
MORE FROM FORBESBlackpink's Debut Album Hits A Full Year On Billboard's World ChartBy Hugh McIntyre