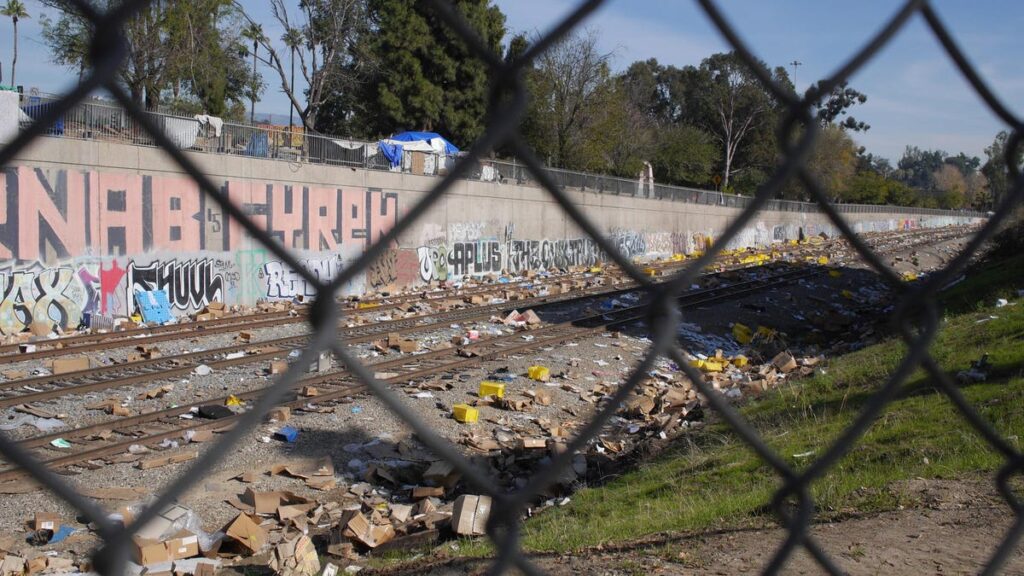 At-Home Covid Test Deliveries Delayed By L.A. Train Robberies
A surge inWild West-style train robberies outside the busy ports of Los Angeles and Long Beach has delayed retail shipments of everything from at-home Covid-19 tests, fishing lures and parcels from Amazon, REI and UPS.
Union Pacific says thefts targeting its trains are up 160% over the past year in Los Angeles County, with an average of 90 containers broken into every day over the last three months. The company estimates that in the last year the burglaries have cost $5 million, between damage, losses and claims.
Trains make for an easy target on the so-called Alameda Corridor, a 20-mile stretch of railbed that winds through Los Angeles' lower-income neighborhoods and is easy to access. Thieves can break into stopped or slow-moving cars and pull a kind of hand brake, which slows the wheels. Sensors in the track read this as an equipment breakdown and stop or slow the train to a crawl. At that point, individuals can use bolt cutters to open up cars and grab items quickly. What they don't want is left on the sides of the track to blow in the breeze and slowly rot in the southern California sun.
In a tweet posted by a CBSLA photojournalist, ampules associated with medical tests can be seen in the trash.
It's the latest instance of a global supply chain that has broken down during the pandemic, with millions of shoppers encountering the crisis in the form of shortages and delays on everything from refrigerators to books to Covid-19 tests. Roughly 40% of goods shipped into the U.S. come through the adjacent ports of Los Angeles and Long Beach, the largest in the Western Hemisphere, before being put on trains or trucks to be hauled to the rest of the nation.
"Railroads are extremely concerned about this unlawful and dangerous behavior, which poses a significant safety risk to the public, rail employees and law enforcement," said Jessica Kahanek, a spokeswoman for the Association of American Railroads in Washington. "Railroads and their police forces are taking action to combat the criminal activity including increasing their presence where thefts have been a persistent challenge, particularly in the Los Angeles area."
Union Pacific has its own private police force tasked with protecting 275 miles of track. The company said it increased the number of agents on the ground during the holiday season, helping to facilitate the arrest of more than 100 people in just the last three months.
Even so, the railroad called on local authorities to intervene in what it described as a "spiraling crisis of organized and opportunistic criminal rail theft" in a December letter to the Los Angeles district attorney. It blames lenient sentencing laws, saying that even when offenders are arrested, charges are often reduced to misdemeanors or petty offenses, meaning the person pays a fine and is back out on the street in less than 24 hours.
"Criminals boast to our officers that there is no consequence," says Union Pacific spokesperson Robynn Tysver.
At-home Covid-19 tests had already become difficult to find amid the surge of the Omicron variant, with a negative test often required to go to school or work. Americans are taking an average of about 3 million tests a day, a pandemic-era record that is six times the number from last summer, according to Johns Hopkins University's Coronavirus Resource Center. The tests are frequently out of stock on sites like Amazon, while CVS and Walgreens have limited the number of tests available for purchase in stores and warned that they may be out of stock online.
"We ask that our customers please show patience and understanding," John Standley, the president of Walgreens, said in a statement.
Reselling stolen goods is big business, with boosted televisions, baby formula and Gillette razors often finding their way onto sites like Amazon and eBay.
To combat robberies, Union Pacific is testing drones, specialized fencing and trespass-detection systems. The company said customers like UPS and FedEx are looking to divert routes from Los Angeles County to other areas to avoid the issue, and Union Pacific is considering doing that itself, even though it would create "significant impacts and strains," particularly during the supply-chain crisis.
UPS said it doesn't comment on ongoing investigations, but is working with authorities to address the situation. FedEx said it is aware of the news reports and is working to determine whether any FedEx shipments have been affected. Amazon said all inquiries should be directed to local law enforcement.
It's not just trains that thieves are targeting. There's been a rise in brazen "smash-and-grab" attacks at retail stores, where multiple looters break in, grab high-value merchandise and run out. Porch piracy is also on the rise, with 64% of consumers saying they've had a package stolen from their stoop, according to UPS Capital, the insurance arm of UPS.
Three quarters of retailers said they saw an increase in organized retail crime in 2020, with most saying thieves have become more aggressive and violent, costing them an average of $700,000 per $1 billion in sales, according to the National Retail Federation. Los Angeles ranks in the top five cities with the most organized crime, along with San Francisco, Chicago, New York and Miami.