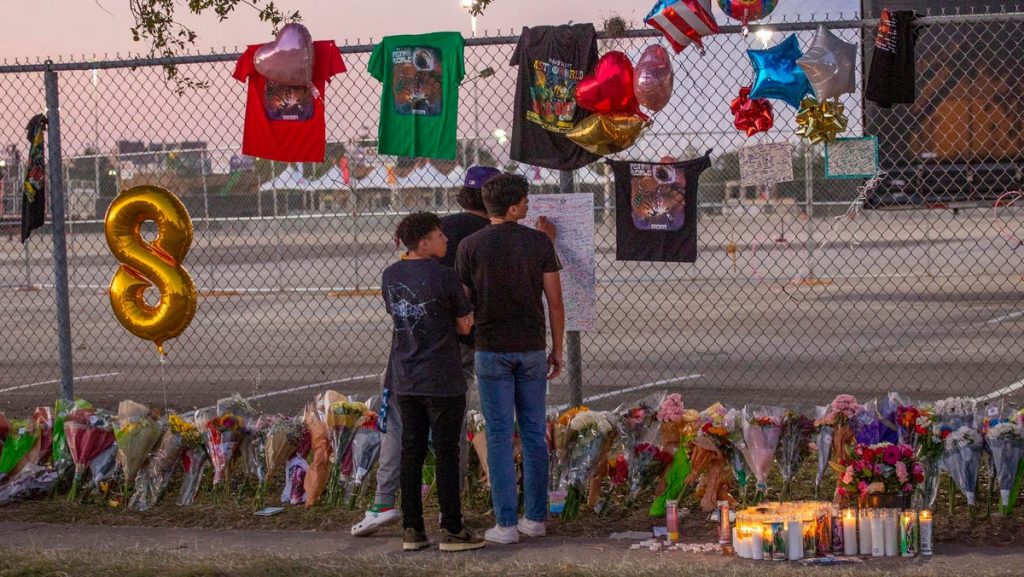 Astroworld Update: Travis Scott, Drake, Live Nation And Organizers Sued For Negligence Following Deadly Incident
Contributing Author: Bryan Sullivan
A number of fans who survived the tragic events that took place when a crowd surge turned deadly at the Astroworld Festival in Texas have now filed lawsuits against those who could be held responsible for the incident. The lawsuits name musician Travis Scott, Live Nation Entertainment Inc., and the festival venue, Harris County Sports and Convention Corporation, among others involved in the event organization. One survivor, 23-year-old Kristian Paredes, also names the rapper Drake, who was onstage as a guest for Scott's performance when, "the crowd became chaotic and a stampede began," leaving concertgoers crushed, trampled, and struggling to breathe. At least eight were killed and hundreds more were injured. Paredes alleges that he suffered "severe bodily injuries" as a result of the defendants' negligence; his experience is echoed by a slew of others who have filed similar lawsuits.
Paredes' lawsuit describes the duties that defendants Scott, Drake, Live Nation, and the venue breached by failing to provide security services and emergency medical services. The lawsuit alleges that the defendants "encouraged and allowed the subject premises to become overcrowded," resulting in injuries to Paredes. The lawsuit also references the prior conduct of Scott, who has a history of encouraging fans to ignore security and capacity limitations. Paredes alleges in his lawsuit that his resulting injuries were proximately, or foreseeably, caused by the defendants' conduct by failing to provide adequate security and crowd control.
For performers Scott and Drake, liability will depend on what specific overt acts they took to "incite" the crowd to charge the stage during their performance at Astroworld. In Scott's case, his history with encouraging unruly behavior at concerts will also be a factor. In the past, at a Chicago Lollapalooza event, Scott actively encouraged fans to leap barricades. This prior incident does not necessarily mean Scott exhibited this behavior at Astroworld, which will be the key factor in determining Scott's liability, though witness videos allegedly show concertgoers breaching security to get into the Astroworld park earlier in the day. However, it is also being reported that Scott stopped the show multiple times during his performance and asked security to help the fans that needed it. The weight of the evidence as assessed by the jury will determine Scott's own civil or criminal liability for the events.
Did Scott's prior actions serve to provide notice to the other defendants of the need for security presence and oversight at the concert? There will be inquiries into whether the defendants discussed safety protocols with Scott, and whether they took actions to ensure that previous safety concerns were addressed. The liability of Live Nation, the venue, and any other parties involved in the event organization will be determined by what they should have done to protect the crowd from an objective standard based on industry norms. Live Nation and the venue were responsible for following certain safeguards, including ensuring the proper number of security personnel, security personnel taking proper action during the crowd surge, and maintaining venue capacity. If any alleged safety violations related to something like overcapacity issues, lack of security or crowd control personnel on-site, or fire code violations during a show, that would be relevant to the claimed negligence and injuries. Deadly crowd surges have happened throughout recent history, though the law is not always clear on who is ultimately responsible.
If the necessary elements of negligence are demonstrated in the Astroworld lawsuits, the casualties and injuries sustained as a result of what happened could lead to large settlements for those pursuing legal action. Following a fire and deadly crowd surge incident at The Station nightclub in 2003, which killed 100 and left hundreds of others injured, more than $115 million in civil settlements was eventually paid out by various defendants. In the case of the Las Vegas concert shooting (in which 58 concert attendees died and over 800 were injured) a group of 4,500 plaintiffs retained attorneys to sue MGM Resorts International, the parent company of hotel Mandalay Bay, citing poor hotel security as the reason the Las Vegas shooter was able to bring guns up to his suite. Eventually, MGM agreed to settle the lawsuit and pay $800 million to victims. However, when does money ever truly make up for the horror and loss caused by a tragedy like this?
Scott tweeted that he was "devastated" by the events that took place at Astroworld and that the Houston Police Department has his "total support." While we don't know what the outcome of these lawsuits against Scott and the Astroworld organizers will be, immediate action is being taken to help those who were affected. It is being reported that Scott and the Astroworld event team are offering full refunds to all those who purchased tickets. Scott is also said to be paying for the funeral expenses of the victims and is providing one month of free mental health services with online therapy provider BetterHelp to those impacted by the events of that day.
Legal Entertainment has reached out to performers, event organizers and other parties involved with the tragic Astroworld incident for comment.
A spokesperson for Live Nation provided the following statement: "We continue to support and assist local authorities in their ongoing investigation so that both the fans who attended and their families can get the answers they want and deserve, and we will address all legal matters at the appropriate time."
ASM Global-NRG Park, the venue's management company, declined to comment "out of respect for pending litigation and ongoing investigations."
Sean Roberts of Markland Roberts, a firm which has already filed multiple lawsuits based upon the events at Astroworld, shared the following: "We owe it not only to our clients, but everyone else touched by this incident, a meticulous and thorough investigation followed by prompt trial jury trials if the organizers of the event are not serious about voluntarily settling the claims. The degree of indifference by the organizers of this festival to foreseeable and known risks is mind blowing. Let us all be hopeful the organizers of the event were not as indifferent and reckless when it came to buying liability insurance for the event."
Personal injury attorneys Ben Crump of Ben Crump Law and Alex and Bob Hilliard of Hilliard Martinez Gonzalez have filed a lawsuit on behalf of the father of E.B., a 9-year-old child who was trampled and catastrophically injured at the Astroworld Festival. Says Hilliard in a statement, "We plan to hold everyone who had a hand in this festival accountable for the horrifying and traumatic injuries that this helpless child sustained. Organizers have a duty and responsibility to protect their patrons and control the crowd when it gets out of control. It is outrageous that it took as long as it did to stop the show, as many of these deaths and injuries likely could have been prevented or mitigated."
We will continue updating this story with additional comments.
---
Bryan Sullivan, Partner at Early Sullivan Wright Gizer & McRae, advises and represents his clients as a legal strategist in all their business affairs. He has significant experience on the litigation and appeals side of the practice, as well as with entertainment and intellectual property contracts, investment and financing agreements, and corporate structure documents on the dealmaking side.