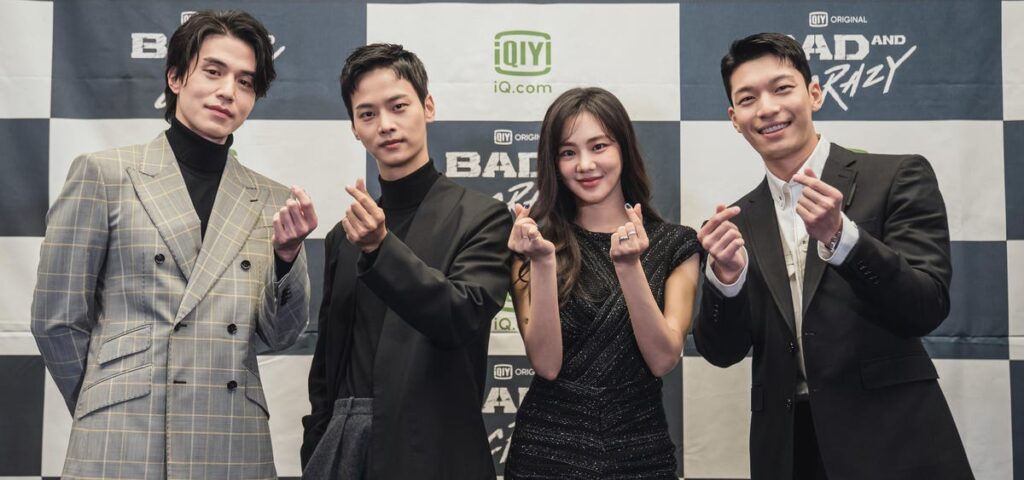 Asian Streaming Platform iQiyi Launches Korean Original Series 'Bad And Crazy'
Asian streaming platform iQiyi IQ launched its latest Korean original drama Bad and Crazy on December 17. Featuring top-billed cast like Lee Dong-wook (Tale of the Nine Tailed), Wi Ha-jun (Squid Game), Han Ji-eun (Lovestruck in the City) and Cha Hak-yeon (Mine), Bad and Crazy is a 12-episode comedy action series produced by the team behind the highly-rated drama The Uncanny Counter.
Coming off a breakout few months for his role as a policeman in Netflix's NFLX Squid Game, Wi Ha-jun shared more about his preparation for Bad and Crazy, "My character 'K' has a lot of action scenes to pull off so I trained a lot before shooting." He added that the role of K was very different from the other characters he has played before, as K's personality was rather comical. "I wanted to really bring that aspect of him to life so I watched a lot of comedy TV, shows and films. I'm not very funny in real life so I just wanted to let go of myself and really try to break the mold."
Lee Dong-wook stars as a capable but bad cop Ryu Su-yeol. He later meets 'K' (Wi Ha-jun), whose origin is a mystery. His life then descends into chaos, from being beaten up and getting into fights, to surviving an explosion. "The director gave me a lot of freedom in expressing my character and on set, I tried to have as many conversations as possible with him," Lee shared. However, with lots of action scenes, Lee also found the production particularly strenuous and he had to learn to pace his energy throughout each day of the shoot. "Constantly having to move in the action scenes was very tiring for me. If you look at the highlight video, you can see how much I rolled on the set."
Bad and Crazy is one of the first few projects that Cha Hak-yeon became involved with since his discharge from mandatory military service in December 2020. Studying the movements of police officers in preparation for his role as a junior police officer in Bad and Crazy, Cha said "I would ask questions to police officers and see what they do. I might have come across as a little bit crazy but they were very friendly, thankfully, and very cooperative. I didn't want to take up too much of their time so I kept my questions short."
For Han Ji-eun, who has played the leading role in JTBC's Be Melodramatic, acted in MBC's Kkondae Intern and also appeared in popular variety show Running Man, this latest drama series was her opportunity to break out of stereotypes. In Bad and Crazy, Han had a chance to be more "serious." "I've always wanted to shoot action scenes so I signed myself up to train at an action training school. I constantly had to overcome my limits as I wasn't very good at the beginning." Comparing her steep learning curve to castmate Wi Ha-jun's comfort with action scenes, Han added, "He is excellent at action scenes, I think Ha-jun is a natural."
Bad and Crazy is streaming on the iQiyi International app and on its website across 191 territories, simulcast with South Korea. New episodes will premiere on Fridays and Saturdays.