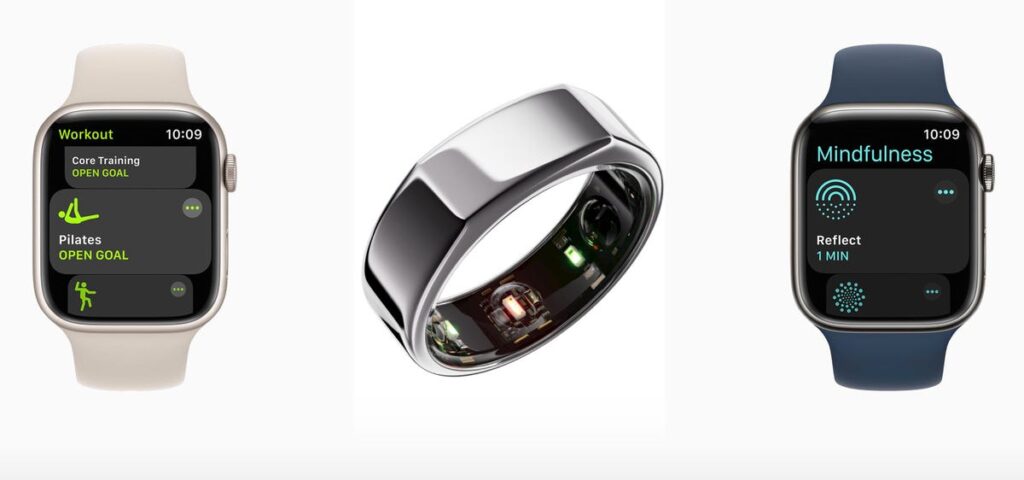 Apple Watch Series 7 And Oura Ring Generation 3 Head To Head
Every Wednesday AppleUnboxed lands in subscribers' mailboxes. It's an all-things-Apple guide to what's going on with the world's most fascinating company. Each weekend, I'll be publishing just one item from a previous newsletter.
AppleUnboxed has much more stuff, including exclusive interviews, reviews before you can read them anywhere else (no, I mean anywhere—and the review below is an example of that), long-read features, comparison pieces, news items and more. To see all that, you'll need to subscribe—and you'll get it sooner, too. Sign up here.
Oh, and all previous AppleUnboxed newsletters are available, for subscribers' eyes only, here on Forbes.
The article below first appeared in last week's newsletter, sent to subscribers on Wednesday, December 8.
---
One More Thing: Oura Ring Generation 3 vs Apple Watch Series 7
Health monitoring is a major part of all our lives now, whether that's just checking you have burnt enough calories today or a full-on analysis of your sleep, your heart rate and more. The latest smart ring and the latest Apple Watch both have a lot going on for them. Here's how they compare.
Oura Ring Generation 3
From $299 from ouraring.com
The Oura (you say it like aura) is one of the most discreet and easily worn health monitors there is. That is especially useful at night, if you're tracking your sleep, which is one of the highlights here. Unlike wrist-worn monitors, which can be heavy or distracting at night, this is effortless to wear 24 hours a day. In fact, I now find I miss it when it's recharging—which takes a little over an hour every five days or so.
The data it provides is definitely aimed at athletes and sportspeople, advising that recovery today is not as good as it should be, so take it easy in your training today, for instance. But it's just as useful for the rest of us. Especially because it monitors Heart Rate Variability (HRV), a metric which is increasingly thought to predict the presence of Covid before symptoms show or tests can spot it. That's not a part of either of these devices just yet (Apple Watch Series 7 can measure HRV, too) and would require approvals or clearances before it could happen. But being able to see this data is interesting, to say the least.
The latest Oura has continuous hear rate monitoring, a welcome upgrade to the previous version, which informs the app's insights. And next year it will also measure your workout heart rate.
Then there's the sleep analysis which, with indications of deep sleep and REM sleep, is more detailed than Apple's data.
There are temperature sensors which analyze your sleep in different ways and can predict when your period is likely to start—as a man I've been unable to test this. Obviously.
The latest Oura also automatically tracks activity, including one of my favorites: the afternoon nap. The new sensors mean that next year, it'll be able to track blood oxygen levels, too.
A lot of the data you see is free, but there's also a $6.99 a month subscription charge for increased insight levels with Oura membership. You get six months' membership free, after which you'll see more basic data if you choose not to subscribe.
Choose between silver, gloss black, stealth (that's matte black) and gold finishes.
Apple Watch Series 7
This is way more than a health monitor, as you know. It gives you directions, shares notifications, lets you unlock your iPhone without removing a face mask and much more.
But there are a lot of comparable features here. The sleep tracking is an obvious one. Apple's approach—focusing on the wind down to bedtime—is unique, and very clever. But I miss the extra data Oura has, though I recognize that Apple's focus is on getting everyone on board with sleep tracking, so it offers a particularly accessible approach.
The heart-rate tracking on the Watch is sensational, and the knowledge that if my heart is unexpectedly high or low, the Watch will tell me. It'll also spot if I've fallen down hard and not got up, and contact emergency services if needed.
Not to mention the other capabilities, like telling me if I'm in an environment which will damage my hearing if I stay in it too long.
Unlike Oura, it can already measure my blood oxygen levels and I can take an ECG on the Watch.
Verdict
The two devices are different, of course, and there's no denying the Apple Watch, though it's pricier, does much more than the Oura Ring. But the combination of discreet, lightweight, good-looking design and highly accurate sensors means the Oura Ring is a splendid piece of kit that you may find quickly becomes essential.
---
In case you need tempting one more time, you can sign up to the newsletter here. I hope you will, and I'll do my best to make you feel it's worth it.