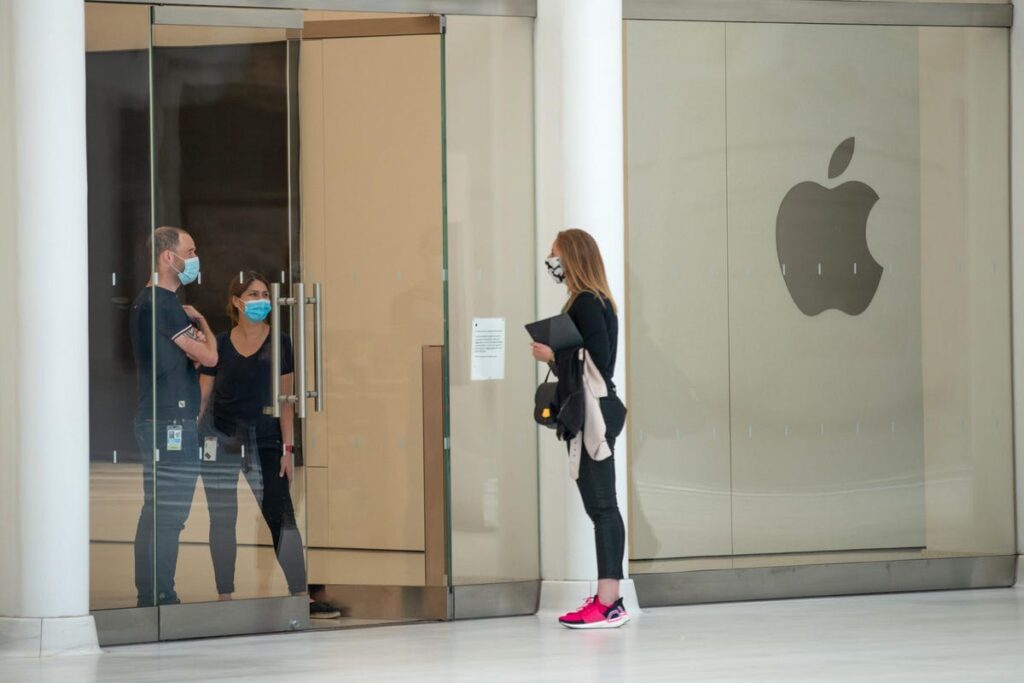 Apple Is Now Requiring Workers To Show Proof Of A Booster Shot
Apple is requiring both store and corporate employees to show proof of having a booster shot, in addition to their vaccination jabs, according to reporting by The Verge. Workers will have four weeks to comply, once the person is eligible. Apple will call upon all unvaccinated employees to show negative Covid-19 rapid antigen tests before they are able to enter the workplace, starting on January 24th.
Meta, formerly known as Facebook, said that "it would require Covid-19 booster shots for employees to work from its U.S. campuses and that it would delay fully opening those offices until late March, in another sign that the Omicron variant is shifting corporate reopening plans," reported The Wall Street Journal. The WSJ added, "The technology giant, which owns Facebook, Instagram and WhatsApp, said Monday that, beginning March 28, employees who meet eligibility guidelines to receive the shots would need to show proof of a booster vaccination to use its offices."
The Nation's Restaurant News wrote "Restaurants are starting to require booster shots for employees and guests," and "Two shots are not enough for several restaurants around the country that have begun requiring COVID-19 booster shots for staff and guests, amid pushback."
New York City-based financial giant, Citigroup, previously informed its U.S. employees that those who've elected not to get vaccinated by January 14 "will be placed on unpaid leave and fired at the end of the month unless they are granted an exemption," according to Reuters. Citi was the first top-tier investment bank to institute this policy. One of the many reasons for this edict is that Wall Street and financial services firms have been the most ardent proponents of pushing their bankers, brokers, traders, compliance and other professionals to return to their respective offices.
JPMorgan CEO Jamie Dimon has followed the lead of Citigroup, the major New York City-based bank, and told employees Monday that they "risk losing their jobs" if they don't get vaccinated. Dimon said, "If you aren't going to get vaxxed, you won't be able to work in that office. We're not going to pay you not to work in the office." The chief executive reaffirmed, "We want people to get vaccinated."
The New York Times pointed out that "Goldman Sachs and Jefferies, the investment banks, are demanding that employees get booster shots." Additionally, "The University of Oregon and other institutions are requiring that students and staff members get boosters," and "New York State has said it plans to stop considering residents fully vaccinated unless they've gotten the shots."
The state of Hawaii "may soon require travelers arriving from other US states and territories to have a Covid booster shot if they want to travel to the islands without quarantine or testing requirements," said CNN. Gov. David Ige announced that he is considering changing the definition of "fully vaccinated" from "two doses of an approved Covid vaccine to three."
CNBC reported that Google employees have up until January 18 to adhere to the tech giant's vaccination policy. For those who push back or refuse, they'll be placed on paid leave for 30 days— then unpaid personal leave for as much as six months before finally facing termination. A Google spokesperson said about the decision, "We're committed to doing everything possible to help our employees who can get vaccinated do so, and have an accommodation process for approved exceptions. We firmly stand behind our vaccination policy."
Apple, Google, Ford, Lyft, Meta, DoorDash, Capital One, Uber and other organizations pushed back their timetable for people to return to an office setting or said they will be monitoring the situation and will render a decision when there is more clarity.