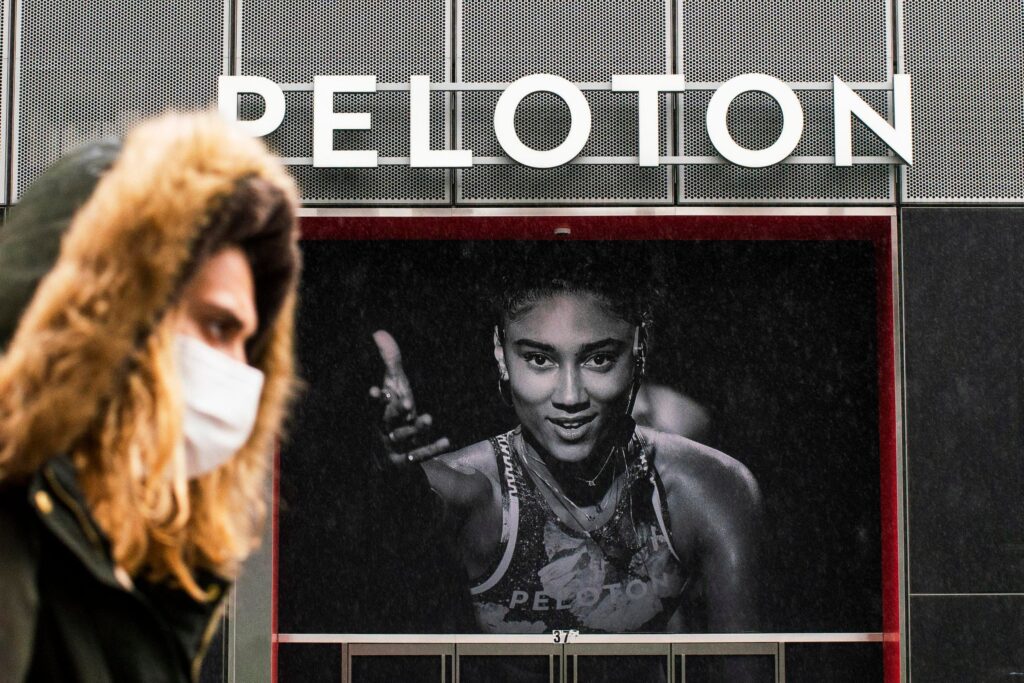 Topline
Shares of Peloton surged nearly 20% on Monday amid reports that the at-home fitness company, which is struggling with waning demand and slowing growth, is drawing interest from potential buyers including Amazon, Nike and Apple—though some experts don't think a deal makes sense.
Key Facts
Peloton's stock jumped 16% after news that several companies were looking to buy the at-home fitness equipment company: the Wall Street Journal reported Friday that Amazon was interested, while the Financial Times said a few hours later that Nike was also evaluating a bid.
Wedbush analyst Dan Ives wrote in a note that he would be "shocked if Apple is not aggressively involved in this potential deal process," arguing that it would make "strategic sense" for the tech giant to buy Peloton.
Ives believes that an acquisition would be both an offensive and defensive move for Apple, as it would "catalyze the company's aggressive health and fitness initiatives over the coming years" while preventing rivals Nike or Amazon from gaining an upper hand.
Other Wall Street experts are not so sure that any deal to buy Peloton makes sense: "We don't see why companies like Nike, Amazon, Apple—or anyone else, for that matter, would want to own Peloton," says Vital Knowledge founder Adam Crisafulli.
With no actual deal talks having yet taken place, Baird analyst Jonathan Komp pointed out in a note Monday that CEO John Foley is highly unlikely to sell Peloton, thanks to his management team's "unwavering confidence" to grow as a stand-alone company in the long term.
"There's no game more popular on Wall Street than ruminating over what companies the tech mega caps should buy," says Crisafulli, adding that "Peloton's financial profile isn't the most compelling" and that any kind of big tech M&A deal could hit regulatory snags.
Surprising Fact:
A "handful" of other technology and consumer brands giants are also circling for a potential takeover—with entertainment giant Disney possibly looking to bid for Peloton, Ives said.
Key Background:
Before Monday's stock rally, shares of Peloton were down 30% so far this year, after falling over 70% in 2021. The at-home fitness company, which has around 3 million paid subscribers, recently fell below its IPO price of $29 per share from September 2019. After a sharp drop in November 2021, following a dismal earnings report, Peloton shares have struggled to recover. The stock plunged another 24% in one day on January 20, 2022—wiping out billions in market value—amid reports that the company would temporarily halt production of its bikes and treadmills, which Foley later denied. Peloton's CEO said the company is "resetting" production levels as it adapts to "seasonal demand curves," while also acknowledging the need to slash costs. Activist investor Blackwells Capital, however, responded just a few days later, saying it has "grave concerns" about Peloton's performance and calling for the board of directors to fire Foley and sell the company.
What To Watch For:
Peloton will report earnings after the market closes on Tuesday, having already posted preliminary quarterly revenue of $1.1 billion. The company has seen falling revenue and rising expenses in the previous three quarters, however, thanks to slowing demand, which has forced Peloton to slash prices on its exercise bikes and treadmills.
Further Reading:
Peloton Stock Leaps 28% Following Report Amazon Considering A Bid (Forbes)
Pandemic Darling No More: Peloton's Dramatic Crash In 4 Charts (Forbes)
Peloton—Pandemic Stock Darling—Reportedly Halts Production Of Fitness Products, Shares Plunge Over 20% (Forbes)
'Sex And The City' Reboot Is The Least Of Peloton's Worries—With Shares Down Over 70% This Year (Forbes)
Peloton Shares Plunge Over 30%—And CEO John Foley Is No Longer A Billionaire (Forbes)