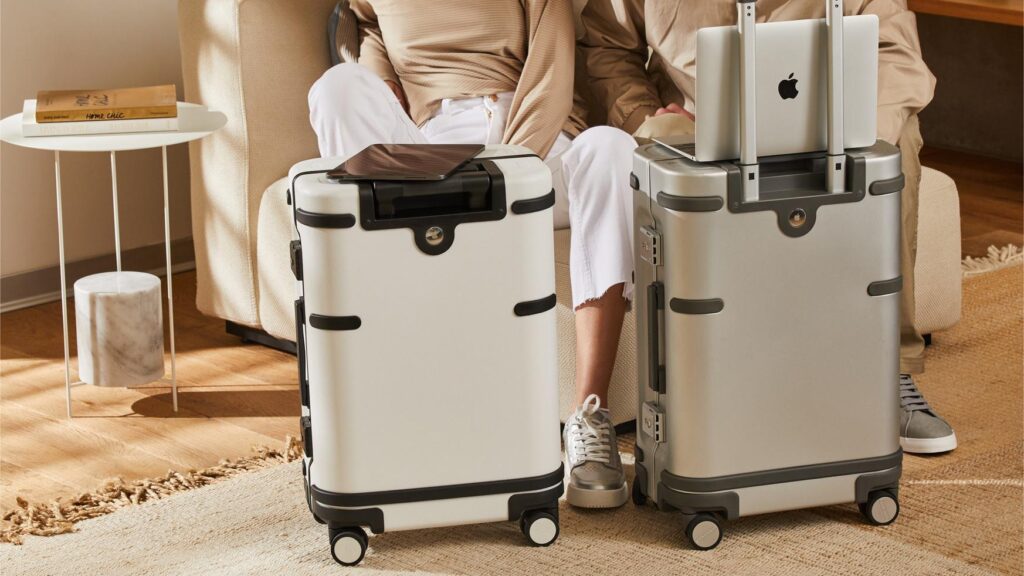 Apple AirTags Are The Secret Sauce In New Samsara Tag Smart Carry-On
Smart luggage has been around for a bit. It started with Away adding an exterior-accessible, spring-loaded battery pack to their carry-on, letting you charge your devices while you waited for your flight.
Then companies like Samsara evolved the concept, adding things like biometric fingerprint locks and proximity tracking via a proprietary app. The problem is, I haven't found an app yet that was worth the download. Or even if the app is OK, I use it so rarely that usually iOS has offloaded it from my device when I really need it. By the time I download a fresh copy of the app over janky airport WiFi, my lost bag is already halfway to Borneo.
Call it a monopoly, but there's no tracking notification system better than the one that Apple built into iOS and expanded with AirTags. It's always on my phone, it works exactly as expected, and I don't have to mess with third party apps.
Samsara got the memo and took things to the next logical step, building a spot for an AirTag directly into all of their next-gen suitcases.
Tag Smart
I really like Samsara's first-gen bag. The smart module had all kinds of tricks, including a built-in LED that would illuminate the bag when opened. The design also incorporated a flat surface that you could use as an ad-hoc desk.
While the battery and smart module has gone MIA for their new Tag Smart line of suitcases (a bit of future-proofing against supply chain issues, I imagine), in its place is a secure holder for an Apple AirTag. Thankfully, an AirTag is included with the bag so you don't have to supply your own (though you could, if you wanted).
Inserting the AirTag is a simple procedure, done from inside the liner of the carry-on itself (so you don't have to worry about someone making off with your AirTag). While the press photos all show the AirTag with the silver side facing out, you can place it however you like in the actual holder.
Other than the AirTag module, the new Tag Smart carry-on retains all the design elements that made the original bag a joy to use: the shelf-like top, smooth-rolling wheels, dual combination latches, and optional packing cubes. Those packing cubes were included with the original carry-on but are available now at a special rate when you purchase a bag.
The Future of Smart Bags?
While I really hope that Samsara brings back a battery pack at some point in the future (though, who doesn't have a portable battery in their travel kit at this point?), the integration of the Apple AirTag is well done and indicative of where the industry needs to shift in order to stay on top of production.
Who knows if chip shortages are going to remain an issue (the "new normal" is that there is no new normal) but smaller companies like Samsara are always going to shoulder more of the burden. Why not leverage the production chain of a technological giant like Apple instead? It's a win-win for Samsara who can then focus more on what they do best, making great bags.
Pricing starts at $355 for the polycarbonate shell, aluminum-frame carry-on (it's $595 for a full-aluminum suitcase). Right now, however, you can pre-order both for $265 and $445, respectively, from the Samsara site. They'll ship around the middle of next month.