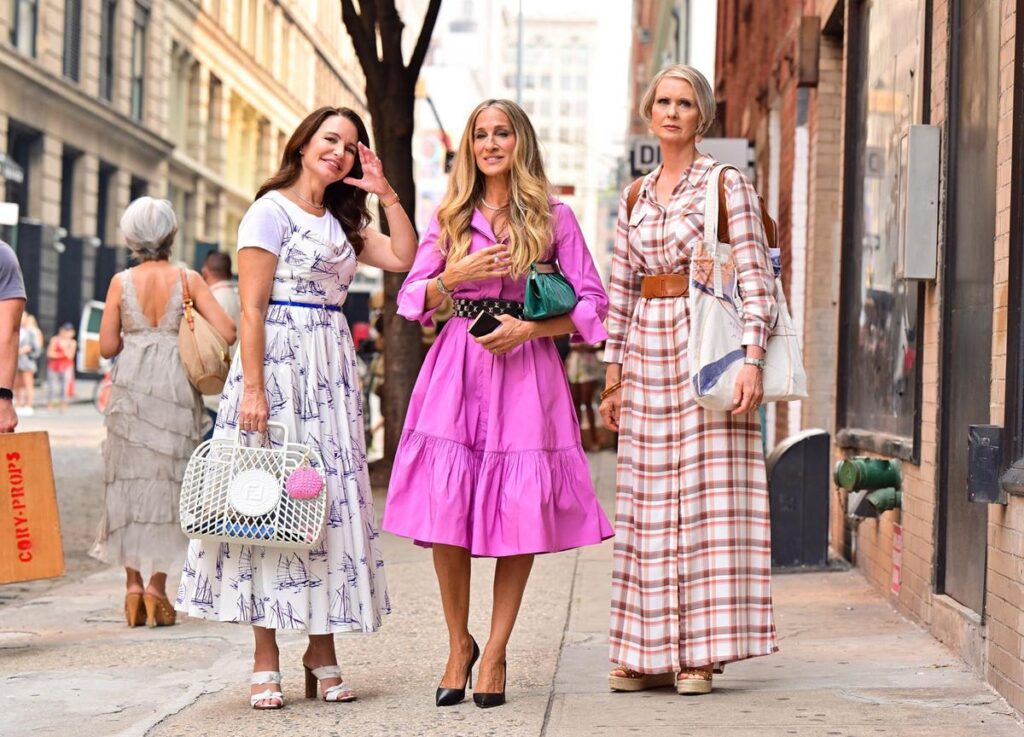 'And Just Like That': The 'Sex And The City' Sequel Lacks As A Trio
Like an sequel or reboot, the immediate concern I had about the HBO Max dramedy And Just Like That was attempting to revisit the characters from the beloved Sex and the City. We all know these revival series are never as good as the original. Then I remembered that abysmal second post-series theatrical, Sex and the City 2 in 2010, and I figured it can only be better. At least the gang will be back in New York this time.
Of course, there was the immediate obstacle. The "fab four" that we came to know in the original 1998 to 2004 HBO series would now…well…be the "aging three," with Kim Cattrall opting not to return as the brash and straightforward Samantha Jones following the feud she is having with Sarah Jessica Parker (which Parker, apparently, was not aware of).
While the producer in me came up with the idea to cast the equally alluring Sharon Stone as Samantha, I also remember those other classic established TV roles awkwardly inherited by other actors. You know…"Fake Jan" (from The Brady Bunch), "Fake John Boy" (The Waltons), "Fake Miss Ellie" (the original Dallas) and the mountain of others. So, it was onward and upward (I hoped) with Parker, Cynthia Nixon (Miranda) and Kristin Davis (Charlotte).
Two episodes into And Just Like That and I will be back for the remaining eight episodes in this first season (one of which will be dropped on HBO Max every Thursday). But that is not to say what I have seen thus far is all that good. Force of habit from Sex and the City is probably the better explanation of my interest in And Just Like That.
Unlike what we all might have expected, Sarah Jessica Parker as Carrie is still happily married – and very much in love – with Chris Noth as "Mr. Big" (aka John James Preston). The two, in fact, experiment with the act of sexual stimulation (before the screen cuts to to black) after Carrie, now a podcast host, is criticized by her boss (Sara Ramirez) for being too prudish. She refuses to joke about masturbation.
Sex, of course, was a major component of the original series, which no doubt is addressed this second time around. But from what we have seen in And Just Like That (at least in these episodes), the only one getting any action is Miranda and Steve's (David Eigenberg) now teenage son Brady (Niall Cunningham), whose irresponsibly leaves his used condoms on the floor. Oops! And yuck!
Miranda is now a befuddled grad school student, who in an extended scene when she meets her instructor (Karen Pittman) left this viewer cringing. Why was the perennially skeptical and together Miranda in her 30s in Sex and the City now suddenly a dunce in her 50s? Isn't that just way too stereotypical?
Charlotte, meanwhile, is still married to Harry (Evan Handler) and dealing with her now two teenage daughters. She also has a new friend, Lisa (Nicole Ari Parker), another mother she meets from her kids' school. And then there is Mario Cantone and the late Willie Garson as the series' other now married couple, Anthony and Stanford, which sadly will now be a major void following the passing of Garson in September.
That leaves absent Samantha, who is now living in London and wants nothing to do with any of her old friends it seems after Carrie was no longer in need of her PR services.
Then, just as we are getting reconnected to the gang of now 50something year old characters all these year later, Noth as "Mr. Big" dies of a sudden heart attack after overextending himself on his Peloton. Hence the title…and just like that.
The funeral in episode two, of course, is a sad reminder of just how short life can be. Here today, gone tomorrow…it can happen to any of us. But, unless Cattrall has a change of heart and returns to And Just Like That (assuming their is a second season), a stunt like Samantha sending flowers to the funeral only serves as a sad reminder of how much better Sex and the City was with over-the-top sexcapades of Samantha.
Since there are so many more stories to tell about the now And Just Like That trio, let's move on without Cattrall's Samantha. Let's avoid the aging stereotypes. And, maybe…just maybe…Carrie will wake up at the beginning of season two and realize this was all just a bad dream. Why, after all, kill off a pivotal character like "Mr. Big"?