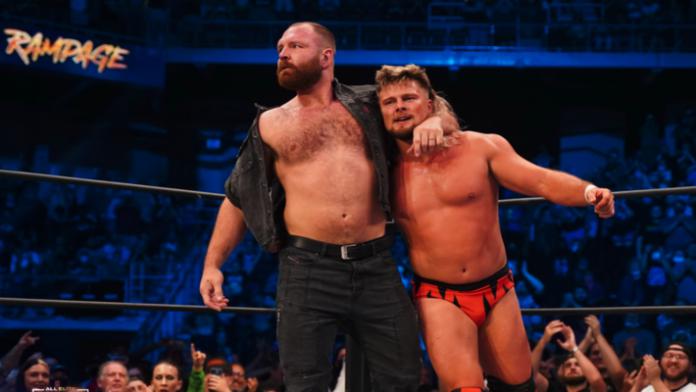 AEW Rampage Ratings: Rampage Keeps Falling, Down 13% In 18-49 Viewership
In a week where AEW Dynamite's fallout show for AEW All Out eclipsed WWE Raw in 18-49 viewership, AEW Rampage continues its precipitous drop on Friday nights as Rampage's fallout show failed to see a similar bump.
Rampage drew 670,000 viewers on Friday, with a .27 rating (347,000 viewers) in the 18-49 demographic. Rampage was down 4% overall and 13% in the 18-49 demographic. Both numbers represent AEW Rampage's lowest viewership to date.
AEW has gone out of its way to promote Rampage on the same level of flagship AEW Dynamite, but viewership patterns continue to suggest fans see the one-hour taped show as a B-show.
AEW Rampage Ratings | Friday, September 10, 2021
AEW Rampage Total Viewership—670,000 Viewers
AEW Rampage Viewership in 18-49 Demo—347,000 (.27 Rating)
MORE FROM FORBESAEW 18-49 Rampage Viewership Has Fallen Almost 50% Since CM Punk DebutBy Alfred Konuwa
Rampage viewership has now fallen 41% overall and 50% in the 18-49 demographic since CM Punk's debut on the August 20 broadcast dubbed "The First Dance."
With AEW encroaching on WWE's viewership, and home territory, a special SmackDown broadcast from Madison Square Garden in New York garnered 2.38 million viewers (up 7%) with 852,000 (up 6%) in the 18-49 demographic. WWE announced a live attendance of 14,425 as SmackDown drew its biggest gate in history per Ariel Helwani (h/t 411Mania).
AEW Rampage advertised Brian Pillman Jr. in a main event against the returning Max Caster, in addition to an excellent singles match between Andrade El Idolo and PAC. Andrade won due to outside interference from Chavo Guerrero, however Andrade shockingly turned on Chavo after the match. The seemingly random development will lead to speculation that Andrade may soon be managed by Ric Flair—his soon-to-be father in law. Flair, who has been the subject of AEW rumors along with countless names recently released by WWE, cornered him during his Mega Championship match against Kenny Omega last month at AAA TripleMania.
Rampage also aired backstage promos from newcomers Daniel Bryan and Adam Cole, whose lack of a presence on the show was yet another damning sign that Rampage is trending toward B-show territory. AEW will need a more consistent run of big matches, angles, title changes and top stars on Rampage in order to train its fanbase to treat this as must-watch television.
As Rampage settles into a sub-700,000 range of viewership ahead of a move to TBS in 2022, AEW may have to soon face the reality that Rampage may be best-served as an accessory to Dynamite where less-heralded stars can develop in a nationally televised setting.