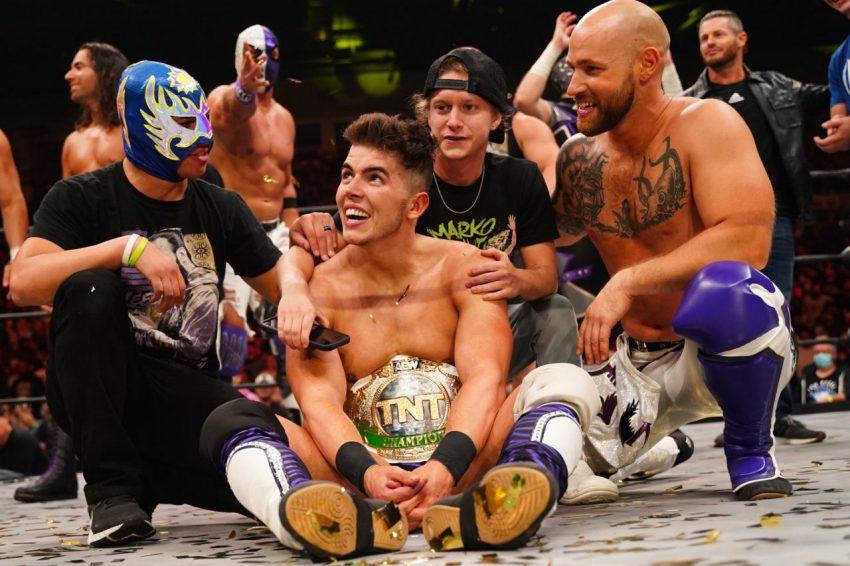 AEW Dynamite Ratings: AEW Tops Cable With Over 1 Million Viewers
AEW Dynamite drew 1.152 million viewers, down 10% from last week's 1.273 million for AEW Grand Slam in Arthur Ashe Stadium. Dynamite garnered 588,000 viewers in the 18-49 demo, which is down 6% from last week's number. AEW's viewership was good enough to top the cable ratings for the sixth week in a row.
AEW Dynamite Ratings | September 29, 2021
AEW Dynamite Total Viewership: 1.152 million viewers
AEW Dynamite 18-49 Viewership: 588,000 viewers (.45 rating)
AEW Dynamite served as a tribute show to the late Brodie Lee, who last year was set to debut in his hometown of Rochester, New York where Dynamite took place. Dynamite has been outpacing WWE in ticket sales in the New York market of late despite WWE's longstanding history in the area, which is considered its home market. In addition to a first-time matchup between Jungle Boy and Adam Cole, Dynamite promoted a main event for the TNT Championship as Sammy Guevara defeated dominant champion Miro. Guevara will defend his championship against Bobby Fish next week.
Since moving to Wednesday nights, more specifically since the arrivals of CM Punk and Daniel Bryan, AEW has established an impressive floor of one million viewers. In fact, the last time AEW Dynamite dipped below one million viewers was the August 18 broadcast, two days before the debut of CM Punk on AEW Rampage. Since the prized free agents came into the fold, AEW has not gone below 1.047 million viewers.
AEW's growth is coming at the same time of WWE's own struggles in key business metrics, not only when it comes to ticket sales but also WWE Raw going head-to-head with Monday Night Football for the fall and winter seasons. WWE has responded with a series of hotshot shows as the past three weeks have featured both WWE Championship matches and the presence of Roman Reigns. With Drew McIntyre appearing at the end of Raw last week, it's likely that WWE will make a short-notice announcement of Drew McIntyre vs. Big E as a means to maintain a strong number in the 18-49 demo.
Rampage's first hour impressed last week with 727,000 viewers (it also opened with 806,000 viewers for CM Punk's return to televised wrestling) before falling precipitously to 552,000. With Bryan Danielson set to make his Rampage debut, AEW Rampage will look to break a five-week streak of drawing its lowest average viewership to date.