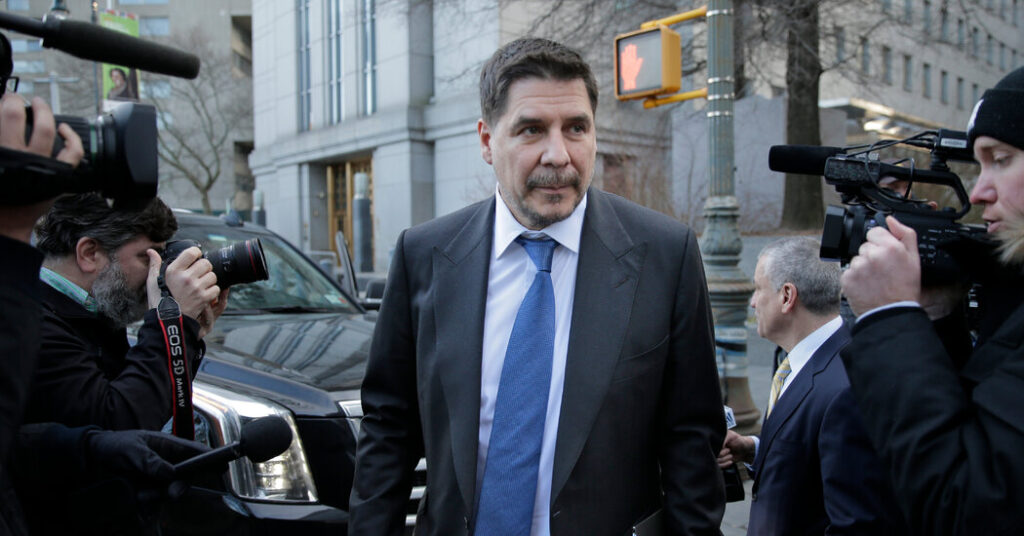 A Top SoftBank Executive Wants $2 Billion in Pay. His Boss Disagrees.
Impressed by Mr. Claure's ambition and hustle, Mr. Son tapped him to run Sprint, which was losing cash, bleeding subscribers and badly lagging its larger rivals, AT&T and Verizon. Mr. Claure took over as Sprint's chief executive after regulators thwarted its planned merger with T-Mobile. He stabilized the company and eventually resuscitated a deal with T-Mobile in 2018. SoftBank has said it has already made more than $12 billion on its investment. SoftBank's investment in Brightstar was far less profitable, and it sold its stake last year for several hundred million dollars, three people with knowledge of the deal said.
In 2019, Mr. Son tapped Mr. Claure for help when yet another big bet by SoftBank turned disastrous. By then, SoftBank had raised about $100 billion for its Vision Fund. With backing from Saudi Arabia's sovereign wealth fund, the technology investment fund — the largest of its kind in the world — sought to take stakes in cutting-edge tech companies in the United States and globally.
SoftBank and the fund had bet roughly $9 billion on WeWork, the co-working company that was on the verge of bankruptcy after a failed attempt at an initial public offering that fall. Mr. Claure negotiated directly with the WeWork co-founder and chief executive, Adam Neumann, on a severance package in which he was paid roughly $180 million to give up his excess voting control of the company.
Mr. Claure later helped recruit Sandeep Mathrani, a veteran of the real estate business, to lead WeWork as chief executive and put the company on a path to a successful public offering. WeWork ultimately went public through a special purpose acquisition company, or SPAC.
As WeWork stabilized, Mr. Claure spent more time canvassing the world for new investment opportunities for himself and SoftBank. He personally invested about $15 million this year in Sorare, a company that uses so-called nonfungible tokens, or NFTs, to help people bet on fantasy football games, at a valuation of around $2 billion. In September, Sorare announced that SoftBank's Vision Fund and others had invested in it at a valuation of roughly $3.7 billion. Mr. Claure continues to hold his stake, according to two people familiar with his investment.
On at least two other occasions, Mr. Claure has personally invested in companies ahead of SoftBank. In April, SoftBank led a $1 billion investment in a deal that merged Grupo Televisa's television content business and Univision Communications to create the largest Spanish-language media company in the world. Mr. Claure, who became the vice chair of the merged entity, had invested in Univision alongside SoftBank previously. Mr. Claure continues to hold his personal stake, which has risen in value in the merged entity.
In another instance, Mr. Claure held several discussions with executives from Binance.US, the U.S.-based subsidiary of Binance.com, the world's largest cryptocurrency exchange, according to three people with knowledge of the discussions. He told them that he planned to invest personally and that SoftBank would likely come into its next round of funding. Neither Mr. Claure nor SoftBank ultimately invested in Binance.US.